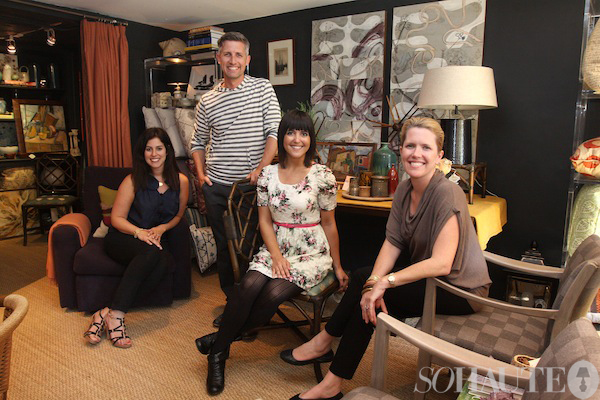 L-R: Jessica Spink, Joe Lucas, Tami Carey and Jessica and Parrish Chilcoat
Meet the Assistant profiles the assistants and associates who work behind-the-scenes with some of the industry's top designers to help make beautiful spaces come to life.
Interior design duo Joe Lucas and Parrish Chilcoat run a successful, multi-faceted design business. First there's Lucas Studio, their high-end residential design firm known for producing beautiful interiors that exude style, comfort and that intangible California cool vibe.  Then there's Harbinger, their newly expanded retail showroom which features a range of to-the-trade fabrics and wallpapers as well as furnishings and accessories including pieces from their own Harbinger furniture collection. Between juggling high-profile interiors projects and running their bustling showroom, Joe and Parrish couldn't get by without a little help from a superstar support team…which is where Jessica Spink and Tami Carey come in. Jessica, 30, is Lucas Studio's senior designer who has been with the firm for a little over a year. She is originally from Boston and before joning Lucas Studio she worked for interior designers Michael Smith and Elizabeth Dinkel. Tami, who is 20-something, is originally from Canada but grew up in the Midwest. She is affectionately referred to as 'the Shopgirl' and manages the Harbinger showroom where she has worked for nearly three years. Read on to get to know Jessica and Tami and hear how they help Joe and Parrish keep it all together!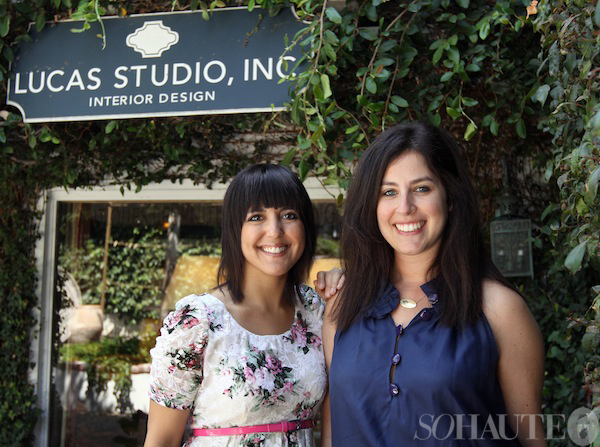 Tami Carey (L) and Jessica Spink (R)
Tell me about the path you took into the interior design world and how did you land your job with Joe & Parrish?
Jessica: I used to rearrange my room constantly when I was young and would draw scaled diagrams on graph paper to make sure it would all fit. I also designed layouts of my dream house and would always label the bedroom windows "ocean view." I was obviously a big dreamer! It wasn't until much later that I actually realized that interior design was a career option.  I always thought I was going to be a big advertising executive like Heather Locklear on Melrose Place. Needless to say, I took a completely different path. I graduated from Boston University with a degree in Communication and also took quite a few interior design classes at UCLA before landing my first design job at Michael Smith. I have actually known Joe and Parrish for a long time – we are all part of a very close group of Michael Smith alums.  They were looking for someone at the same time I was looking for a new job and it all fell into place.
Tami: I knew nothing at all about the interior design world before I started except what I saw during afternoons of watching TLC and HGTV.  I am actually an actor which is what brought me to LA and I think I've had every job imaginable, except waiting tables, which is sort of ironic as an actor. When I moved out here, a friend of mine who was in the design industry introduced me to the Michael Smith and the Jasper offices and I started working with the Jasper Furniture production team. Then I met Joe and Parrish who were getting ready to open up the original Harbinger space so they brought me on to manage the showroom.
Did you cross paths while working for Michael Smith?
Tami: Jessica was on the design side and I was next door, in the Jasper offices, but our paths definitely crossed over the coffee pot in the break room and in the stacks, searching for rogue furniture.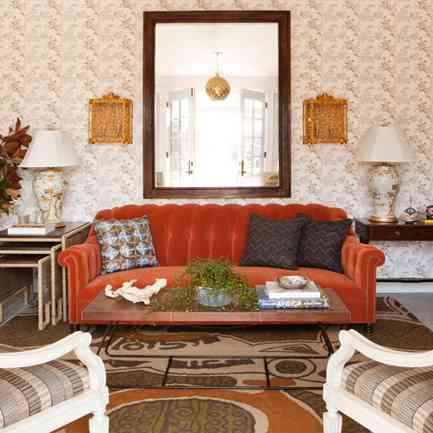 A vignette inside Harbinger's newly expanded showroom which recently re-opened on LA's Famed La Cienega Blvd. (752 North La Cienega Blvd, West Hollywood)
What's a typical day in the office like for you?
Tami: I do a lot of talking and typing and running back and forth, I send a lot of emails and make a lot of phone calls answering questions and processing quotes and orders. I help clients who come in to the shop which entails printing tear sheets and pulling samples, introducing them to the different lines that we represent, and helping them with whatever they need.  I talk with our vendors. I also manage our website and send out news blasts.  These are all pretty general things that are consistent day-to-day but I've really found that each client and order and new piece often require slightly different things, so I just adjust accordingly.  It keeps me on my toes!
Jessica: Every day is different, which I think is why I love my job so much…never a dull moment.  There are days when I am at client meetings with Joe and Parrish all day. Some days I'm out shopping for items like fabrics or carpets and some days where I'm sitting in the office doing paperwork.  It really varies a lot.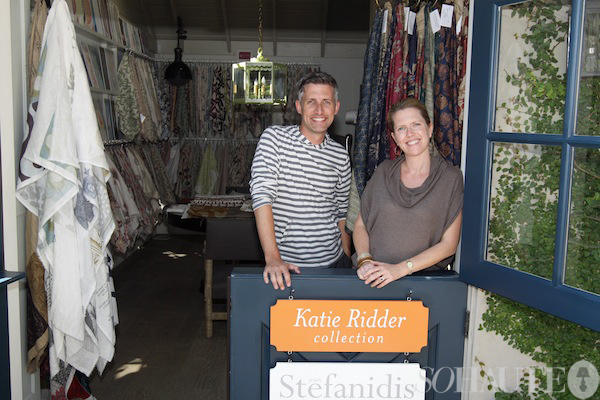 Joe and Parrish
Has working with Joe & Parrish influenced your personal design style at all?
Tami: Oh yes. I've definitely paid attention to how they mix styles and new with old or put unexpected fabrics or finishes on a piece that totally work.  It's made me look at individual components completely differently.  I love seeing their before and after pictures for clients' homes and coming into the shop after they've moved everything around.  I would never think to arrange things or use the space the way they do…I'm still working on learning that.
Jessica: I don't think you can help being influenced by who you work for.  I have such an eclectic style and it is definitely due to the fact that I've worked for designers with a wide range of aesthetics.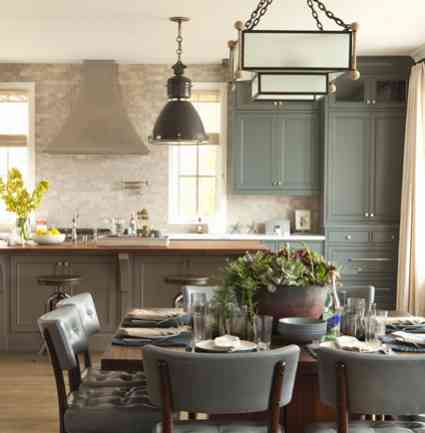 A kitchen design by Lucas Studio
What are the most valuable design lessons you've learned from Joe & Parrish?
Jessica: I would say one of their many great strengths is selecting paint colors.  Before I worked here, I would have always painted trim work, cabinetry, interior doors, etc. some shade of white.  I never realized what an impact you could make by painting all of the interior doors in a house a fun, dark color.  Or by painting the kitchen island a different color than the rest of the cabinetry.
What is the coolest thing you've gotten to do at your job?  
Tami: This spring, I went to New York to visit the printer who prints several of the fabric lines we represent.  They showed me the whole process…the screens, the color mixing, how each line works…so I could have a better idea of what's involved when I call and ask how quickly they can print an order or what custom options are available.  It was really interesting and gave me a much better perspective on what happens behind the scenes.  It also helps when talking to clients.  I knew these lines were hand made but to be able to explain to someone what that actually entails makes each line and each fabric so much more special.  And if that wasn't enough, I also got to meet with the owners of several lines that are based in New York and learned about their inspirations, how they started, the history of the patterns, how they select colors and ground cloths to work with…It really was the coolest thing.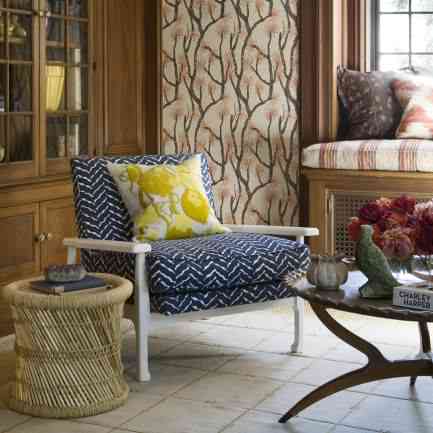 A vignette from a sitting room designed by Lucas Studio
Jessica – as a young interior designer where do you like to shop for your own home?
Jessica: I don't have the budget that our clients have so I'm always on the lookout for unique, inexpensive finds.  I love going to the Rose Bowl and Long Beach flea markets which is where I've found some of my favorite pieces for my house.  I'm also not ashamed to say I have quite a few pieces from Ikea. I am totally a fan as long as you choose wisely and spread the pieces out throughout your house so it doesn't look like an Ikea showroom.  I do think upholstery is something that shouldn't be skimped on and would always have the important pieces like my sofa custom made.  Surprisingly, it's really not that much more expensive than buying one off the floor at Pottery Barn and will look exactly how you want and will last much longer.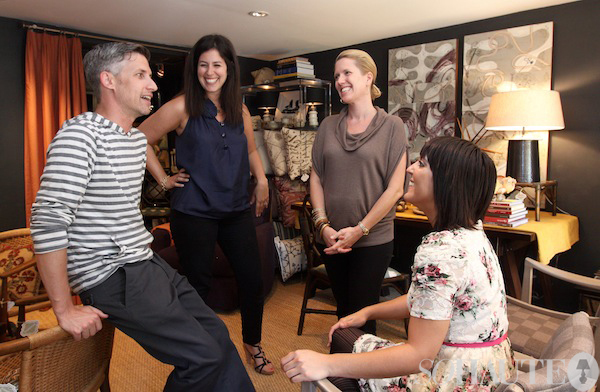 What do you like most about your job? 
Tami: I love the people I work with- both in our office and clients who come to visit.  I think this industry is so fascinating and I love to see each person's unique take on design.  It's constantly inspiring and gives me a new perspective on a daily basis.
Jessica: I love that we have so much fun and Joe and Parrish are like a non-stop comedy team.  Even on the most stressful day, we all manage to make each other laugh!
Photos of Joe, Parish, Jessica and Tami by Kiya Gibbons for So Haute. Additional photos courtesy of Lucas Studio Inc and Harbinger.