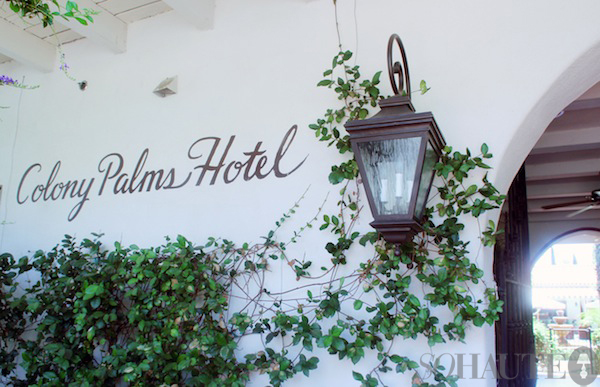 A few weeks ago when I visited Palm Springs we spent our first night at The Colony Palms which is a beautiful old Spanish style hotel with a storied history. In the 1930s the property was owned by an alleged member of the mob and was equipped with a basement casino, a speakeasy and a brothel! It was Hollywood's golden area the hotel, called The Colonial House back then, was a glamorous retreat frequented by legendary stars like Humphrey Bogart, Clark Gable, Carol Lombard and many more. Over the next several decades the hotel changed hands a few times before reopening in 2007 after a 3-year $16million renovation which included stunning interiors designed by "million dollar decorator" Martyn Lawrence Bullard. The decor infuses Moroccan, Spanish and Mediterranean influences with classic colonial style, old Hollywood glamour and a touch of the exotic. The property is lush with palm trees, fountains and beautiful gardens which create a laid back and sophisticated ambiance. Here is a peek at some photos I shot during my stay…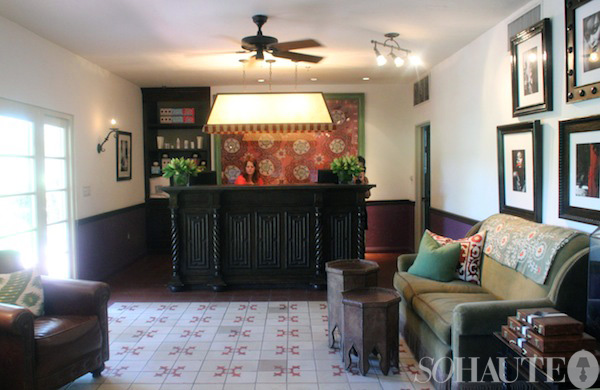 This is the elegantly appointed lobby that greets you when you check in. I loved the presence of the framed suzani on the wall behind the desk which creates a beautiful focal point. Framing delicate antique textiles is a great trick for allowing you to beautifully showcase them while still keeping them in tact.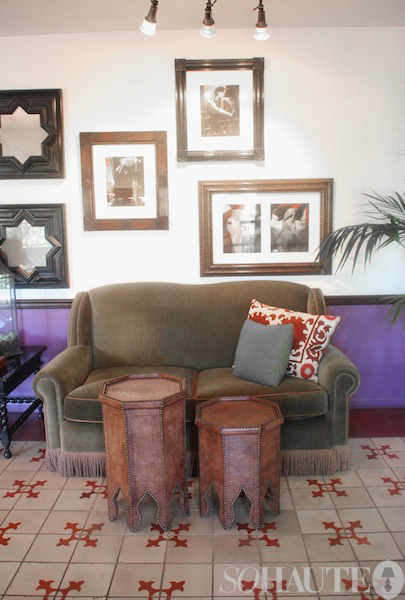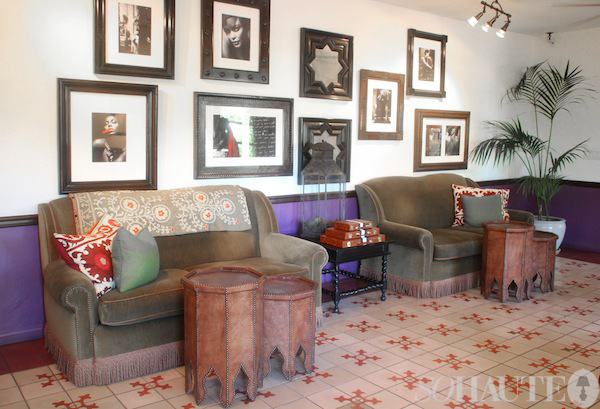 Framed black and white photography with fashion and old Hollywood imagery adorn the walls. There are also more suzanis everywhere…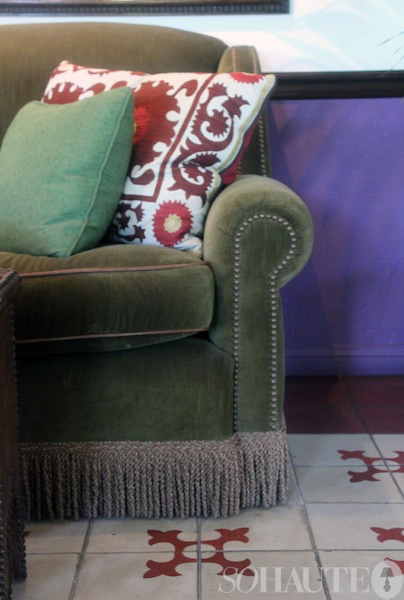 I loved the addition of subtle contrast welting, nailheads and  fringe detail on the plush velvet sofas  in the lobby. I always say that good design is in the details!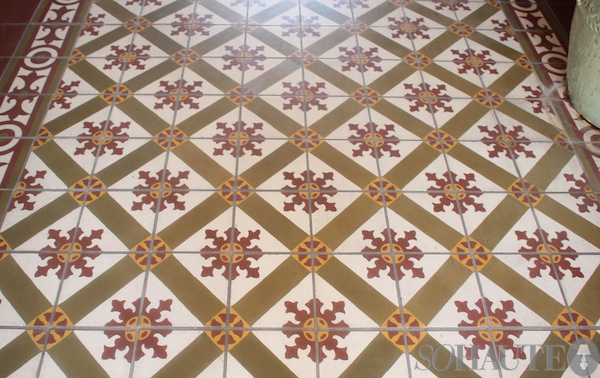 All throughout the property you'll find beautiful old Spanish tiles like this covering the floors…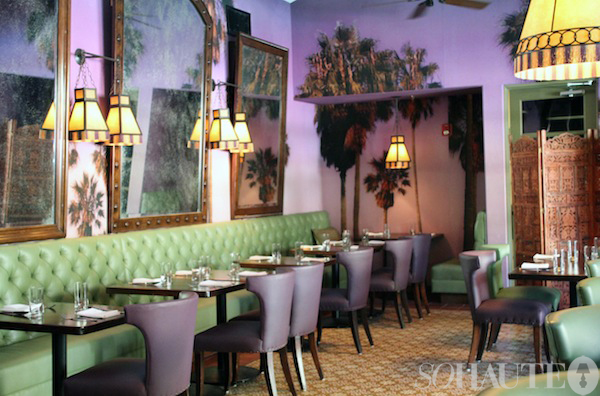 This is the hotel's amazing restaurant, The Purple Palm, which is situated right by the pool. The food is Mediterranean inspired and totally amazing. Our dinner there the night we checked in was one of the best meals we had in Palm Springs and the next morning we had the most incredible breakfast ever.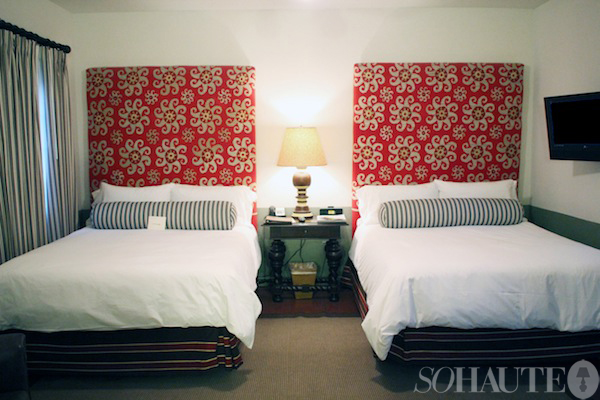 We stayed in a standard guest room with two double beds and the decor was simple but lovely. The beds were incredibly comfortable and I loved the suzani covered headboard which provided an energizing splash of color.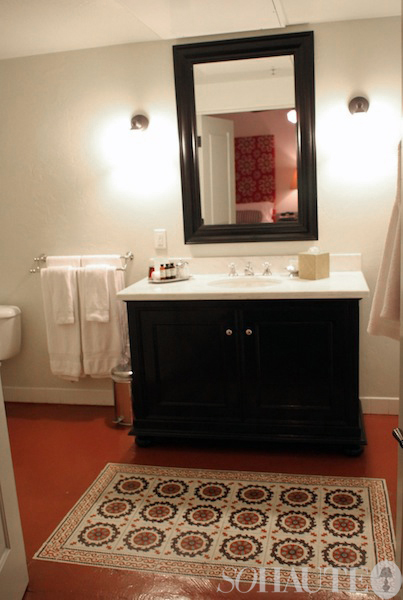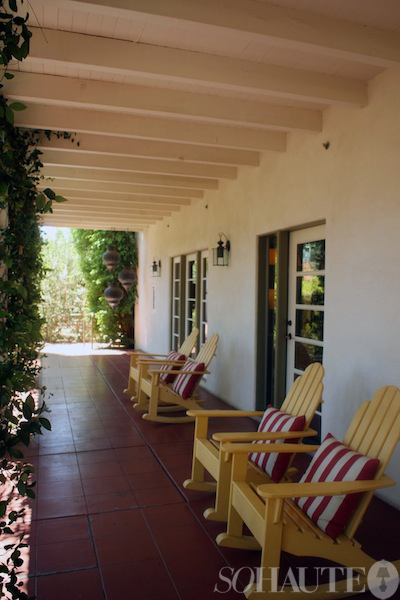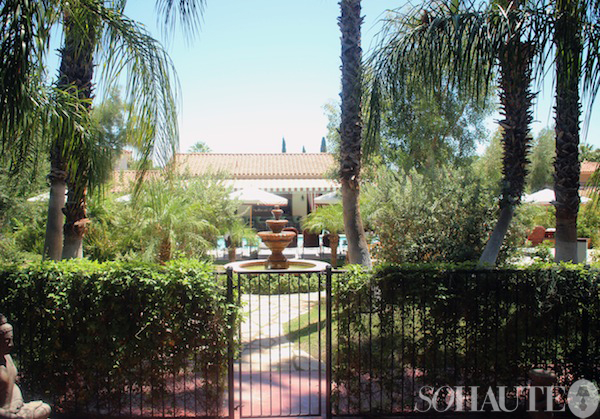 Here's a view of one of the hotel's courtyards overlooking the pool and The Purple Palm…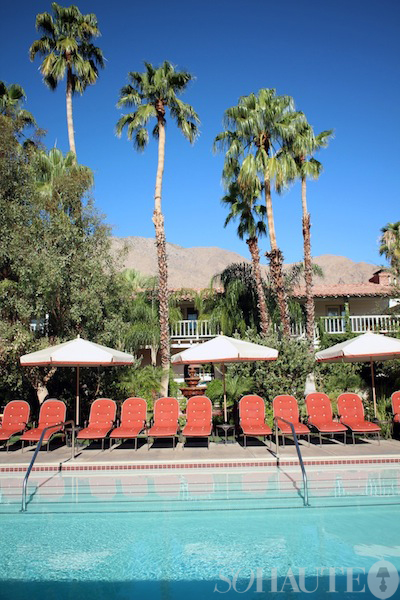 And the chic pool surrounded by wrought iron lounge chairs with rust colored cushions which play well off the colors in the terracotta roof tiles and the natural elements…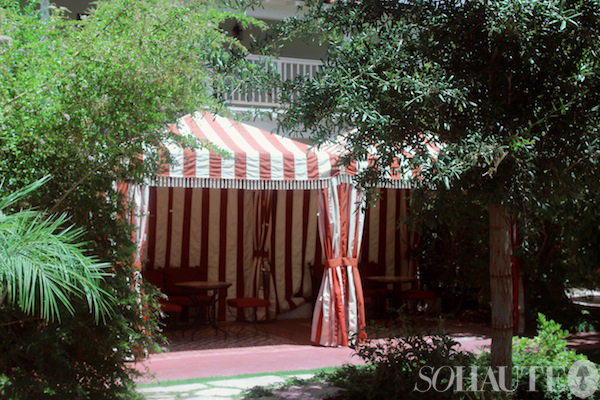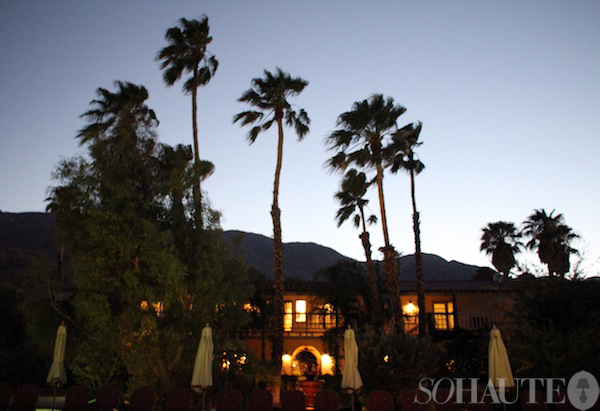 And finally, a shot of the property just after sunset. For more information on The Colony Palms click here.
Photos by Nicole Gibbons
Interior design by Martyn Lawrence Bullard