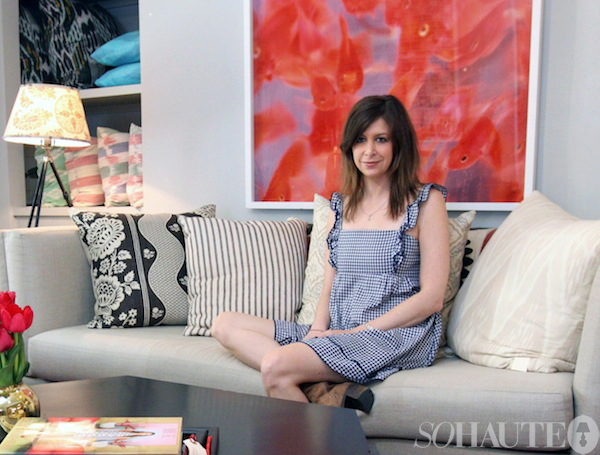 Carrie Kravetz – Design Director at Nathan Turner. Photo: Kiya Gibbons
Meet the Assistant is a new feature on So Haute that will regularly profile the design assistants and associates who work behind-the-scenes with some of the industry's top designers to help make beautiful spaces come to life.
For our first installment, I'm delighted to introduce Carrie Kravetz – a former entertainment journalist who left the crazy world of red carpet reporting for interior design several years ago and hasn't looked back since. Two years after joining Nathan Turner as design assistant, Carrie, 31, is now Nathan's Design Director and the two seem to get along as swimmingly as Will and Grace. (We were especially amused when we showed up at their portrait session and they were unknowingly wearing matching blue & white checked outfits!) Read on as Carrie dishes about how she landed her gig, the lessons Nathan's taught her and hear her top tips for decorating on a design assistant's budget!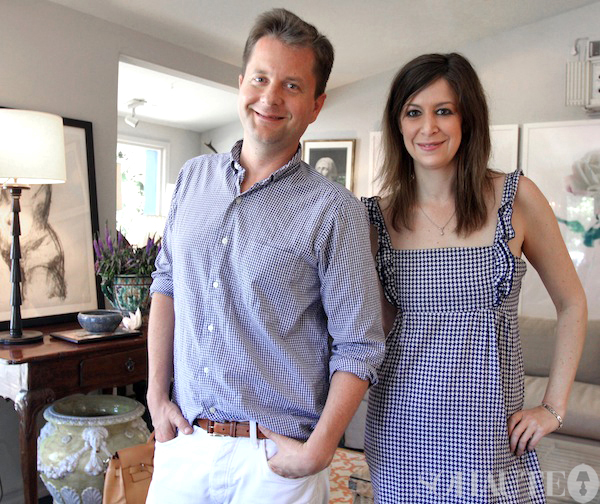 Nathan Turner with Carrie – in their matching checked blue & white outfits! Photo: Kiya Gibbons
What were you doing before you started working in design?
I was an entertainment writer and reporter. I went to USC Film School and graduated in 2002. I worked for Reuters, MTV, Teen People and Entertainment Weekly where I covered red carpet events. Then I went back to school at FIDM to become an Interior Designer and I graduated in 2006. Originally, I thought I'd be a set designer.
How did you land your job and how did your role evolve from design assistant to design director?
My first real design job was working as a design assistant for Kerry Joyce then I left there to work at Lucas Studio which is located behind our office and that's how I met Nathan. When I first started off, I was working freelance for Nathan on AutoCAD*. As we started to get busier I became a design assistant.  As Nathan's firm continued to grow, we had to add more staff and I definitely started taking on more responsibility. Because Nathan is so busy now I'm often his eyes and ears.  I visit vendors, make sure everything is being made properly and I try to resolve any problems before Nathan needs to get involved. (*Note: AutoCAD is a computer drafting/rendering program used by interior designers)
What has been the most valuable lesson you've learned from Nathan?
You don't have to design by the book. It's more important to go with your instincts and what you feel based on your experiences and education, but there's no one rulebook for great design.
Have you experienced any crazy on the jobs disasters?
Yes! I think any designer who says they haven't experienced job disasters or mess ups is not telling the truth. There are so many details involved in interior design. Most recently, I ordered a lantern for a client that was 6 inches too big. This wouldn't have been terrible but the lantern was a cube so it was 6 inches too large on each side! It was enormous! Luckily our vendor worked with us to make it the right size. I felt terrible about it since I'm such a perfectionist.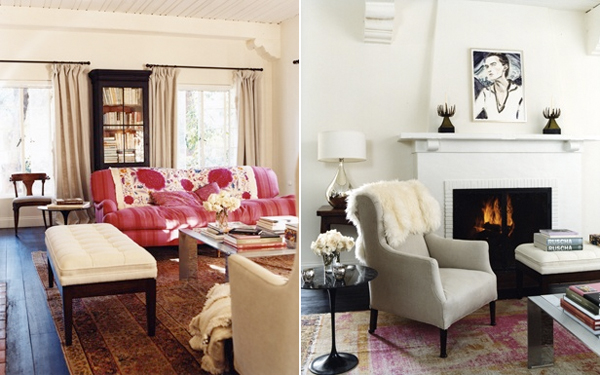 Carrie says she enjoyed working with Nathan on designing the home, shown above, of his client, actress Amanda Peet. Photos by Coliena Rentmeester for Domino
Does Nathan have any funny quirks?
Yes, he has nicknames for everyone! Mine is "Shazz". It's such a random nickname that I've grown to like.
Where'd that come from?
There's this photographer whose work we carry in the store. Often times clients request we order custom sizes and in order to do this I have to call the printer and order the custom size. The printer is now out of business but one of the guys I worked with was named Shazzi. Nathan would make little jokes about Shazzi being my boyfriend and somehow I became Shazz.
What do you love most about working with Nathan?
He's just so fun to be around. Everybody should be as lucky as me to get to work with someone they like so much.

How would you describe his style?
Nathan's style is elegant but relaxed. Glamorous but comfortable. He layers classic antiques with modern and ethnic pieces to create his signature space.
Has his aesthetic rubbed off on you at all?
My style is pretty similar…definitely eclectic.  I like to create spaces that people just want to crawl into. I dislike rooms that are so perfect looking that you're afraid to sit down on a sofa for fear of making a wrinkle in the linen. I like to juxtapose and layer new with old. I'm especially partial to mixing in industrial pieces. I live in an old toy factory. My loft is very bourgeois bohemian. Since working with Nathan, I've started to incorporate the color blue into my designs more…and definitely started adding a lot more ethnic pieces. Right now I really like Navajo rugs and African textiles.
What is a typical day in the office like for you?
It's never the same. That's one reason I love my job. Sometimes I'm in the office all day doing AutoCAD or scheming and other days I'm out shopping for clients or inspecting furniture at vendors' workshops. There's also a lot of correspondence and paperwork which I do daily.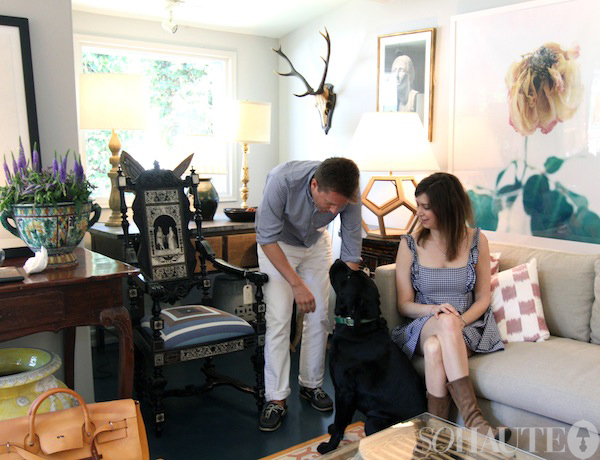 Nathan and Carrie with Nathan's black lab Nacho
How did you react when you found out that Nathan had signed on to star in Bravo's Million Dollar Decorators? Were you psyched about the possibility of appearing on the show?
I was really excited and nervous at the same time. Nathan was like,"Hey, so I'm going to be in this show. I would love it if you were part of it, but if you don't want to do it I understand."  It didn't surprise me though–Nathan is so fun and entertaining. I knew he would be perfect for the show.
Did you ever get tired of having cameras follow you guys around all the time?
The cameras were there about 3-4 times a week. Sometimes less, sometimes more. It all depended on what we had going on. At first it was extremely awkward. I definitely felt a bit nervous when we first started taping but as I got used to the crew things became a lot easier.  Nathan and I loved our crew. It was easy to be ourselves around them because they were so awesome. Sometimes it was hard to get everything done that I needed to get done when they were there though. We had to wait to go about our schedule until the crew got there to set up.
Can you share any details about what we can expect to see in the season ahead?
The first episode premiered yesterday and I'm on it for like 5 seconds. The dogs have more airtime than me! Nathan looks fantastic and he is so funny. I think the India party episode will be one of the best episodes. I haven't seen it, but some of the crew members told me it looks fantastic! That was such a fun and gorgeous party.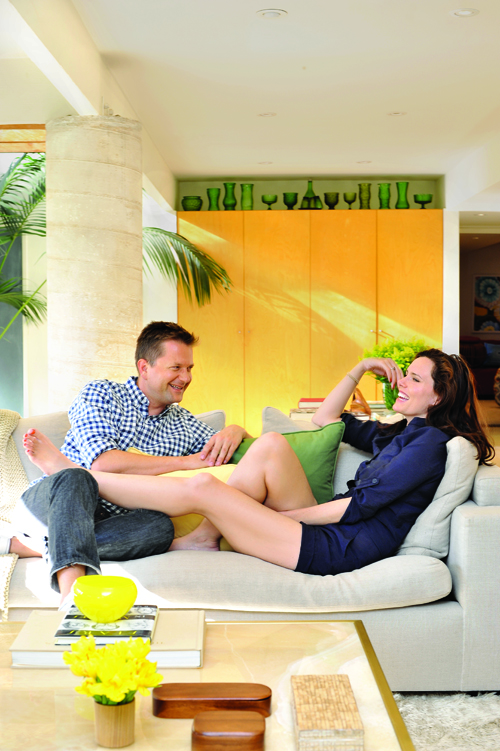 Nathan with his client actress and painter Ione Skye in her living room. Photo: Mike Gardner for C Magazine

Do you have a favorite project that you've worked on with Nathan?
Ione Skye and Ben Lee's house was one of my favorites.  They live in a true mid-century house in the Hollywood Hills. When we first met with Ben and Ione they needed help rearranging the space to include a new room for the arrival of their baby. They had a huge master bedroom which we split into two rooms for the two children. We basically created a children's wing. Ione's daughter Kate's room became Ben's new studio and we turned the guest room into the new master bedroom. The new wing made the entire house feel bigger and more livable. Ben's studio became his own space.  I helped design a lot of custom furniture for the family room and living room. It was really fun as Nathan and I worked within the mid-century style but updated it with fun colors and textures. Ben and Ione were so easy-going…they were the perfect clients. They really trusted us and let us be the experts. They're also both amazingly talented and brought such great energy into their living space.
What do you like most about your job?
Nathan! As if that wasn't obvious! He is the most fun person to work with ever. We have a good time. Yes, often times work is stressful and the client demands are overwhelming, but we always seem to find  something to laugh about. I also really like the interaction with our clients as well. I love it when they adore a piece of furniture I helped design. I really like space planning on AutoCAD. Is that strange?
What do you like least?
The paperwork. Also, I'm the one all the vendors and clients call or email if anything goes wrong!
One of Carrie's mixed media works
What are your long term career goals?
I'm a mixed media artist and I'd love to incorporate my artwork into our design jobs and maybe get some commissioned pieces. Just like in my design, my mixed media pieces juxtapose old with new. I love using found vintage and antique ephemera. I have a ton of antique books and vintage magazines and there are all kinds of random images and texts. I love using beautifully hand written letters  (18th-19th century) in my pieces. People don't hand write letters like that anymore.  I find my materials at thrift stores and ebay. I use acrylic paint, gel medium and other materials like wire and fabric. I'm inspired by the work of Rauchenberg, Basquiat and Darger. I've sold quite a few pieces through the store and our sales on One Kings Lane. My work has sold all over the world and my larger pieces are available through Nathan Turner. I'd also love to design tabletop and textiles – hopefully for a Nathan Turner collection.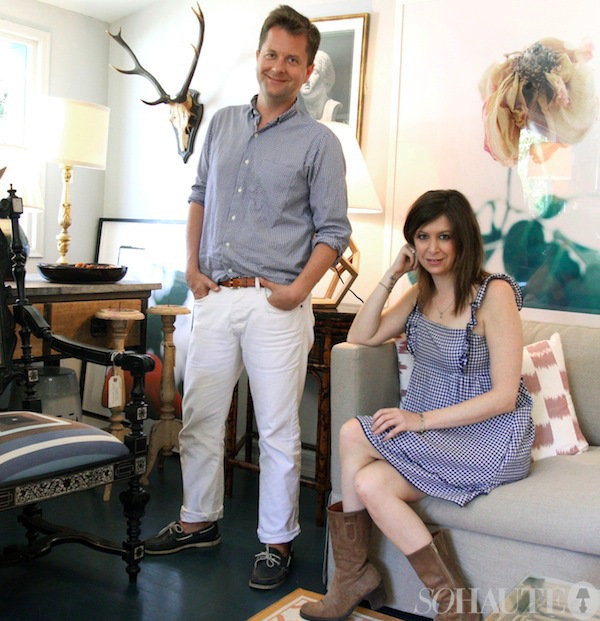 Carrie & Nathan at his Almont Yard shop. Photo: Kiya Gibbons
Finally – Can you share your top three tips for decorating on a design assistant's budget?
1. Craigslist has some awesome furniture.
You can get really amazing items for really cheap or sometimes free. Driving a U-Haul really isn't that hard or expensive. Or, have a friend with an suv or truck help you pick up the items.
2. When renovating your place, concentrate on one room at a time.
Re-doing a whole apartment or house can be very expensive. Pick one room, make a budget, and make this room your sanctuary. You don't need to do everything at once. I think concentrating on your bedroom is a good idea, because it's the place where you go to recharge. Its your nest. Make it yours. Sometimes, all you need to get started is a fresh coat of paint on your walls. This is an inexpensive way to change the entire feeling of your room.
3. If your walls are bare, create your own art.
Really, you can just buy a few canvases, paint them solid colors and put them up on your wall. You can also frame anything–from old record albums to movie posters.  If you just don't have a creative inkling in your body you can buy great art for reasonable prices on the internet from places like Etsy or 20 x 200. Ikea has great frames that will totally fit in your budget.
If you want to learn more about Carrie you can follow her on twitter here or check out her blog, Missenscene.com! Also be sure to check out Nathan's work here and watch him on Million Dollar Decorators (10/9c on Bravo)!
Photos of Carrie Kravetz and Nathan Turner by Kiya Gibbons for So Haute