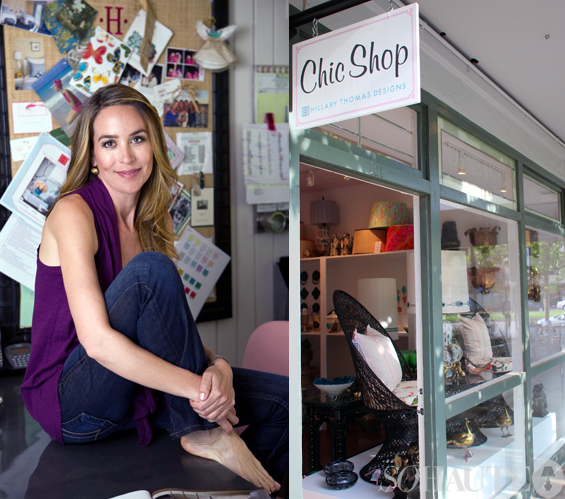 During a recent trip to LA one of the top items on my agenda was to get to Brentwood to check out interior designer Hilary Thomas' newly opened Chic Shop.  Hilary says she always wanted to open up a shop to showcase the wonderful treasures she's collected over the years along with her some of her own designs so once her best friend Clara Hendon joined her as a business partner a year and a half ago, the idea for Chic Shop was born. Located in a fabulous 1950s courtyard complex, Chic Shop opened its doors for business this February. I've been a long time fan of Hilary's colorful, "vintage chic" interiors so I knew her shop would be chock full of eye candy and I was excited to check it out and catch up with Hilary to learn more. Read on as Hilary shares the scoop on Chic Shop plus see a tour of the shop and her design studio!

How did you first get your start in design?
I've been one of those closeted designers my entire life – starting in a safe place as a young girl by redecorating my room, my friend's rooms, my mom's room.  In 2000 I starting taking clients here and there, but I didn't fully jump into it until 2008.  I've been on this journey ever since, following my muse, bringing on a business partner, trying to introduce a different design aesthetic along the way.  I really do feel like I've found the ideal path – I can't really distinguish work from play (nor do I want to!)
What made you decide to open a shop?
I've always wanted a little retail store where I could show off all of the treasure that I come across.  I also wanted an outlet to sell the products I've been dreaming up for the past few years. Ultimately, our inventory was completely taking over my garage (and house!) I woke up one day and had this realization that I just couldn't continue collecting all of this great stuff…it was time to share it with my friends and clients.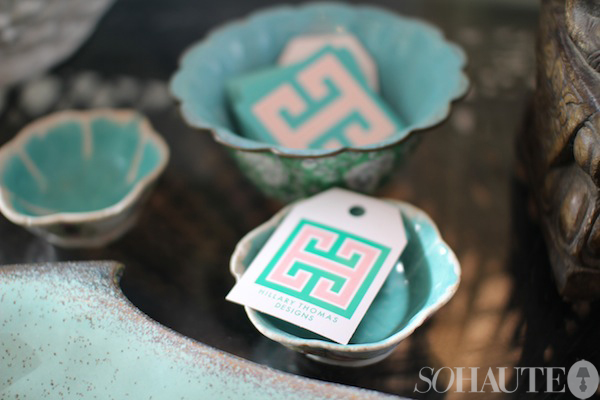 Vintage Asian finger pots at Chic Shop


What made you choose this location?
I've always loved the Barry Building at Brentwood Town Green. It's a fantastic example of 1950s architecture that's all over LA.  It has a lovely courtyard in the center and Caffe Luxxe right next door. I also have a couple of friends with offices in the building, so being at work is a little bit like being on the set of a sit-com. There's always some (gorgeous) friend popping their head in our store to chit chat or go grab a coffee with….
Finally – what are a few of of your favorite pieces in the shop?
I'm absolutely crazy about our finials!!! I've wanted to launch a line of finials for so long, but it took me awhile to muster the courage to do it. Once we had a few prototypes, I knew right then that we were on to something big.  I never imagined what a transformative effect they'd have – not just on each lamp but really on the entire room.  They are so unexpected.  It's hard to describe, but they have this bizarre way of being subtle and bold at the same time.  I'm also really excited about our new vintage barware. The funny thing about all our vintage pieces is I only buy things that I'm definitely in love with and would want for myself, so it's always bitter sweet when they sell.  Right now I'm obsessing over 3 brass horses holding up a crystal ball. Very retro chic!
And now for the tour…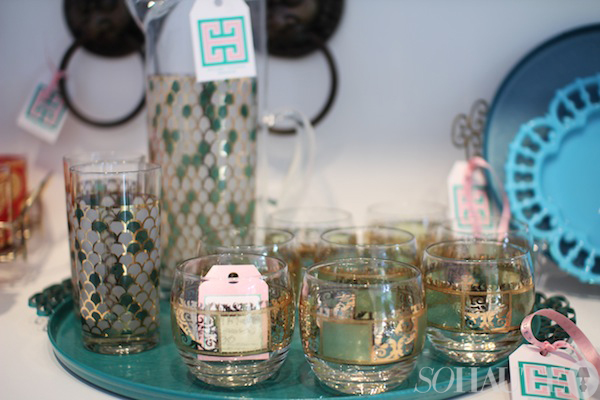 "Here are some pieces from our new Vintage Barware collection, inspired by our favorite saying, "It's 5 o'clock somewhere!" The collection includes glassware, trays, ice buckets, ashtrays and bar carts."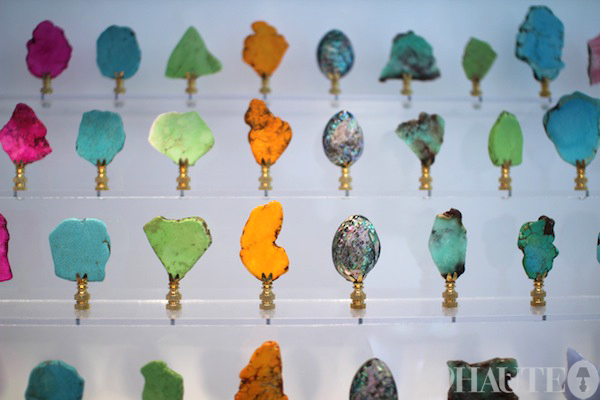 "This is the Rock n' Rolla collection from The Finial Touch, our lamp finial brand."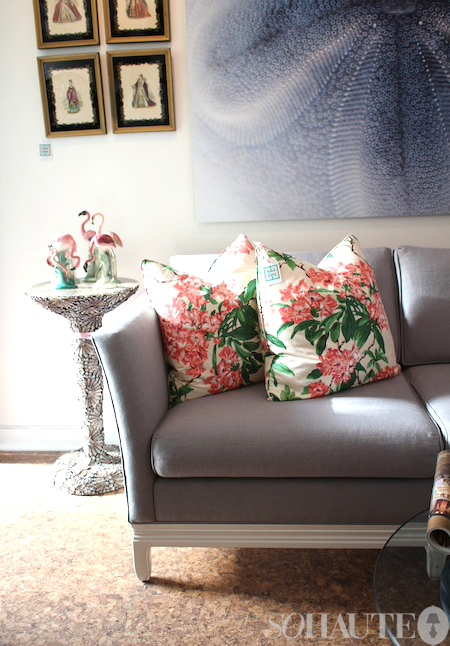 "A striking photograph by Doris Mitsch co-mingles effortlessly with some 'Palm Beach Chic' items."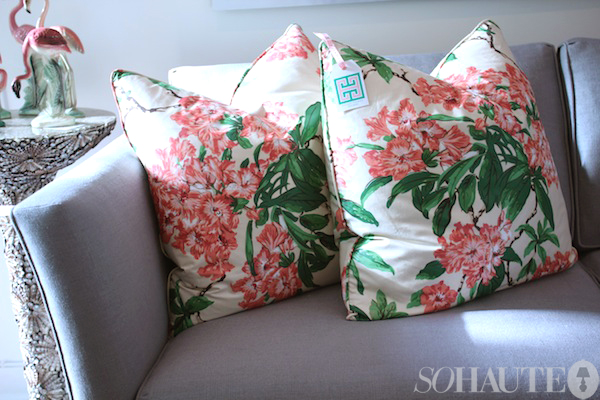 "Hillary Thomas Designs pillows made with Bob Collins and Sons fabric."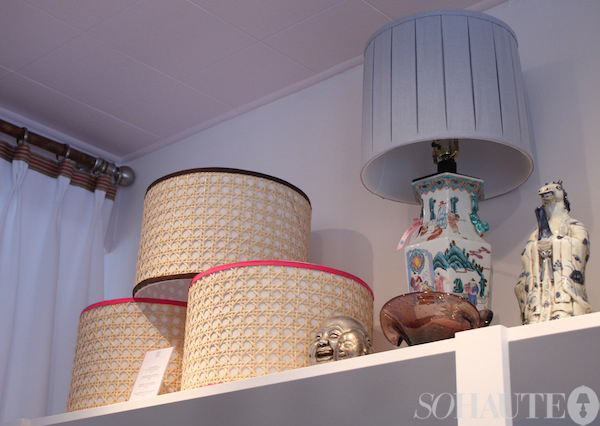 "Our line of custom lampshades has really taken off, especially our WASPy-chic caning ones."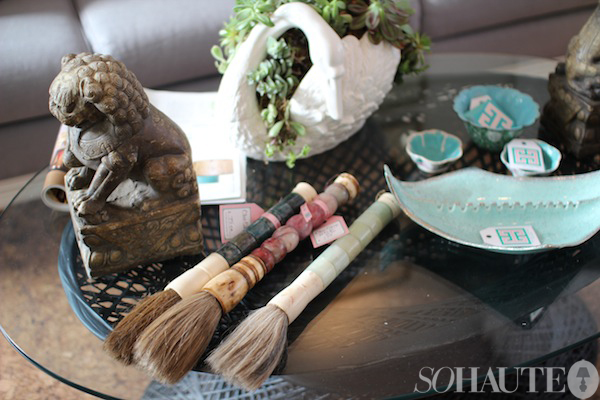 "Foo dogs, asian antiquities and planted cache pots are a few of our favorite items at Chic Shop!"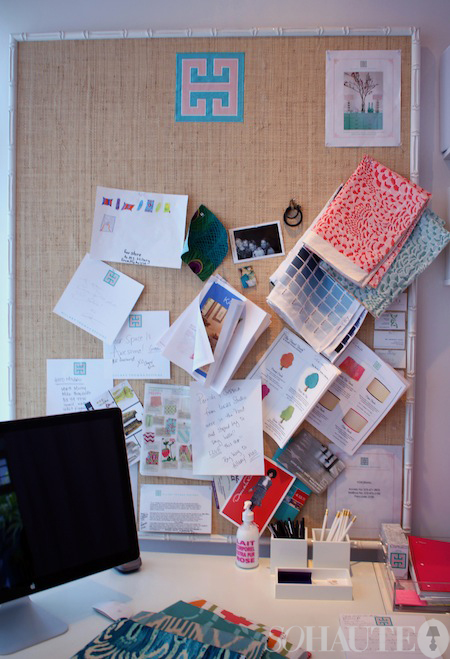 "A peek behind the curtain at Hillary Thomas Designs!"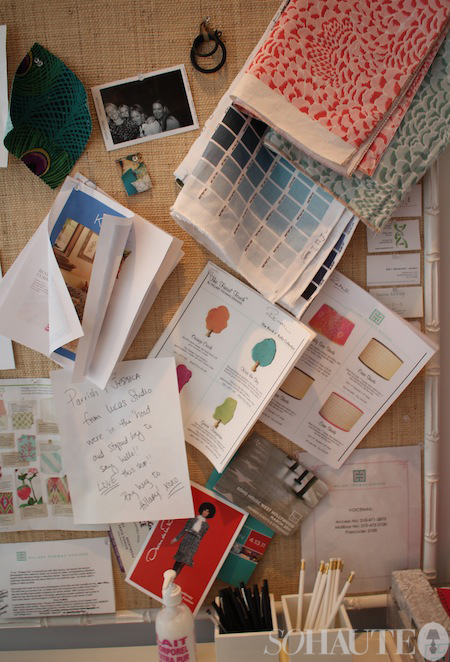 "The fabric here on my bulletin board is from Calico Corners."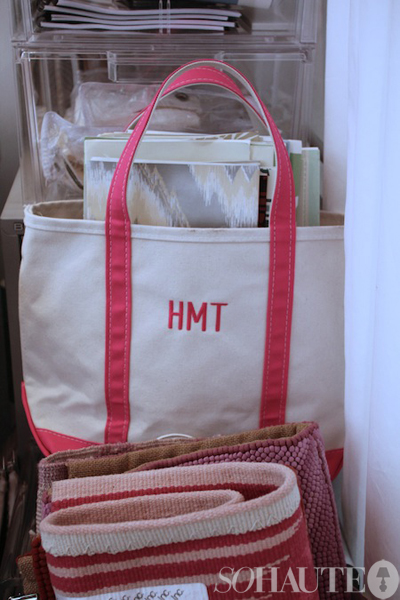 "The monogrammed LL Bean bag holds Meg Braff's wallpapers. Decorative Carpets are in the foreground."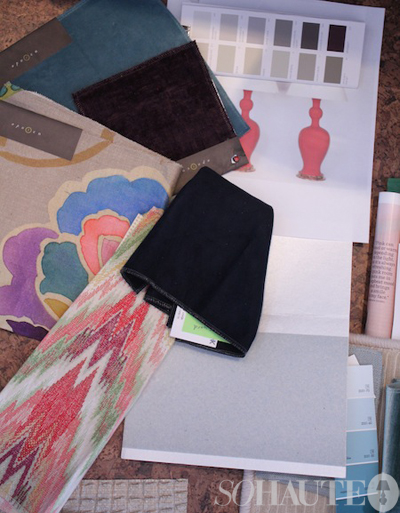 "This is a design scheme for a living room in the Pacific Palisades. The flame stitch pattern fabric is for the curtains."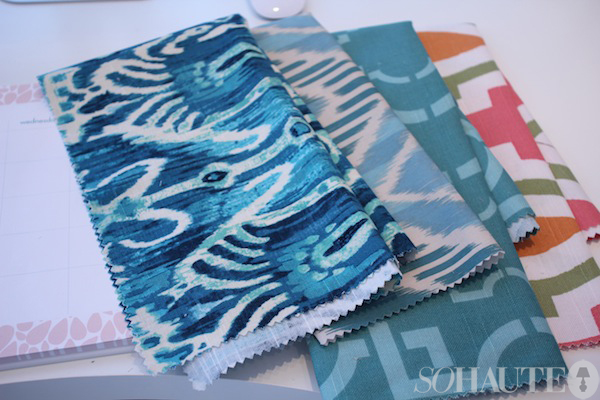 "These are Duralee Fabrics used for the Good Shepherd Charity Design Project."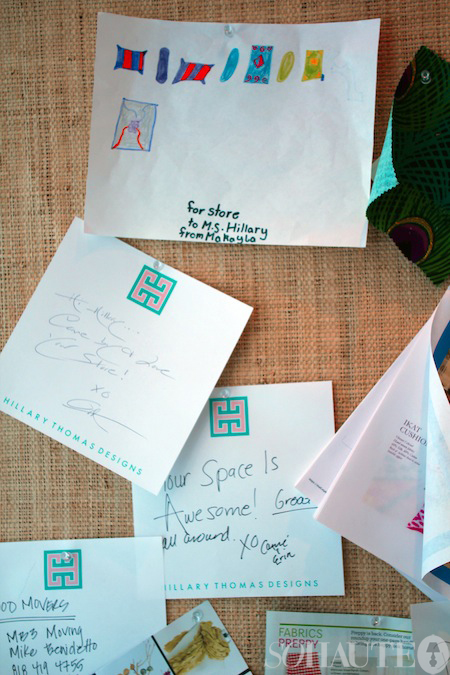 "Accolades offer inspiration for me. Most loved is the drawing of new pillows by our young friend, Makayla."
I second the note on the bulletin board. Hillary – Your space is awesome! Thanks for giving us a tour!

All photos except the top portrait of Hilary Thomas are by Nicole Gibbons