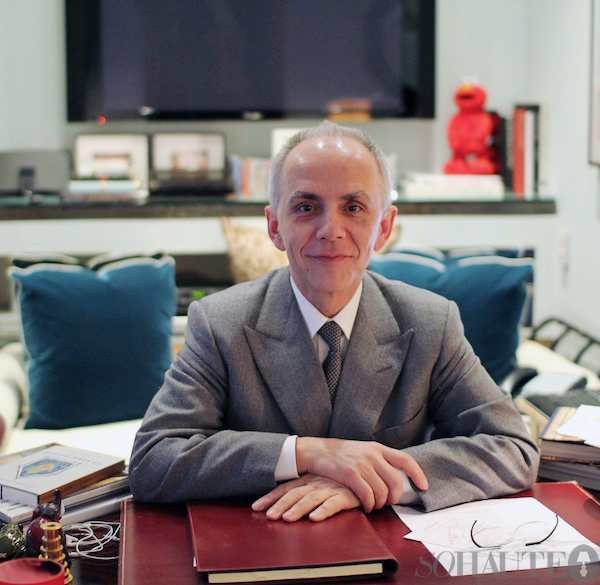 Robert Couturier in his home office with his favorite Elmo in the background.
Recently I had the opportunity to meet famed architect and interior designer Robert Couturier who invited me into his elegant penthouse apartment to talk design. Couturier lives in modernist Soho building which also happens to house the offices of  his bustling design firm. The building's elevator transports you directly into his glorious apartment which is impeccably decorated with a mix of 18th century antiques, modern classics and an enviable art collection. (It will soon be published in an upcoming issue of Elle Decor) The space also possesses a sense of refinement that makes you feel as though you've entered the world of someone very important. French born, New York based Robert Couturier is one of the top decorators working today. He's been designing lavish homes of the rich and famous for more than 30 years but perhaps his most high profile project was in the late 80s when billionaire tycoon James Goldsmith tapped the young decorator to design his sprawling, 20,000 acre palatial estate in Mexico. To this day Couturier counts that project as his most proud career milestone. You might expect a decorator who works with the ultra rich and lives in a world where luxury and opulence rules to be stuffy and uptight but I found Couturier to be exactly the opposite. He's gregarious, charming, funny and refreshingly down to earth. Quite the character, Couturier listens to Eminem, is addicted to The Real Housewives of Atlanta and counts his favorite furry Elmo doll as one of the things that makes him happy! I really enjoyed chatting with him and I'm thrilled to give you a little glimpse into our conversation…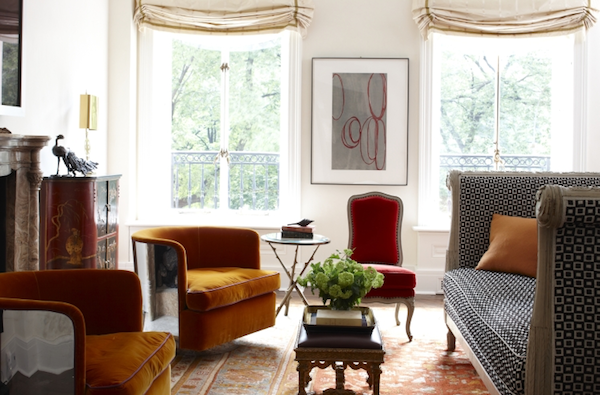 The living room of hairstylist Frederic Fekkai and Shirin von Wulffen's Manhattan duplex designed by Robert Couturier
Tell me about some of your early design influences:
Growing up my grandmother and her husband used to have mostly 19th century French furniture and I remember when I was a young boy I had a friend that invited me to his house and it was completely modern. So imagine a modern house in France in 1974. It was something I had never known in my life and I just loved the idea of having an incredibly strong modern house. When I came to New York in the late 70s, the first apartment I did for myself was navy blue and white and was all modern. And then slowly I started buying antique stuff again so think I sort of go from one style to the other. I've also been influenced in the modern way by Jean Michel Frank. I think his style is tremendous. Also Jacques Grange because I've known Jacques since I was really young and I've always admired him. He was always the person to emulate and he has this fluidity to his style which is heavenly.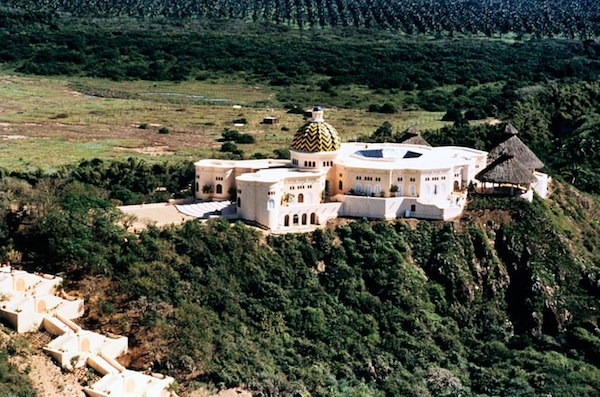 The late billionaire Jame's Goldsmith's palatial estate in Cuixmala, Mexico
What has been the most defining moment of your career thus far?
Probably the work I did for Jimmy Goldsmith in Mexico. It was unequaled. I'm not sure I'll have the opportunity to do such a big job again. I don't think they come that way anymore.
What do you mean?
I think in the 80s wealth was not a dirty word and I think being rich was something people aspired to in a nice way and I think now that has changed greatly. Now the rich are being very discreet in a way that they didn't used to be.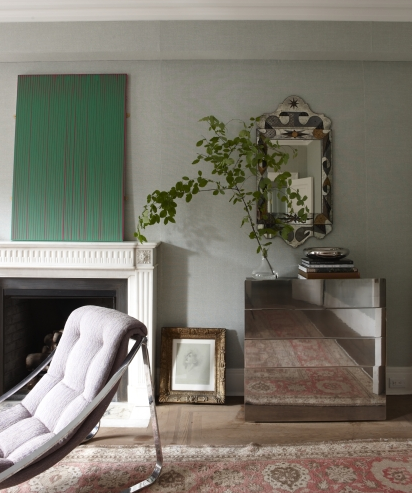 A chic vignette inside Frederic Fekkai and Shirin von Wulffen's New York City Home
How do you think the design business has changed over the years?
I think it has changed enormously. I think decorators like me are dinosaurs and I think eventually we're going to disappear. People now have accessibility to everything in a way that wasn't possible years ago before the internet. Back then people had to go through us, through our eyes and our choices. Today all you have to do is go through the websites of all the designers you like, see what you like from each of them and then you go on websites like 1st Dibs where you can buy directly from the dealers, then you go on all the blogs and ask them for opinions and you can really do your homes without people like us. You know, we're a luxury. We're an added expense. If you're very wealthy you don't really need to do it yourself so you might go through people like us but otherwise, why?
But don't you think there will always be a group of people who will hire a decorator?
Yes, there will always be but far less than before. I think the upper end market will always be there because people are too busy but all the mid-market is gone and I think decorators are going to have to find different ways to adapt.
What do you think completes a home?
I think the presence of art really completes a home.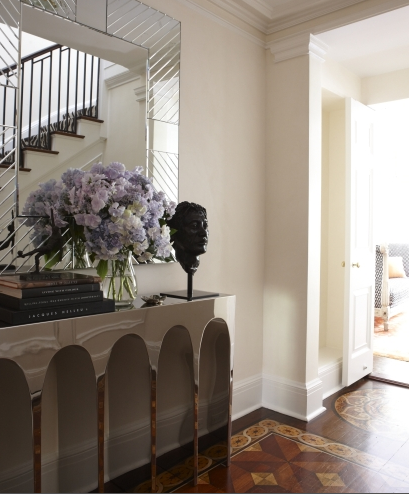 The entry designed by Robert Couturier for Frederic Fekkai and Shirin von Wulffen
Let's talk about some fun stuff. I hear you are a big fan of the Housewives series on Bravo?
Are you kidding, I'm completely addicted! Nene is my favorite!
I have to admit I don't watch!
How can you not watch?!
I only watched the first season of the New York Housewives.
I like the one girl… the chef who now has another show.
Bethenny?
Yes, Bethenny, I like her!
What else do you watch?
I watch CNN all the time. That and Bravo.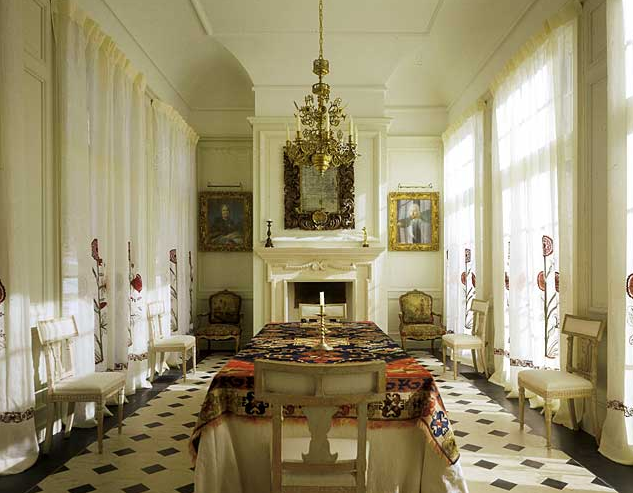 Robert Couturier's dining room in Connecticut
Do you read blogs?
I read blogs that mention me because they come to me in a Google alert. I also love Facebook. I'm on it all the time. I did twitter for a while and then I lost interest. I felt like I was screaming in the dark. Facebook is much more interesting and relevant to me.
What's on your iPod?
Oh my god I have 19,000 pieces of music on my iPod! I love classical. My favorite composer in the world is Johann Sebatsian Bach. I don't think I could live without him. I have mostly classical on my iPod but I like plenty of other music. I love Eminem! I think he's so cool! I like what he says, I like the irony and I like how crazy he is! He's fabulous!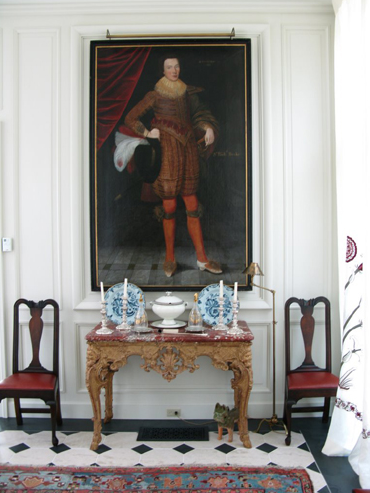 A vignette inside the Connecticut home Couturier shares with his partner Jeffrey Morgan
Do you collect anything?
I collect everything! All my houses are full! I collect photography. I love china. I love silver. I'm a things person I guess. It's funny though because even though I love to have things, if all the things disappeared I don't think I would mind. I'm not attached to very much.
So if your house was on fire there's not one special thing you'd want to take with you?
No because it's all insured! I'll take my dogs and that's all I would worry about.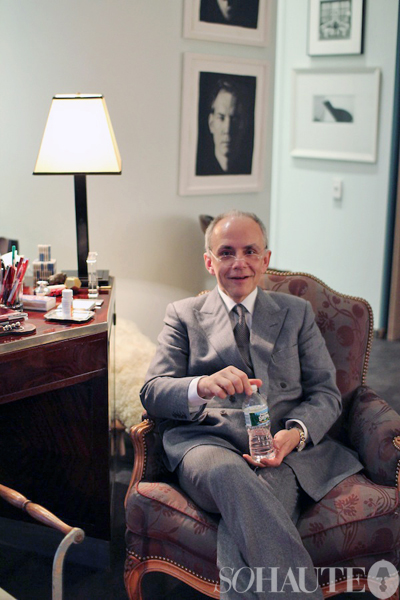 Robert Couturier inside his home office the day of our meeting
Do you have a favorite piece in your home?
Him! (He glances up on the wall and points to an 18th century English painting of a very dapper man) There's so much story behind him. I like to say that his boyfriend paid for the painting!
What's with the Elmo behind your desk?
I love it! He used to make me laugh so hard when it first came out. The company that fabricates it belongs to a client of mine and we were out to diner and I was talking about this and he says 'I'll send you one tomorrow!'
Do you have any guilty pleasures?
I have tremendous amounts of pleasures, but I'm not sure they're guilty! I guess maybe I spend too much money…
Couturier next to one of his two closets filled floor to ceiling with custom-tailored suits from Douglas Hayward
What do you buy mostly?
I buy art. I always buy things I can't afford. And my tailor.
Are all of your suits custom tailored?
Yes, it's great. The shop that makes my suits is called Douglas Hayward in London. Another guilty pleasure is ice cream but the problem is that if I buy too much ice cream I won't ever fit into my suits anymore!
Do you ever wear jeans?
Never. I wear suits every day and on the weekends I wear corduroys and a jacket. If I feel slightly overweight I don't see it when I'm wearing a suit but if I have on jeans it might make me look like a mushroom top!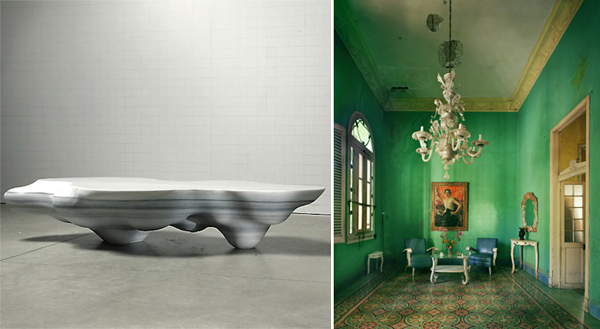 Currently on Couturier's wishlist: Left – Cloud table by Joris Laarman. Right – Michael Eastman's Havana portrait.
Is there anything you're lusting after right now to curb your shopping addiction?
YES! You know the galleries Barry Friedman and Friedman Benda? They have the most beautiful contemporary art and furniture that you can find in the world and they have an exhibit at the moment of a photographer called Michael Eastman whose work I love. There's one picture that he has of a house in Cuba which I would love to own. He has another artist called Joris Laarman. I love furniture that has an intellectual construct…I find it absolutely fascinating and Joris Laarman does that. He has a coffee table made of marble that's actually a composition of clouds. He takes pictures of cloud formations and then translates the picture through the computer onto a piece of sculpted marble. I LOVE the idea of a cloud being made into a piece of marble. It's so brilliant! I would love to have that too. I could just see it here!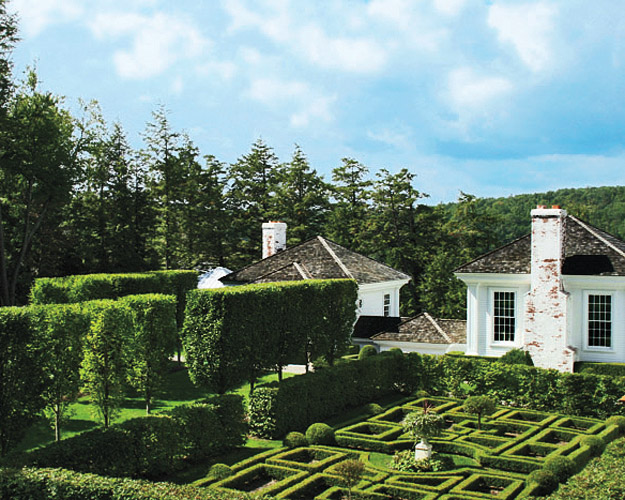 Robert Couturier's Kent, Connecticut house and garden.
What do you like to do when you're not working?
When I'm not working I'm in the country. I usually go on Thursday or Friday afternoon and come back Monday morning. My boyfriend is there and my dogs are there and my life is there.