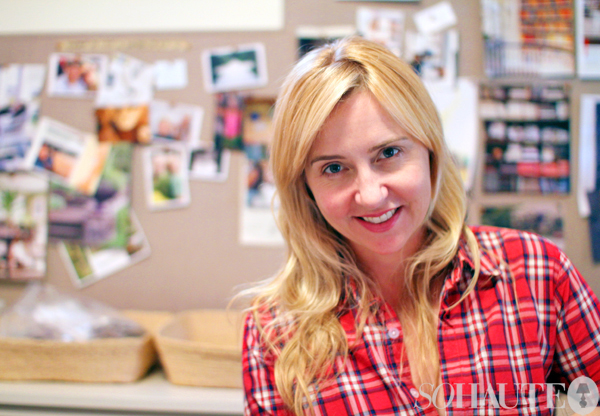 Although LA based interior designer Kristen Panitch is a traditionalist at heart, she loves turning tradition on its head. A hallmark of her design style in an ability to seamlessly integrate an unexpected mix of color combinations and patterns into a traditional setting to give it a modern edge and her spaces always exude a sense of comfort and refinement. Kristen is a designer whose work resonates with me personally so I was excited to have the opportunity to meet her during my recent trip to LA. I paid a visit to her home in Santa Monica where she also works and was lucky enough to get a first hand look inside her world.  Her home is to-die-for beautiful, filled with moody colors, eclectic patterns and the most gorgeous kitchen I've ever seen! (It's being shot by one of my  favorite shelter mags so you'll be able to get a peek inside soon enough!) Kristen began designing a little more than 20 years ago and recently she added another layer to her business with the launch of her new collection of stylish indoor/outdoor upholstered and wicker furniture. Read on as Kristen shares the scoop on her new line, her design career, plus gives us an exclusive tour of her pretty-in-pink office!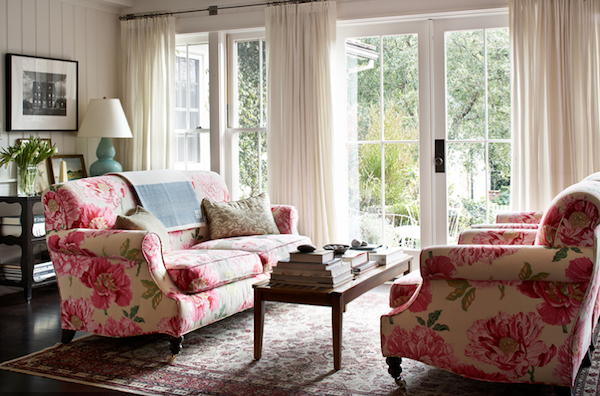 Tell us how you got your start in design…
I was in college working in a real estate office and one of the people in the building knew I was in school to become an interior designer and asked me if he could pay me to help him with his place. I think I was 20 at the time. It turned ot great and from there he referred me to another young person who had just bought a condo…and so there were all these little jobs that I started out doing and by the time I graduated I had a pretty good business going! Another early client was an agent here in LA and had great word of mouth and things just spread…I think I got really lucky!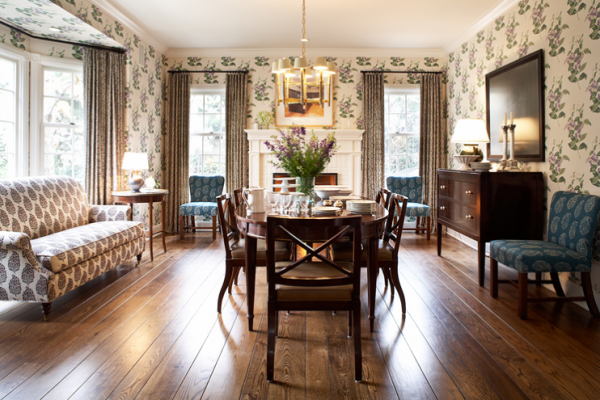 What was it that initially drew you to this career path?
I think my whole life I've been puttering around with design. I would decorate my own room as a kid and I was always decorating my friends rooms. And I was feverish about design magazines since I was really young. After high school I went to Paris for three months and that really solidified that this was something I wanted to pursue in a real way. Also, my mother's very close friend was an interior designer and I didn't realize that was even a job at that time and I just thought to myself 'wow, that's it!' and I went from there…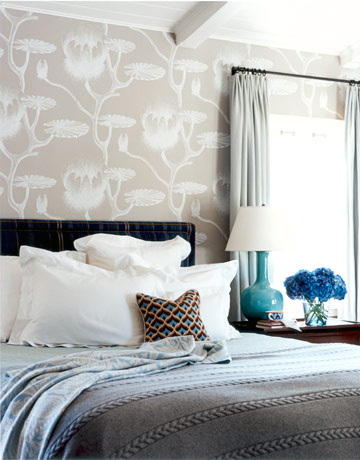 So what were the early days of running your business like?
Oh my God! Oh, it was awful! Thank God for getting a client who knew I'd never done it before because I got to apologize all the way through! I was very up front. I'd tell clients not to pay me a lot because I needed this as much as they did. I think I just got lucky to with a lot of young people who really couldn't spend a lot of money so they were willing to just let me screw around and see what happened. And we weren't sure how it was going to come out because, you know, they were also very young and didn't know what they were doing so they were willing to take the risk so to speak. Luckily I didn't have any major screw ups! I really learned on my feet…it was way better than school frankly. And I was working with tiny budgets! I was at Salvation Army and the flea markets really trying to make it work…
I actually think it's more challenging to work with a smaller budget…
Yeah, you really have to be creative! And that original client was a huge collector so we had tons of stuff to work with. He had just moved here and his mother had tons of these beautiful porcelain dishes that we hung all over the walls and we just got to have so much fun with that project…And again I think him knowing that it was my first time out he was just happy to go along with me so it worked out.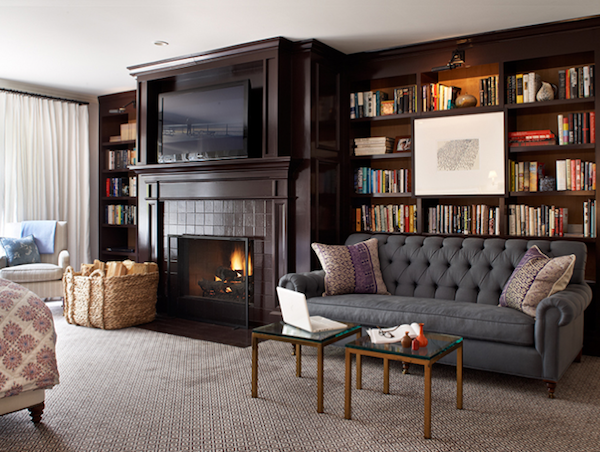 Do you have any mentors or designers that influenced you in those early days?
At the time here in LA Michael Smith was quite well known and he had sort of a great classic, disheveled look that he was doing. I also loved Victoria Hagan back then. I've always been so much more driven by the architecture of a space and I still am and that was usually what informed my work. That was a period of time when I was working a lot of big, classic, traditional homes…a lot of Paul Williams and other really beautiful architecture in Hollywood which I loved and that was such a huge influence. Tearing it all back and going back to picture of where that home came from and working from that place is what I love.
When did you know you had arrived as a designer?
Wow…I guess It would have to be when I would meet people for the first time and they'd say 'oh I love your work.' Also I stopped for about a year to start having children and I thought maybe my moment was over. In this town if you don't work for a year you think you're over and forgotten but I remember people continuing to call me. They would ask when I was available again and how could we make things work and I thought to myself, 'Gosh, I guess I'm for real!'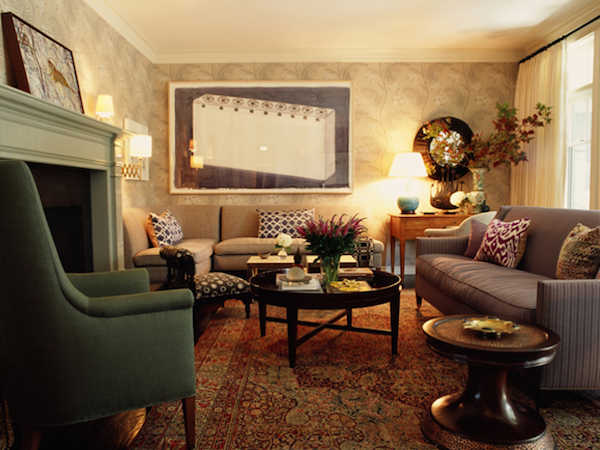 How would you describe your aesthetic?
Understated, elegant and comfortable. I'm definitely a traditional designer but I think I give it a modern edge with the furnishings. I stick to the classics architecturally but with the furnishings I like to loosen it up a bit.
Speaking of loosening things up I always think that LA based designers have this very organic quality of comfort and livability in their work. Is that something that's intentional?
Absolutely! I try not to over decorate! I don't like it when someone walks into a home and says 'Oh who was here?' Obviously my spaces looks done but they also look personalized by the client…it's welcoming, it's inviting, kids are there, dogs are there and it doesn't just look like it's straight out of a magazine and that is something I absolutely strive for. In fact, I'll even tell clients that if they're not going to use a particular room then they have to do something else with it. Everything has to get used, everything has to get lived in or it just doesn't feel good…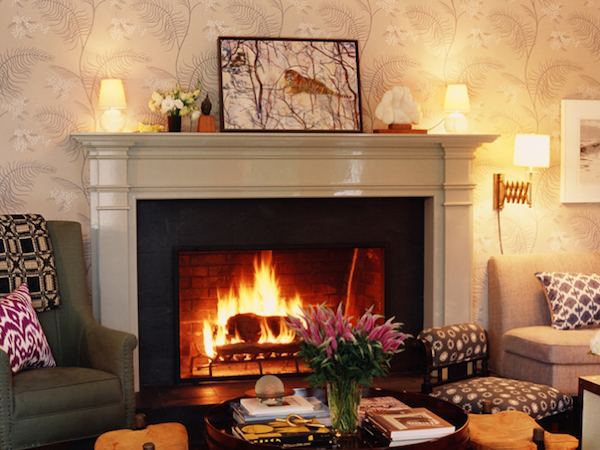 What inspires you most?
Traveling is a huge inspiration. But for me it's more about the way they live than the actual interiors. We were in Tokyo and I was crazy over the organized style of their lives. I love the way everything is compartmentalized…I really love that sensibility over there. We also went to Rome recently and while I'm not particularly inspired by their interiors, the colors and the sunlight and the gardens were so much more inspiring…And the way they live so comfortably. It's not about 'oh I like that chair or that piece of fabric', it's more about a lifestyle. We also spend a lot of time out east and I love being there. We have a house in the Berkshires and I get a lot of inspiration from that area architecturally. I'm doing some work in Maine right now and also in upstate New York and I just LOVE that area and the design there. It's got a really good sensibility.
What projects are you working on right now?
My project in Maine is a little tiny lake cottage that's just beautiful….and I'm doing a house in Brentwood…and I have some wonderful long time clients that just don't want to let me go and I'm working on their house in Santa Monica. I don't usually take on more than 3 projects at a time. That's been the max that seems to work really well for me with kids and if I want to be around and be a mom then three jobs at a time is it. My kids are 13 and a 10 years old. There are times when I think that maybe I'll hire an associate designer and expand but I really like to be hands on and be intimate with the projects. I also tend to start jobs from the construction level so I get to be a part of that phase and a project can last a year or more. I like having that full process so being a part of more than 3 full processes involving construction would just be too many.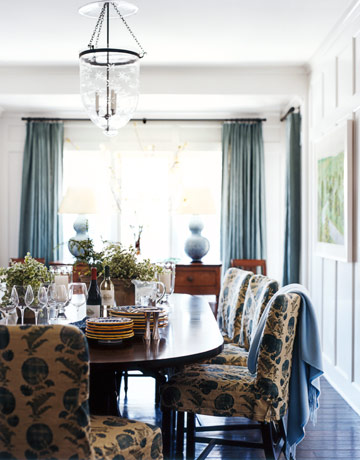 What are some of your favorite places to shop?

Brimfield is my favorite! I go once a year and pack a couple of trucks. I really really love it!  I definitely have my stores that I love to go to here in LA too. I'm in Hollywood at Home a lot. Peter [Dunham] happens to be one of my closest friends as well. I love Nicky Kehoe on Highland and for really special pieces I love this store called Blackman Cruz.  There's also an antiques store in Massachusetts that I love called Berkshire Home Antiques. And 1st Dibs is just fantastic! I'm always searching on 1st Dibs…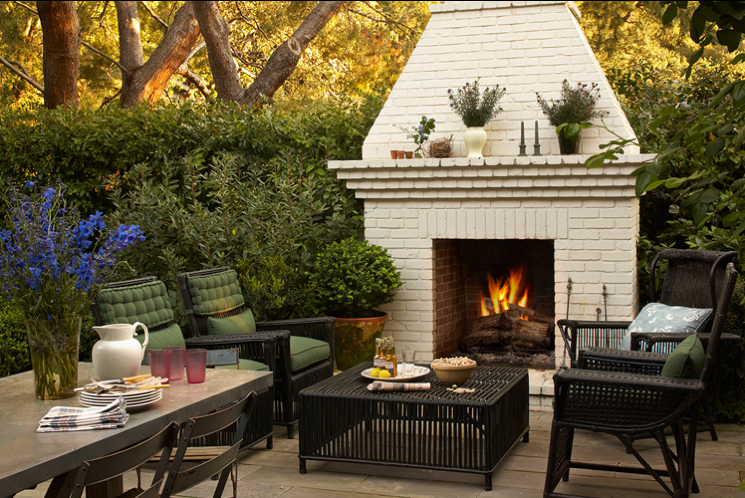 Pieces from Kristen's outdoor furniture line.
Tell us about your new outdoor furniture line…
It all came out of really the need for finding great outdoor furniture for clients. I couldn't really find any outdoor wicker that I liked so I finally just started to have pieces made. There were 9 pieces that I was repeating constantly on projects and pretty soon it became sort of a line.  In the last five or six years I've done so many outdoor rooms…everybody's either putting in outdoor fireplaces or covered porches and that's really how people live here in California so much of the year. People really want to be outside. Now I have pieces in Hollywood at Home and its going to be up on the website by May for people to order.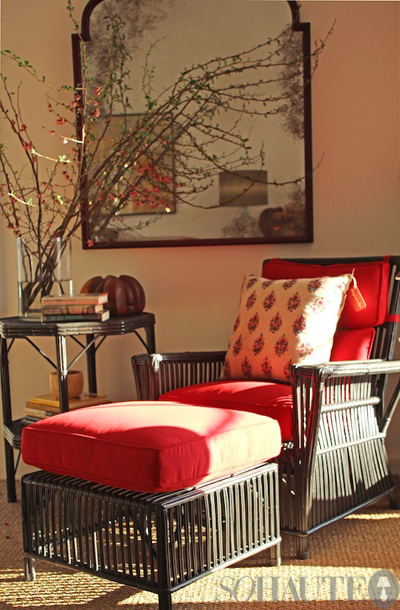 A vignette featuring Kristen's furniture inside Hollywood at Home
Is there anything else in your career you haven't accomplished that you'd like to try your hand at?
I really would love to do a textile line! Its a lot of work and a lot of time but I'd really love to do that one day. And I  want to build on the furniture. After the outdoor furniture I think I'd like to do some upholstered pieces. And maybe open up a shop.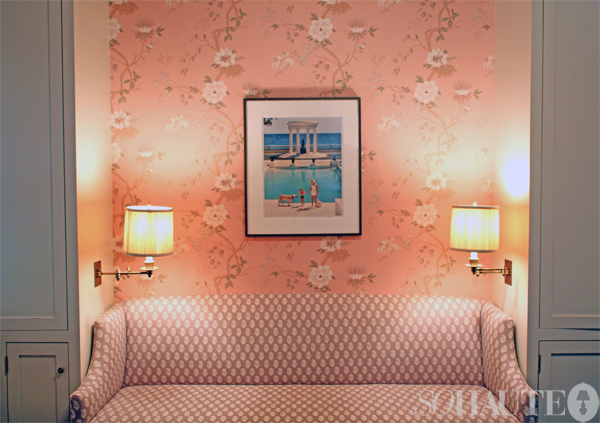 Finally, give us the scoop on your lovely office and what a typical day here is like for you…
Because I'm at home I usually just take my computer and answer my emails as soon as I wake up with my coffee. And then usually at about 10am I get in here and I'm either with my assistant or on the phone with him and were starting the day trying to figure out what the week is going to look like.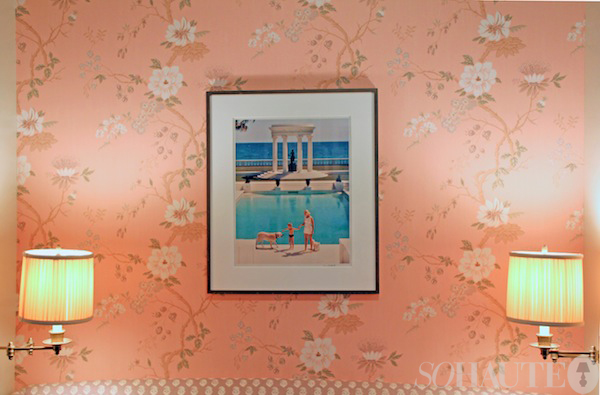 "Sometimes I'll meet with clients here going through all my fabrics when were at that selecting phase….And then the rest of the time I'm on the road."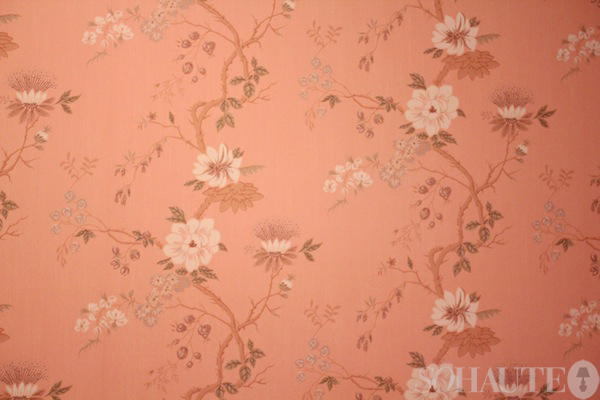 "The wall covering is Cole & Sons India Papers.  I LOVE their papers and use them constantly. I went with the pink because I really didn't want to play it safe. It's been 5 years an I still love it!"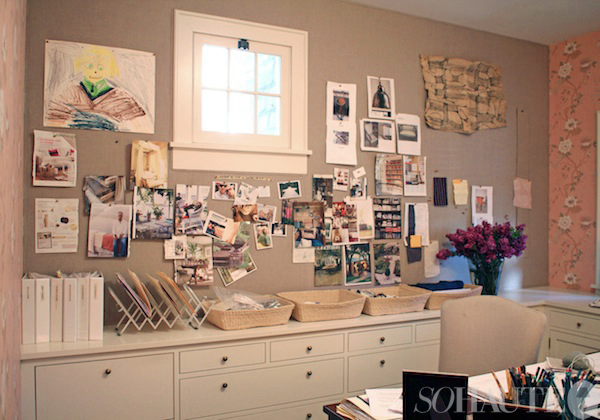 "The desk I had made and I wanted it big and chunky like a kitchen island. It's great for two people and I'm sort of a mess so it works!"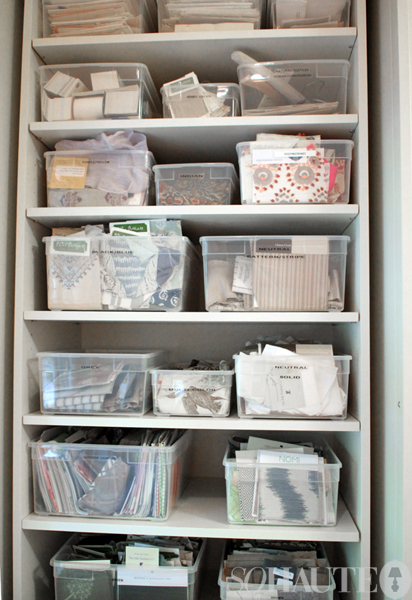 "Inside the cabinets I've got fabric samples and wood samples…most of the drawers are different kinds of samples. I've also got client folders, resource folders and things like that. The amount of things I store is actually getting smaller because of the computer now. I don't have the kind of bulk samples that I used to and it's not overwhelming anymore."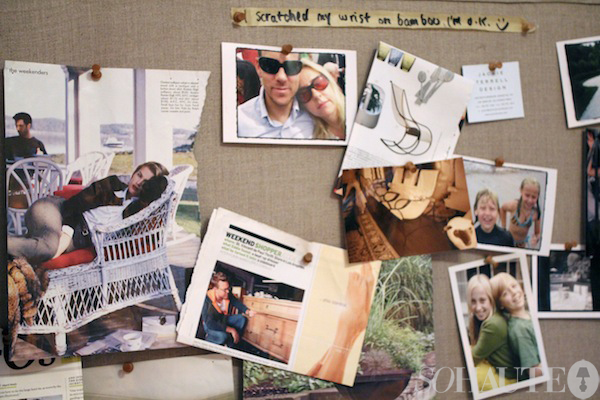 "I rip out every magazine! It's usually something small that I'm drawn to."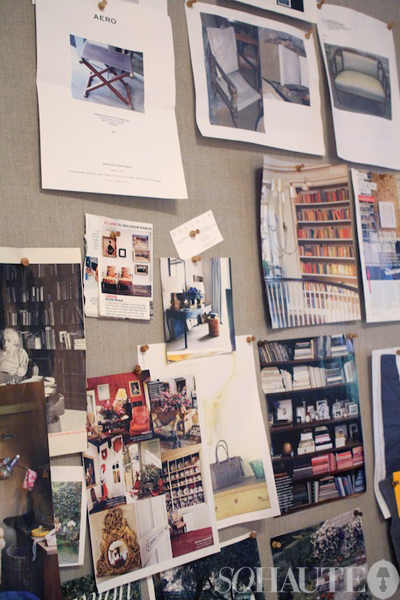 "I have a client who had given me a picture of this bookshelf [she points to the tear shown above of the color coordinated bookshelf] so I  gave the picture to one of my guys who's a really talented organizer and he color coordinated all of the books in my clients house and it turned out great! It was like a rainbow!"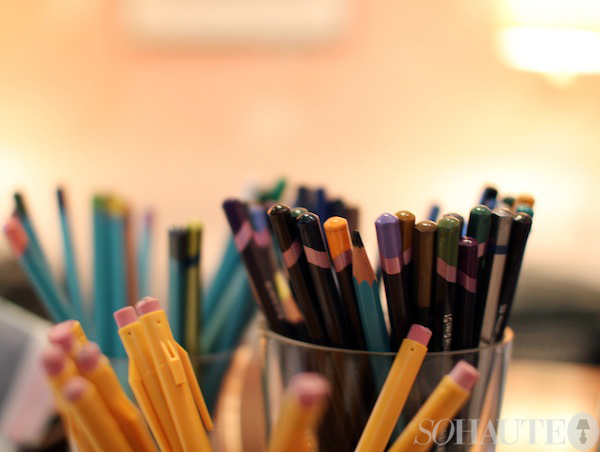 "I love working from home, it's great. I definitely have to shut down though. As much as I love my office I have to close the door and not come back in here in the evenings."