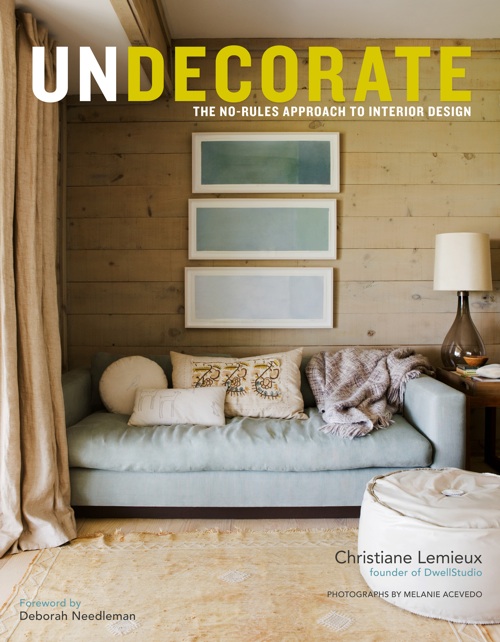 Undecorate – by Christiane Lemieux.
DwellStudio Founder and Creative Director Christiane Lemieux has just released her first coffee table book, out today, that celebrates the art of achieving an unfussy, effortlessly chic home. It's titled Undecorate: The No-Rules Approach to Interior Design and after eagerly anticipating its arrival for more than a year, I was lucky enough to receive an advance copy. As expected, the book is chock full of inspiration and I'm utterly obsessed with it! Undecorate gives us a glimpse inside 20 real homes across America to explore the concept of "undecorating" – a term Christiane coined to describe perfectly imperfect approach to decor which really boils down to achieving a comfortable, lived in home that's designed over time and truly reflects your personal style. I think it's worth noting that the book's foreward was written by Deborah Needleman who now helms WSJ but was the founding Editor-in-Chief of Domino – a magazine I credit with giving this effortless decorating style its mainstream appeal.
One of the excerpts from the book that resonated with me was when Christiane talks about how the rise of the internet and design blogs have influenced her decorating decisions in recent years. Whereas she used to look to top tier decorators for design direction, she now prefers blogs and finds more inspiration from decorating amateurs with real ideas and a totally fresh approach. In fact, there are even a few blogger homes featured in Undecorate including the homes of Lisa Borgnes Giramonti from A Bloomsbury Life and Valerie Hart from Visual Vamp!
Christiane was kind enough to share some insider scoop about the book with me as well as reveal details on other exciting projects DwellStudio has in the works. Read on to hear all about it plus get a little sneak peek inside Undecorate!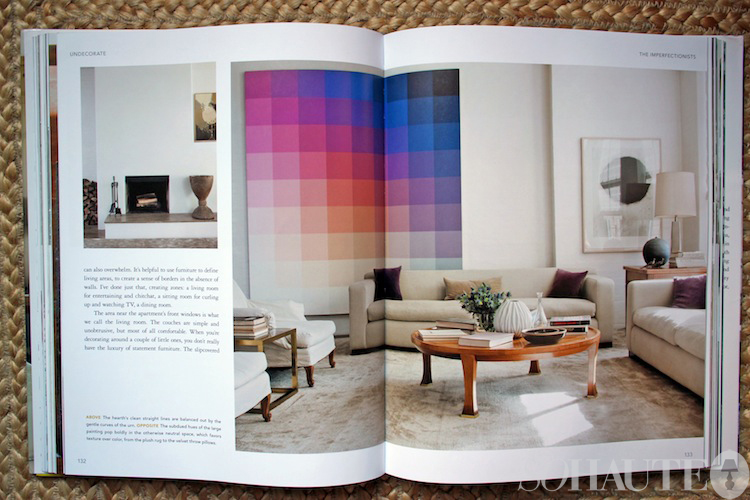 What made you decide to write a book?
It's funny – it was very organic and a natural next step. I had been noodling this idea in my head and then I had a meeting with Clarkson Potter and it all fell into place.  The part I did not take into consideration was the actual execution. Getting a book done is a lot of work…wow!
Tell us about how the project finally came together…
You know – I'm not even sure. I gave my amazing editor Doris Cooper some ideas and voila – we had a book. It was totally fluid.  I am so glad it happened because it was one of the most amazing things I've done.
How did you land on the title Undecorate?
It really says exactly what I am getting at in the book.  I really believe we look at interior design and decor in a more fluid way these days…we do things ourselves and the project is never really done. It's never really decorated. We also – through blogs and social media – invite each each other in and work together and decorate together. It's always an evolving process.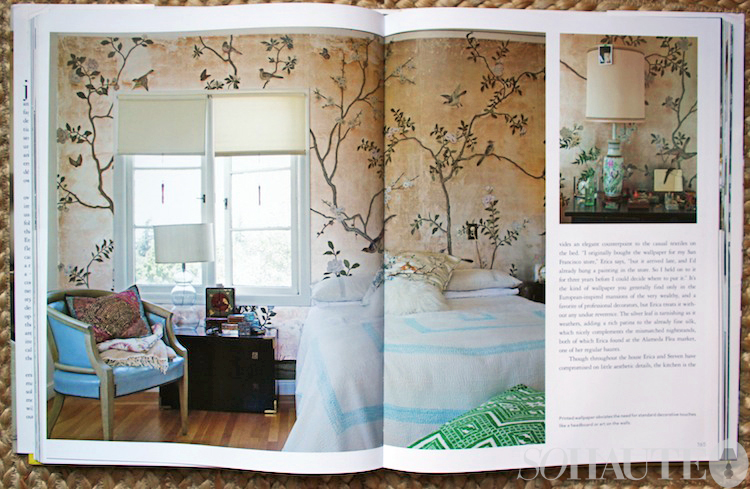 I love that you chose Melanie Acevedo to shoot your book – I've always been drawn to her photographs! Was working with her an obvious choice? What was it like collaborating with her?
I had another photographer lined up and then Mel came to my office with her portfolio…it was love at first sight! AND one of the dummy spreads we had created for the book for concept board had her photography – talk about a sign! We had an amazing time working together.  We went on a journey across the country and got to photograph these amazing homes and people.
Of all the amazing homes and people you photographed for Undecorate…do you have a favorite?
I fell in love with each and every person we shot – seriously.  It was like 20 amazing parties.  We did have an amazing cocktail-infused evening with Chase Booth and Gray Davis at their gorgeous place in Copeck lake.  We all cooked dinner and went swimming.  It was perfect.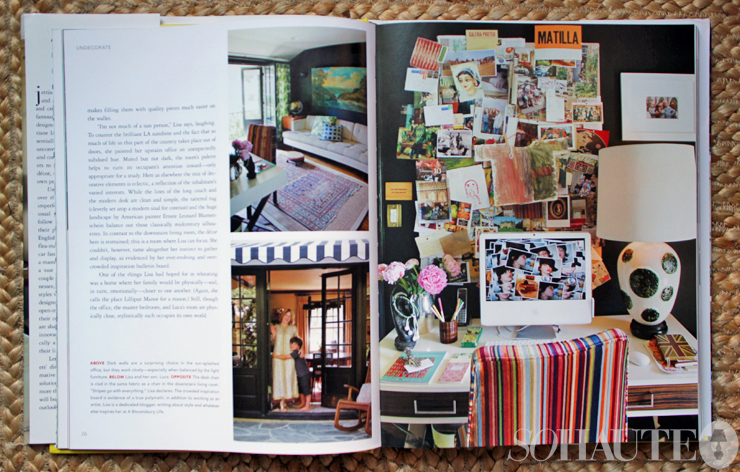 Your book refers to undecorating as a movement…what do you think it is about this effortless style that resonates with people?
I think there are no barriers to entry. If you love something – you can make it work in your interior.  We shot to the most amazing place in Chicago where the owners Heidi and Art lived with their Jaguar cars…it was gorgeous.  The cars functioned like sculptures.
What do you think is the key to achieving an "undecorated" look?
I think it's personal.  Don't follow rules – follow your instincts.  Do the things you like and it will come together.  There are a lot of interiors out there that look the same.  Undecorating is about soul and personality.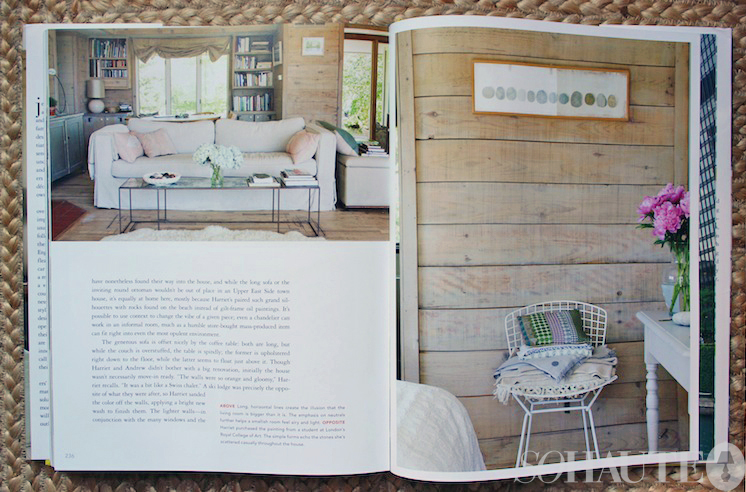 Aside from Undecorate, what's next for the brand?
We are launching furniture in 3 weeks at High Point. Now that was a project!  I will say that everything we designed is very influenced by my experience with the book…It's personal, eclectic and people can truly put this collection together and make it their own.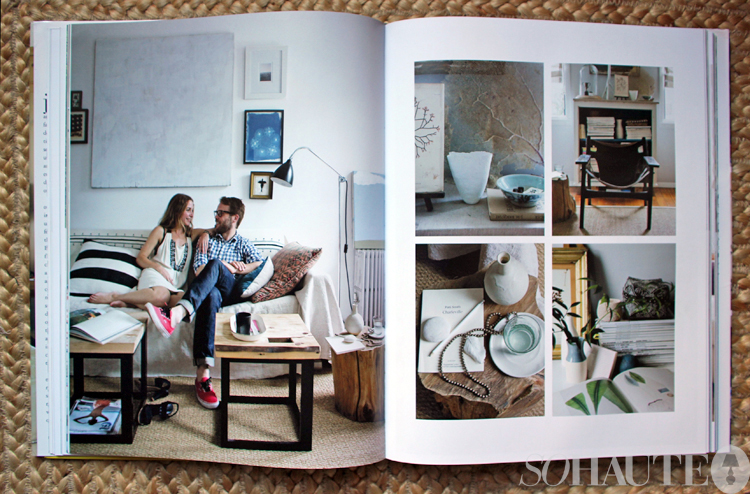 Finally, what does home mean to you?
Home is the place I go for refuge.  The place where I get comfort….It's family and being surrounded by the things and people I love.
Thanks Christiane!
You can order your copy of Undecorate here and to check out DwellStudio's latest offerings visit DwellStudio.com!
Book photography by Melanie Acevedo. Photography of Undecorate by Nicole Gibbons