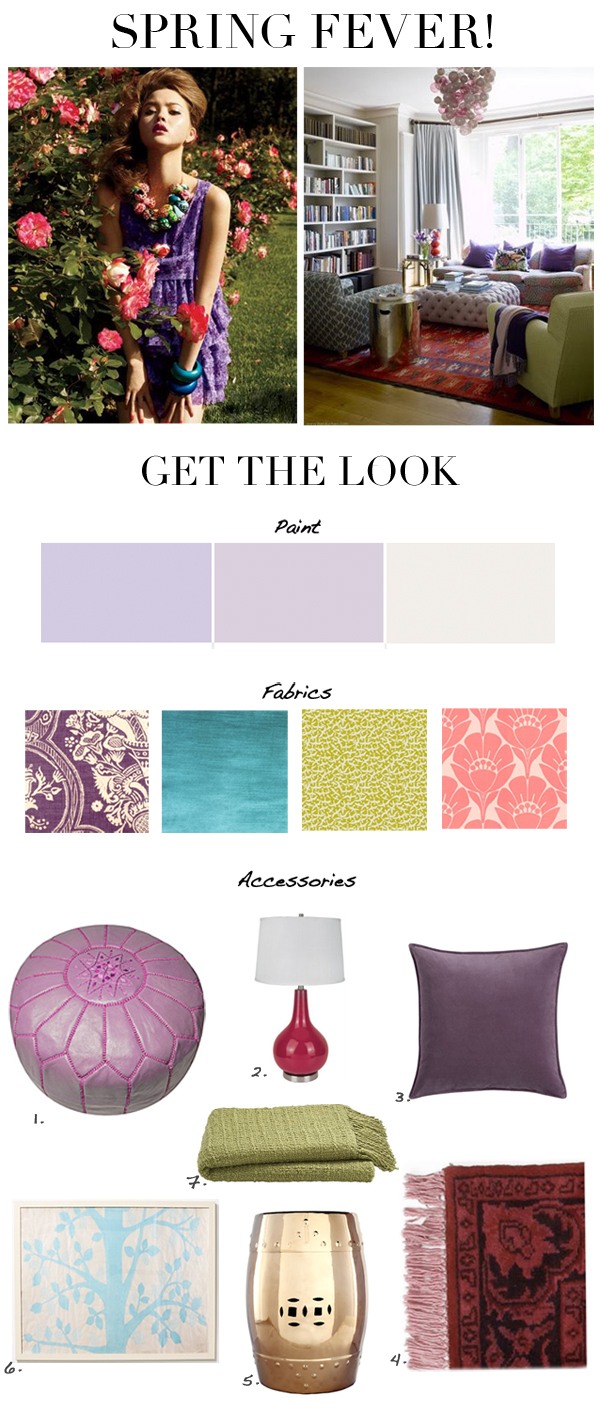 Photos: Top Left – Carter Smith/Elle.com. Top Right – Suzy Hoodless
Despite the cold, rainy weather, Spring is officially here and I've been dreaming up rooms filled with spring greens, lovely lavender, pops of pink and feminine florals. With inspiration from model/actress Devon Aoki in a beautiful spring garden and a pretty pastel room by British designer Suzy Hoodless, here are some ideas for how you can infuse a bit of spring into your home this season!
PAINT: (L-R) Lily Lavender, Sugarplum, Vintage Taupe – Benjamin Moore Paints. FABRICS: (L-R) Simple Pleasures – Duralee,  Velvet $30/yd – Mood Fabrics,  Riviera in Flight $19.99/yd – Iman Home, Flower Field $21.59/yd – Calico Corners. ACCESSORIES: 1.  Moroccan Pouf $206.99 – Overstock.com, 2. Ceramic Lamp $159.99 – Target, 3.  Tempo Velvet Pillow $39.95 – Crate & Barrel, Caspian Plateau Rug $998 – Anthropologie, 5. Chinese Garden Stool $129 – Wisteria, 6. Tree of Life Framed Art $2000 – Anthropologie, 7. Bexley Throw $49.95 – Crate & Barrel.