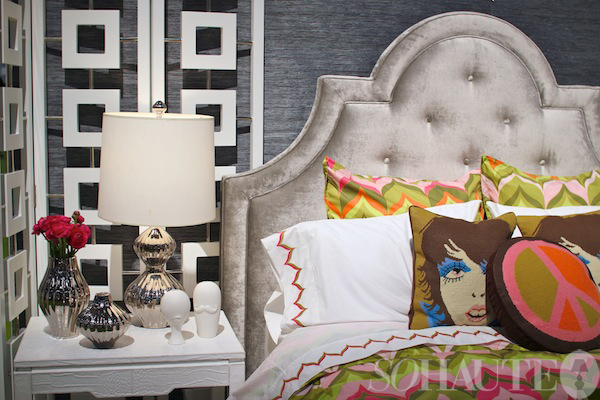 Pink Flame bedding from Jonathan Adler.
The twice yearly New York International Gift Fair is often a launching platform for many new home decor brands while for more established brands, it's an opportunity to showcase their latest and greatest wares. My eyes were certainly peeled for all things new and cool at the this season's Gift Fair and here's my roundup of the new product introductions that I thought were exceptional: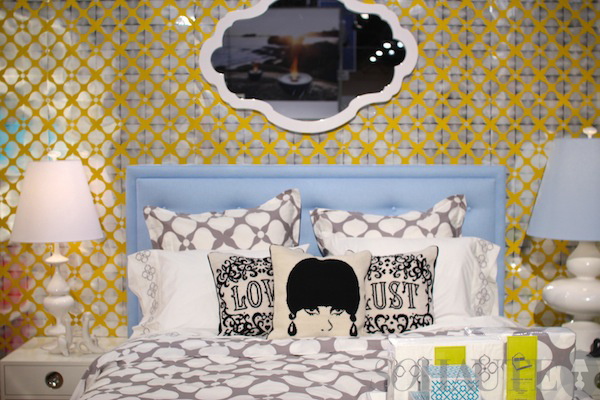 JONATHAN ADLER
A perennial favorite, Jonathan Adler's collections never disappoint. Among his wide array of products on display, I was particularly drawn to his new bedding introductions. A favorite is the bright and psychedelic Pink Flame bedding shown in the top photo. It was paired with his ever popular needlepoint pillows and an array of shiny glam vases and lamps. Above – the Grey Hollywood duvet & sheet set features a mod 60s inspired print. I'm so glad Jonathan Adler has brought his bedding back! It's full of style and loaded with fun prints and colors!
Lamshop is a classic and slightly preppy collection of furniture and accessories run by interior designer Lindsey Coral Harper and Maggie Currey and they're probably best known for their chic, Asian inspired lacquered tables. Three new side tables in a malachite, shagreen and tortoise finish which I thought were so chic. They have a rich textural depth to them that would make these tables really pop in a room.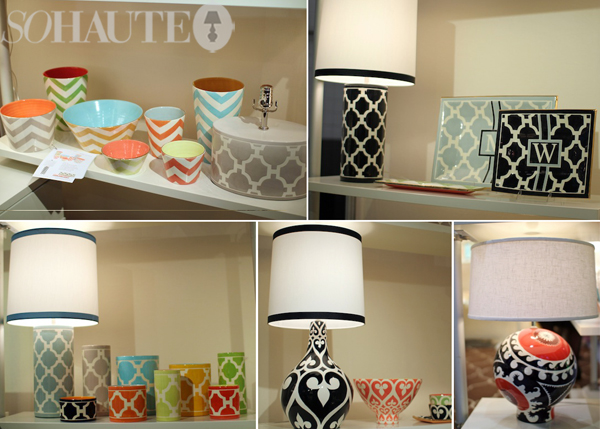 JILL ROSENWALD STUDIO
I loved every single piece shown in the booth of Boston based Jill Rosenwald Studio. She makes the most lovely pottery and ceramic lamps, that are handmade with exceptional quality. Her products feature a whimsical take on classic prints like chevrons, moorish inspired trellis and suzani patterns and the colors are fresh and cheery. I predict that we'll be seeing Jill's work everywhere soon enough! You can shop Jill Rosenwald Studio products here on Etsy.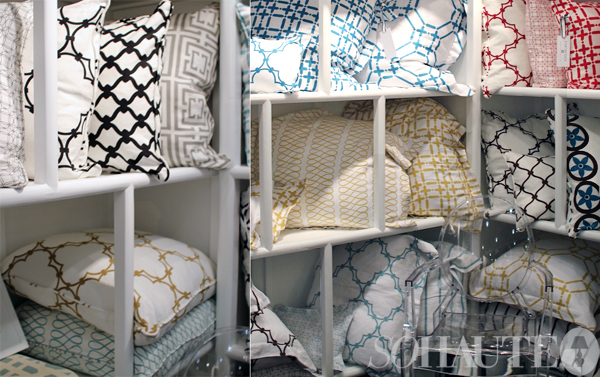 COCOCOZY
I was super excited to come across the booth of blogger Coco of Cococozy! I'd been following her blog for a while and am so happy see a fellow design blogger following her passion! Coco just launched a line of soft goods which includes linen pillows, fabrics by-the-yard, shams, drapery and cotton knit blankets. Her prints are graphic and modern and her color palette is cool and vibrant. You can visit the Cococozy shop here and the Cococozy blog here.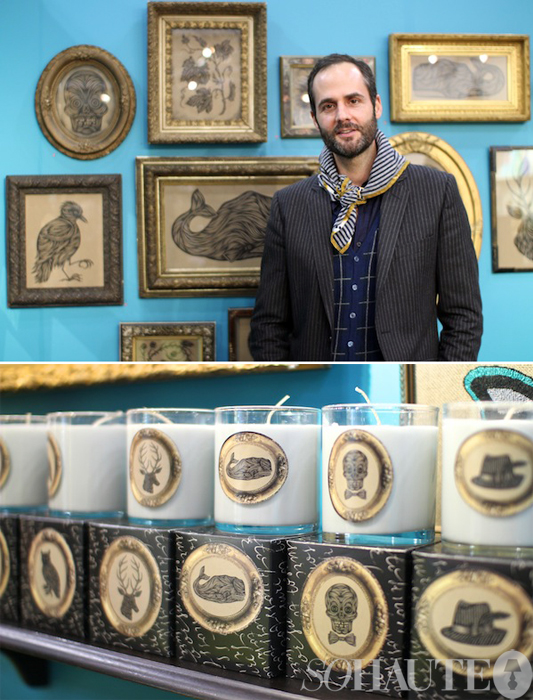 PATCH NYC
I've long been a fan of artist Don Carney's vintage inspired ink drawings which he sells through Patch NYC – the company he runs with his partner John Ross. At the Patch NYC booth, plenty of Carney's quirky ink drawings were showcased gallery style in vintage gilded frames set against a bright turquoise wall. Having the opportunity to see such a large grouping of his drawing up close made me really appreciate the level of detail and artistry that goes into each piece. I'm now coveting one of his drawings for myself! Another new introduction I loved from Patch NYC is their new line of stylish linen scarves trimmed in colorful African Batik fabrics. Don is modeling one in the photo above! The company also recently launched a line of scented candles with moody, eccentric scents like the Pipe candle which which features notes of tobacco, patchouli and vanilla. You can shop the full Patch NYC collection here.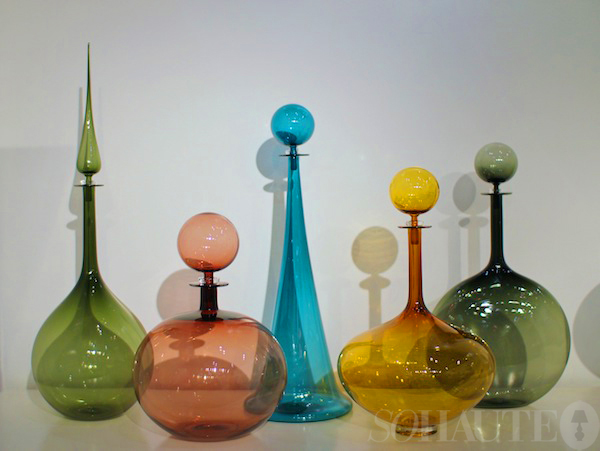 JOE CARATI GLASS
Another standout were the hand blown glass decanters from LA based Joe Carati. I loved the elegant, graceful shapes and perfectly chosen jewel toned colors. His collection is really well done.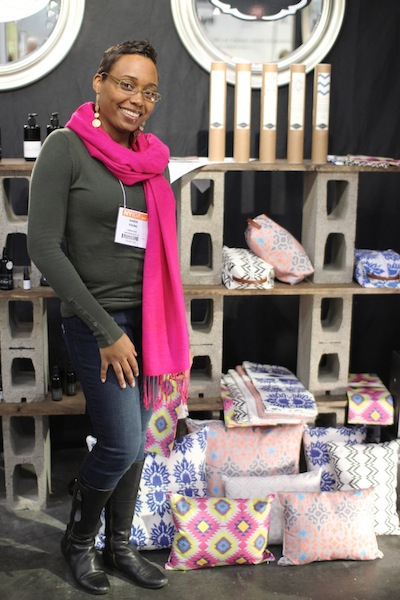 HAMMOCKS & HIGH TEA
I couldn't have visited NYIGF without checking in to see the latest from Hammocks & High Tea. Founder Karen Young was there looking radiant in a bright pink scarf that perfectly matched her colorful, ethnic printed spring line! The collection is already already getting noticed as her new spring totes are prominently featured in the current March issue of House Beautiful!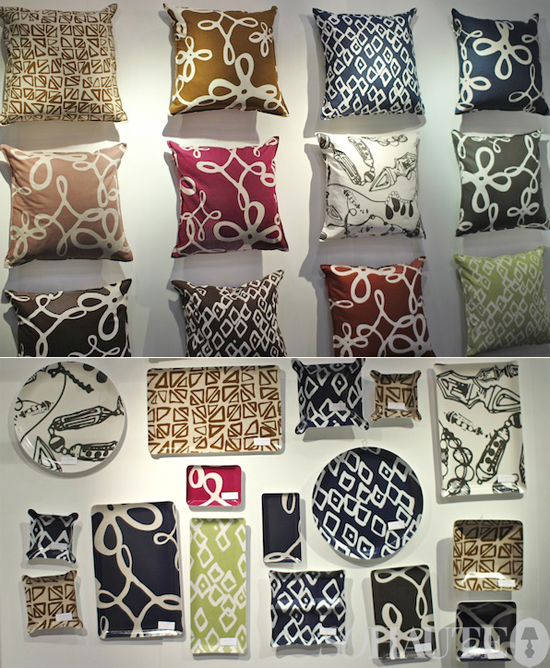 CHRISTEN MAXWELL
Young product designer Christen Maxwell showed her eponymous collection of pillows and accessories at NYIGF for the first time this season. I had seen her products online so when I passed by her booth I was eager to check everything out up close and in person. 27 year old Maxwell describes her products as "timeless, well-made objects that turn houses into homes." I especially love her chic laminated linen trays. They're perfect for the desk, bedside or for entertaining!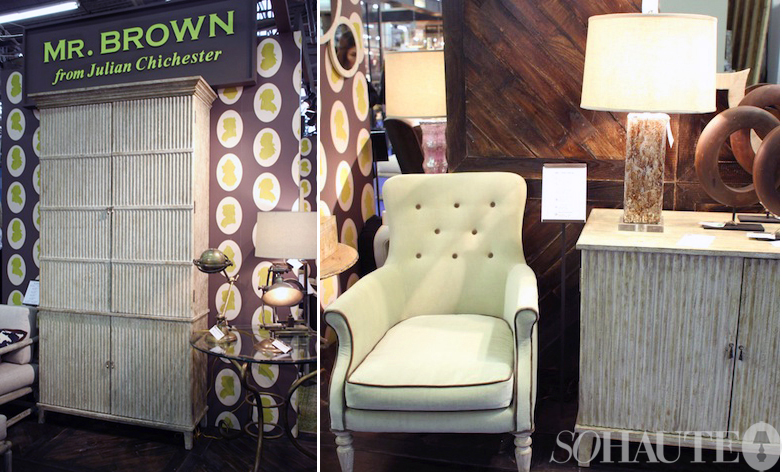 MR. BROWN
Last but not least, I had the opportunity to meet the fantastic Mr. Brown – a slightly modern and more accessible diffusion line from the forever chic Julian Chichester. The line has a bit of a masculine feel with a hint of traditional English sensibility. You can see more from Mr. Brown at MrBrownHome.com!
If you're interested in seeing more of my photos from the Gift Fair, I uploaded an album with loads more photos on Facebook which you can view here!