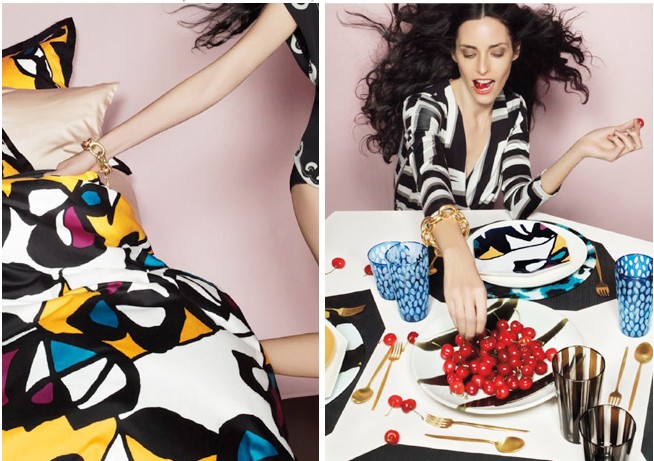 Diane von Furstenberg has just launched a new collection of bedding and tabletop designs for the home and last week I made a special trip to Bloomingdale's to join her as she unveiled the line to the press. I always love to see the synergy between fashion and home come to life and since Diane is truly one of my personal style icons, I was beyond excited to see what she had in store. To me Diane represents the epitome of a beautiful confident woman. She is glamorous, feminine, forever chic and her new Diane von Furstenberg Home collection is the perfect extension of her personal style and her brand. The products are bold, colorful and drop dead gorgeous! At the event Diane walked everyone through her inspiration and descripbed how the collection came about. She believes one's home should be a key element in "designing your life" and wanted to create a line of products that were vibrant and eclectic that would appeal to her young, fashion forward customer base but also stand the test of time as pieces they can keep forever. She took her inspiration from nature, contemporary art and of course some of her most iconic fashion prints that we've seen in her apparel collections over the years. Have a look at some of the photos I snapped and you can check out the Diane von Furstenberg Home collection at Bloomingdales.com and DVF.com.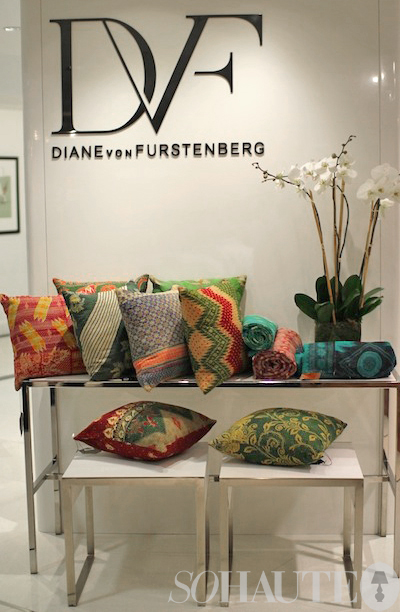 Here are a few limited edition pillows made of vintage fabrics that I just loved!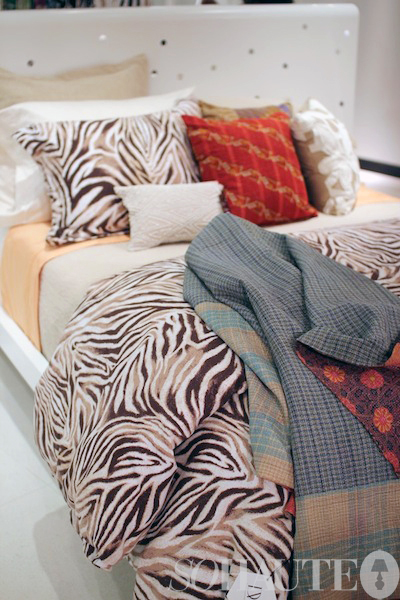 This animal printed duvet is called Urban Jungle and is full of sex appeal. According to Diane, an animal print "turns an every day bed into a wild adventure!"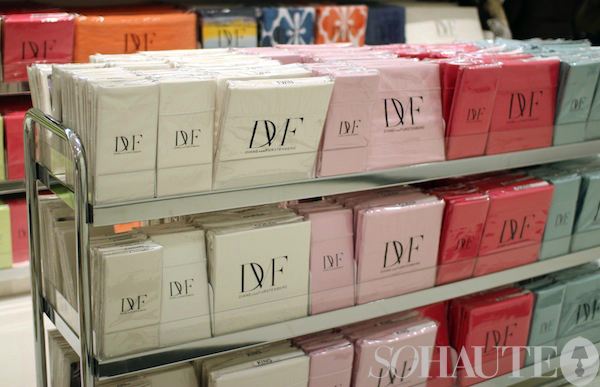 I thought the array of colors available in the sheeting range was fantastic! Diane designed the entire bedding collection to be mixed and matched so you can create unique combinations that match your personal style.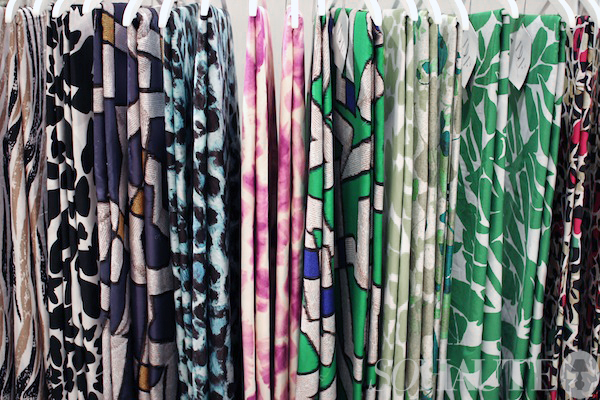 Here are some of the bold and colorful duvets that are part of the collection. So much thought was put into every detail…even down to how the products were merchandised. Diane believes duvets have the ability to change your room completely and designed hers to look and feel like dresses for the bed which is why she chose to have them displayed on hangers just as you would a dress! Throughout her short talk Diane definitely reveal a bit of her saucy side. She remarked that she thinks one should have as many duvet covers as you would like to have lovers! Someone also asked what the secret to making a sexy bed was and she replied "turn off the lights!"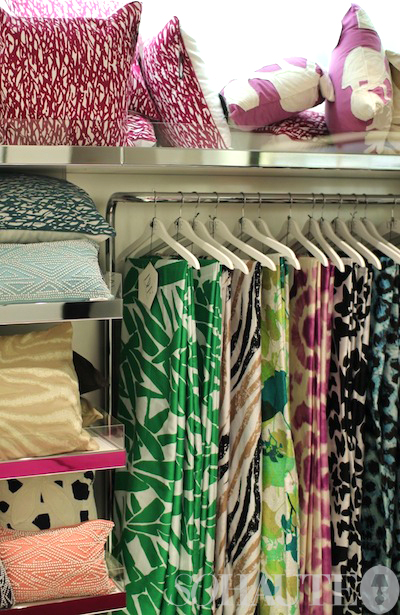 Here are more of her ready-to-wear inspired duvets along with a colorful assemblage of pillows.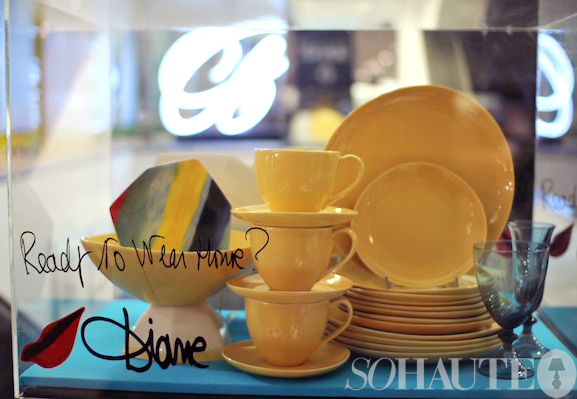 DVF's chic tabletop pieces are equally as vibrant and colorful as her bedding. You'll find everything from glazed dinnerware and lacquered trays to chic glassware, flatware, serving pieces and even bakeware.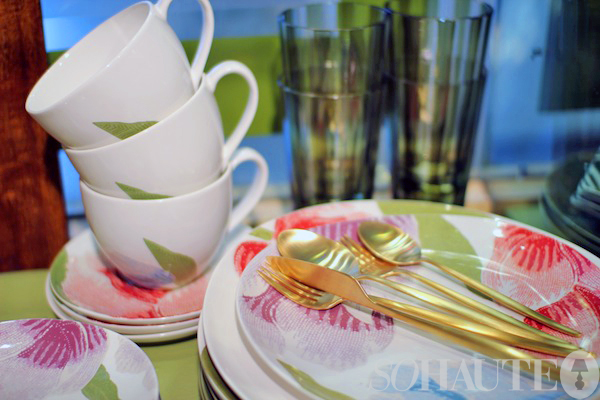 Many of the pieces like this dinnerware seen here feature the same prints and patterns as her bedding collection. Her assortment of flatware is modern and chic. I especially loved this gold set.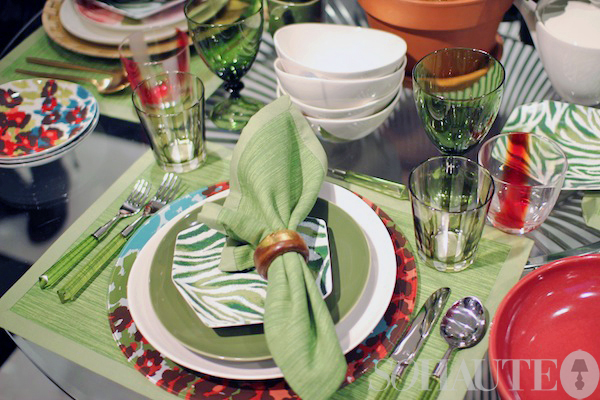 An unique element element of DVF's dinnerware is the incorporation of abstract geometric shapes like the "Funky Zebra" plate shown here. It provides a lovely contrast to the more traditional round shaped plates. Like her bedding, the DVF dinnerware is also designed to be mixed and matched.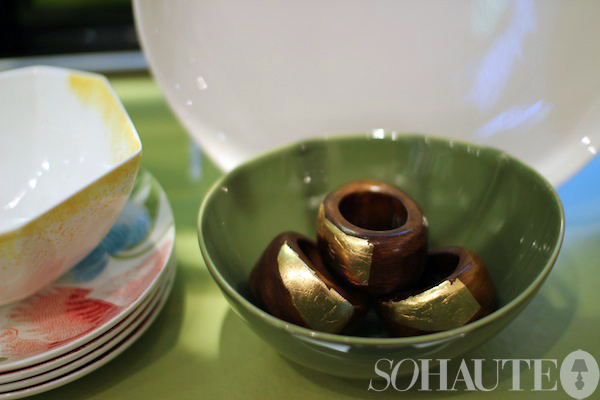 Pops of metallic and gold detail add an element of glamour to her tabletop pieces as seen on these fabulous gold leaf and mango wood napkin rings.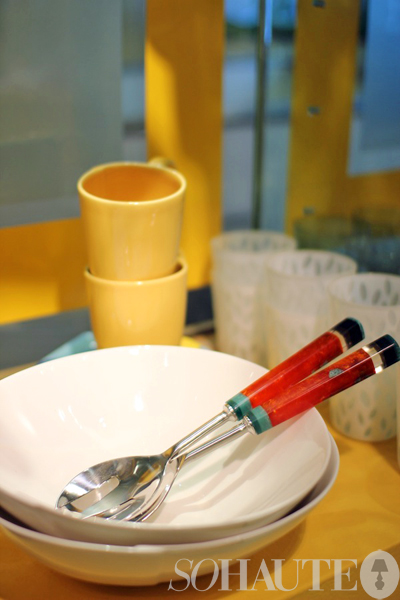 These boldly hued resin serving utensils were another favorite of mine. DVF says that "a memorable evening is all about the setting. Set the table, set the stage and the evening takes care of itself." Perfect entertaining advice!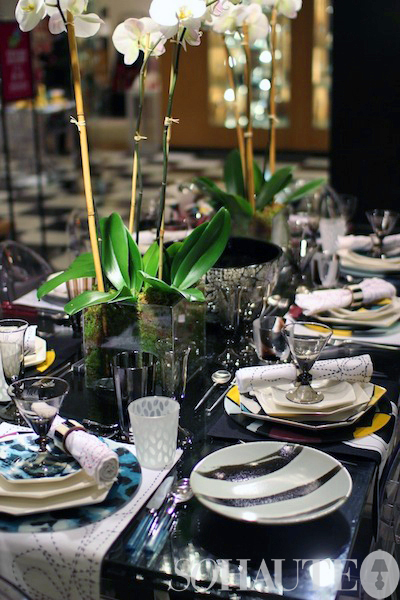 "Your home reflects who you are, and how you want to live."
-Diane Von Furstenberg