Q. I have been actively searching the internet for affordable, stylish tablescapes for my Thanksgiving table and can find almost NOTHING.  I need help for inspiration and resources for reasonably priced, chic linens, etc.  Any advice? – Erin Barry
A. Hi Erin! Right now I'm inspired by natural colors, organic shapes & textures and a look that is rustic yet modern with a touch of glamour.  Some of my favorite places to shop for affordable tabletop finds are Target, West Elm, Ikea, Etsy, Pier 1,  Fishs Eddy, Williams-Sonoma and Ebay (because vintage adds so much soul & personality!). Here is a tablescape I whipped together for you that captures the rustic & refined look that I'm loving right now. It's filled with stylish hi-low finds and I hope it inspires you this Thanksgiving!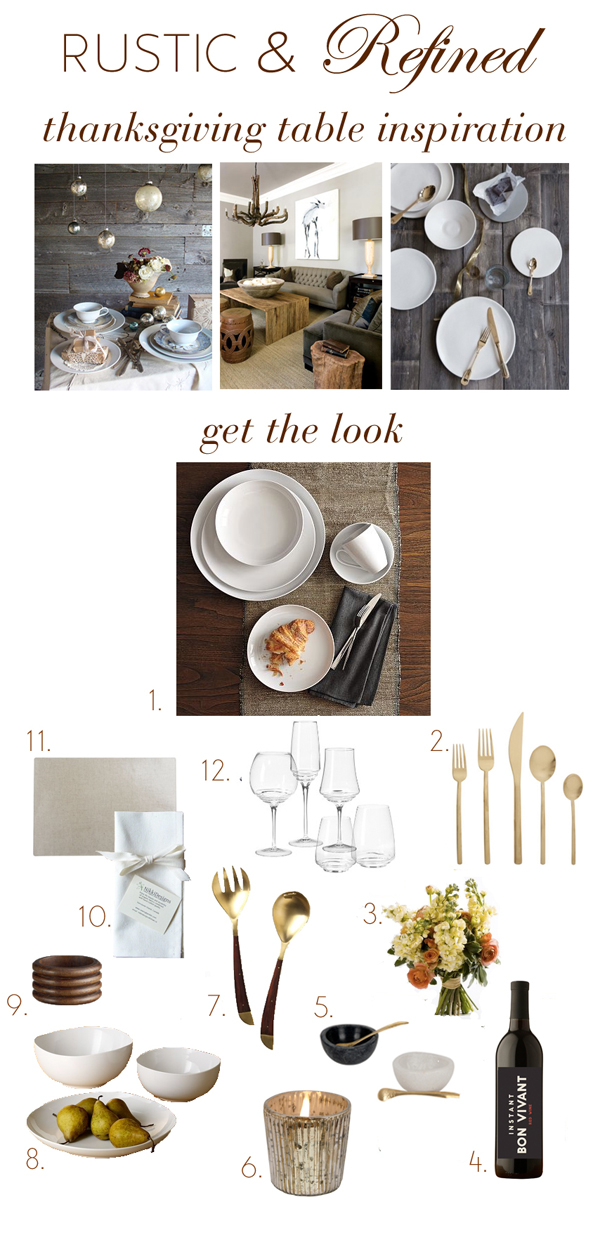 1. Organic Shaped Dinnerware , $9-$22/set of four – West Elm . 2. Mepra Due "Ice Oro" Flatware, $115/place setting – Barney's New York . 3. Classic Collection Floral Arrangement,  H. Bloom (NYC and DC areas only). 4. Instant Bon Vivant Red Wine, $25 – Swanson Vineyards . 5. Marble Salt & Pepper Cellars, $108 – Jayson Home & Garden. 6. Antiqued Votive Holder, $12 – ABC Home . 7. Sun-Tipped Serving Utensils, $68 – Anthropologie. 8. Organic Shaped Serveware, $12-25 – West Elm. 9. Shesham Ribbed Napkin Rings, $2.95 – Crate & Barrel. 10. Organic Linen Napkins, $28/set of four -Etsy/Nikki Designs. 11. Coated Linen-Cotton Placemats, $4.95 – CB2. 12.  Esperienze Stemware Collection, $20.98 – Target.
Inspiration Photo Credits: Left: Grace Bonney/HouseBeautiful.com, Middle: Jimmy Stanton/AtlantaHomesMag.com, Right: KimFicaro.com

Need design advice or help solving a decorating dilemma? Send an inquiry here and your question could be featured on So Haute!