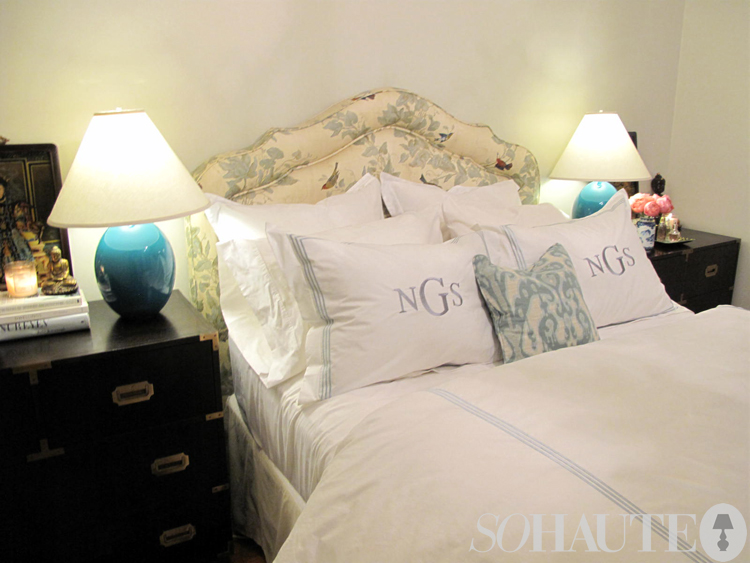 Since the full house tour of my apartment was recently revealed on Apartment Therapy I thought you might like to see some before and afters of my space. I'll start with the bedroom and show you how I transformed it from a boxy, soul-less space into an inviting and elegant retreat.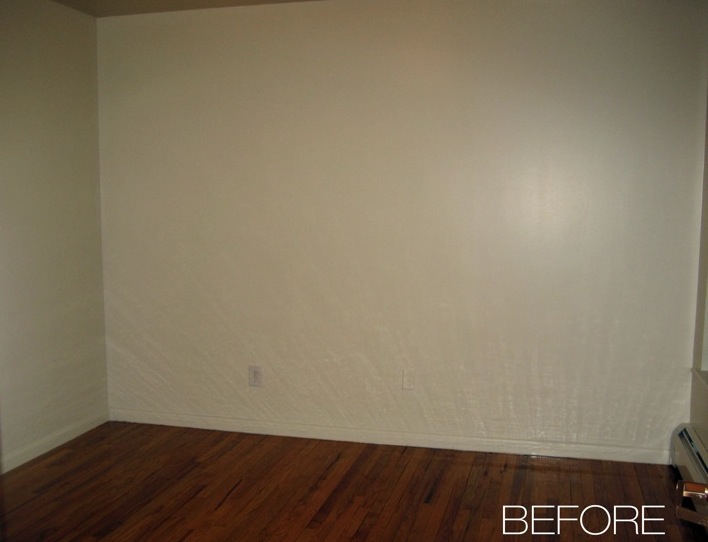 This is what the bedroom looked like when I moved in three years ago. It had zero character and was also quite small at approximately 11 1/2′ x 12′ with just one modestly sized closet. Aside from creating an elegant sleeping room, I also needed to design a layout with plenty of functional storage…a must in any small space.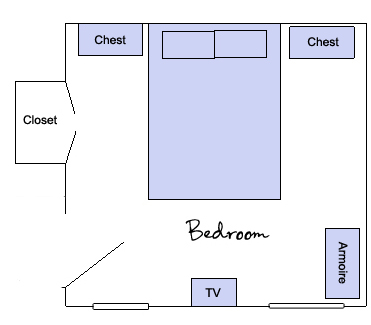 Here's the floor plan I came up with. My bed is the focal point and is centered against a wall opposite two windows. I incorporated a pair of chests on either side plus an armoire for additional clothes storage.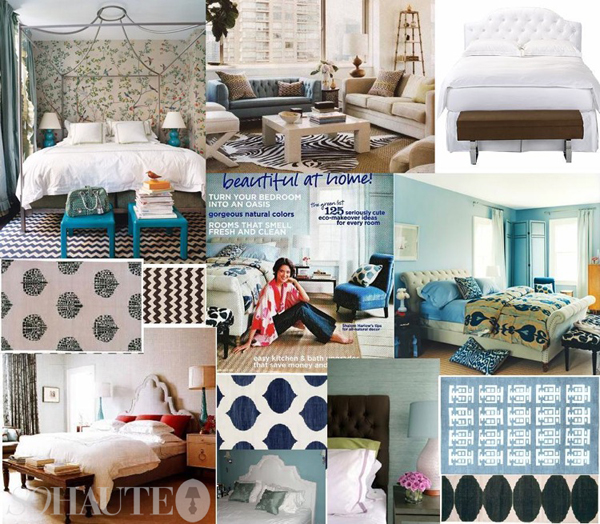 This was my inspiration board that illustrates my initial creative direction for the space. My goal was to create a beautiful bedroom that exudes comfort and sophistication. The key elements are the Chonioiserie floral pattern (inspired by the walls in the Miles Redd designed bedroom shown on the top left) a soothing blue color scheme, bright pops of turquoise, an upholstered headboard in a graceful shape and just a touch of ikat.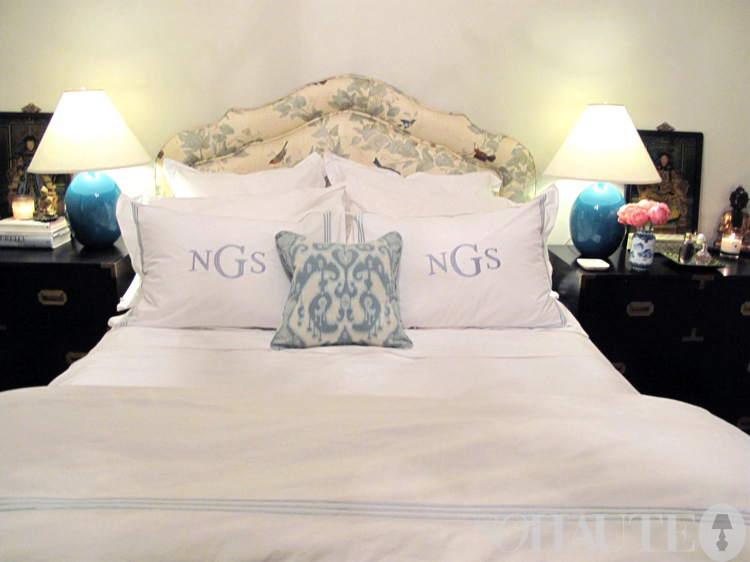 Here's the result of my bedroom transformation. My headboard is custom, upholstered in a pattern called Sestina from Kravet. My Baker campaign chests which I found on eBay are vintage from the 1950s and have deep drawers for storing clothes. The turquoise egg shaped lamps are by Haeger Potteries from Lamps Plus and provide a much needed pop of color that adds a touch of whimsy and makes the space feel youthful. To me one of the things that makes a bedroom feel polished and pulled together is beautiful bedding and I'm particularly a fan of crisp white bed linens. My duvet set is from Pottery Barn and the monogrammed shams elevate the level of sophistication. The ikat pillow was fabricated with a pattern from Kravet that I had my upholsterer use on the reverse. The white bedding combined with loads of down filled pillows really makes the bed look inviting!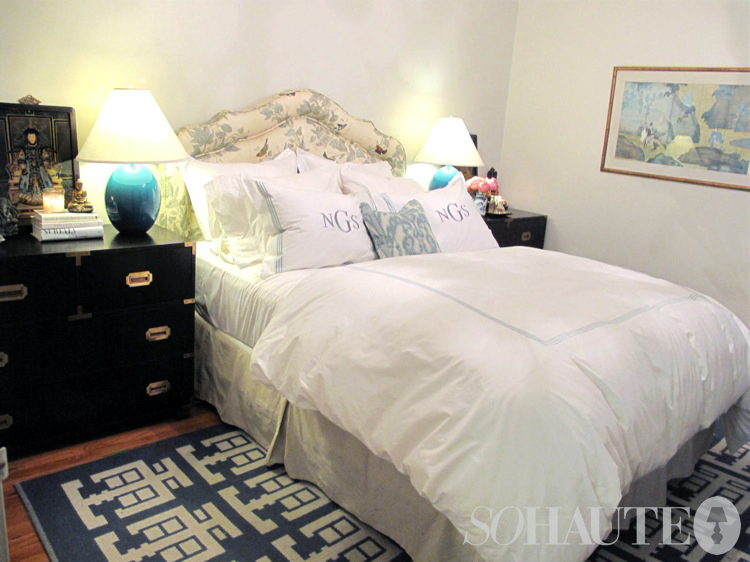 My rug is Madeline Weinrib's Mimm print wool rug which I scored at the ABC Carpet & Home outlet in the Bronx. I have several favorite pieces in my bedroom but by far the most special and most personal are the reverse glass Chinese emperor and empress paintings shown on either side of my bed which I inherited from my grandmother. I believe strongly in surrounding yourself with things you love that have deep, personal meaning like family photos, souvenirs from your travels or items inherited from loved ones. Those are the things that will give your space a sense of your own personality and history…and will make your house feel like home.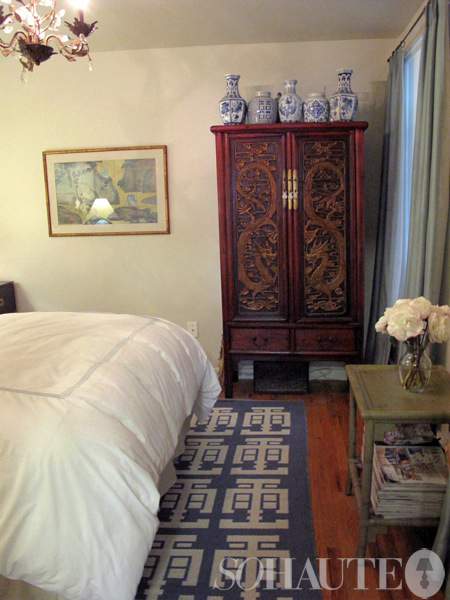 My Chinese antique armoire seen here was another eBay find and provides plenty of extra space to store clothing & accessories. I keep my collection of blue & white porcelain as well as all of my clear glass vases on top. The Japanese  scenic painting to the left of the armoire was an auction score that I got for just $25! My chandelier is from eBay and the soft bronze color and delicate vine and leaf motif really compliments the space.  It was fun pulling this room together but, of course, a decorator's work is never done! I plan to re-paint my walls at some point, most likely a soothing blue-gray, and I'm constantly on the lookout for new bedding. Stay tuned!