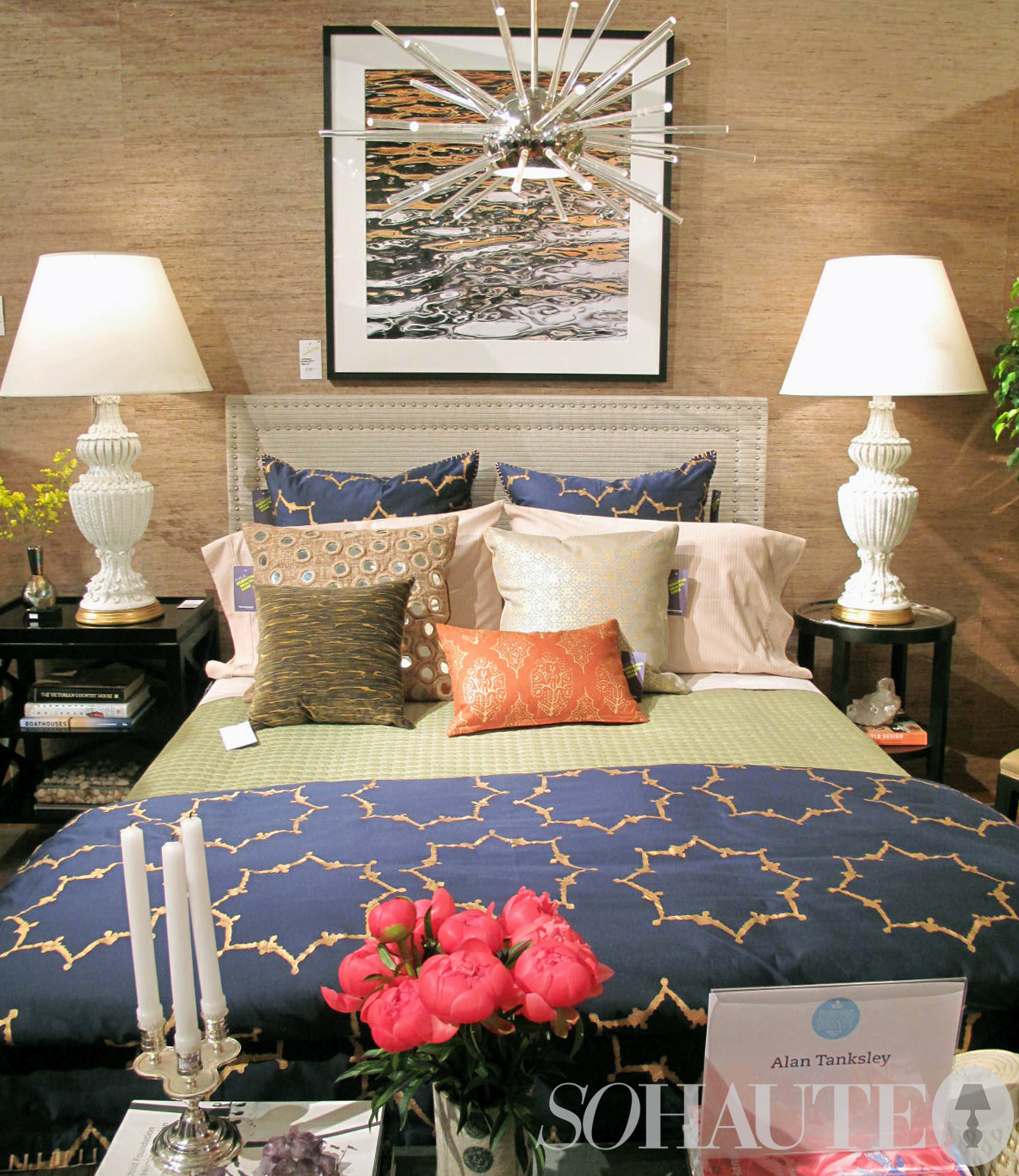 A fabulous bedroom vignette by Alan Tanskly. (I LOVED the John Robshaw bedding!)
A couple of weeks ago I attended the opening night party for Housing Works' annual Design on a Dime fundraiser. Housing Works is a wonderful charity and chain of thrift shops in New York City that benefits homeless and low-income people living with HIV & AIDS. Each year the organization hosts a shopping fundraiser and enlists some of the top names in design to create fabulous room vignettes with donated, brand new luxury home furnishings as well as vintage and antique pieces which are sold at 50-80% off retail with all proceeds going to Housing Works. This year's roster of participating designers included James Huniford (who chaired the event), Charlotte Moss, Ernest de la Torre, Steven Sclaroff, Steven Gambrel, Laura Kirar, Miles Redd, Nathan Thomas, Jarrett Yoshida, Laura Bohn, Todd Romano and more! I was so excited that I was able to meet many of the designers at the event and had the opportunity talk with them about their room vignettes and exciting projects they had coming up. I had a special post planned featuring interviews and insider information from the designers (especially some fun stuff from Miles Redd) but I recorded all of the interviews on my blackberry which was recently stolen so unfortunately I lost everything:( Instead I'll simply leave you with pictures of some of my favorite room vignettes of the night along with a few anecdotes.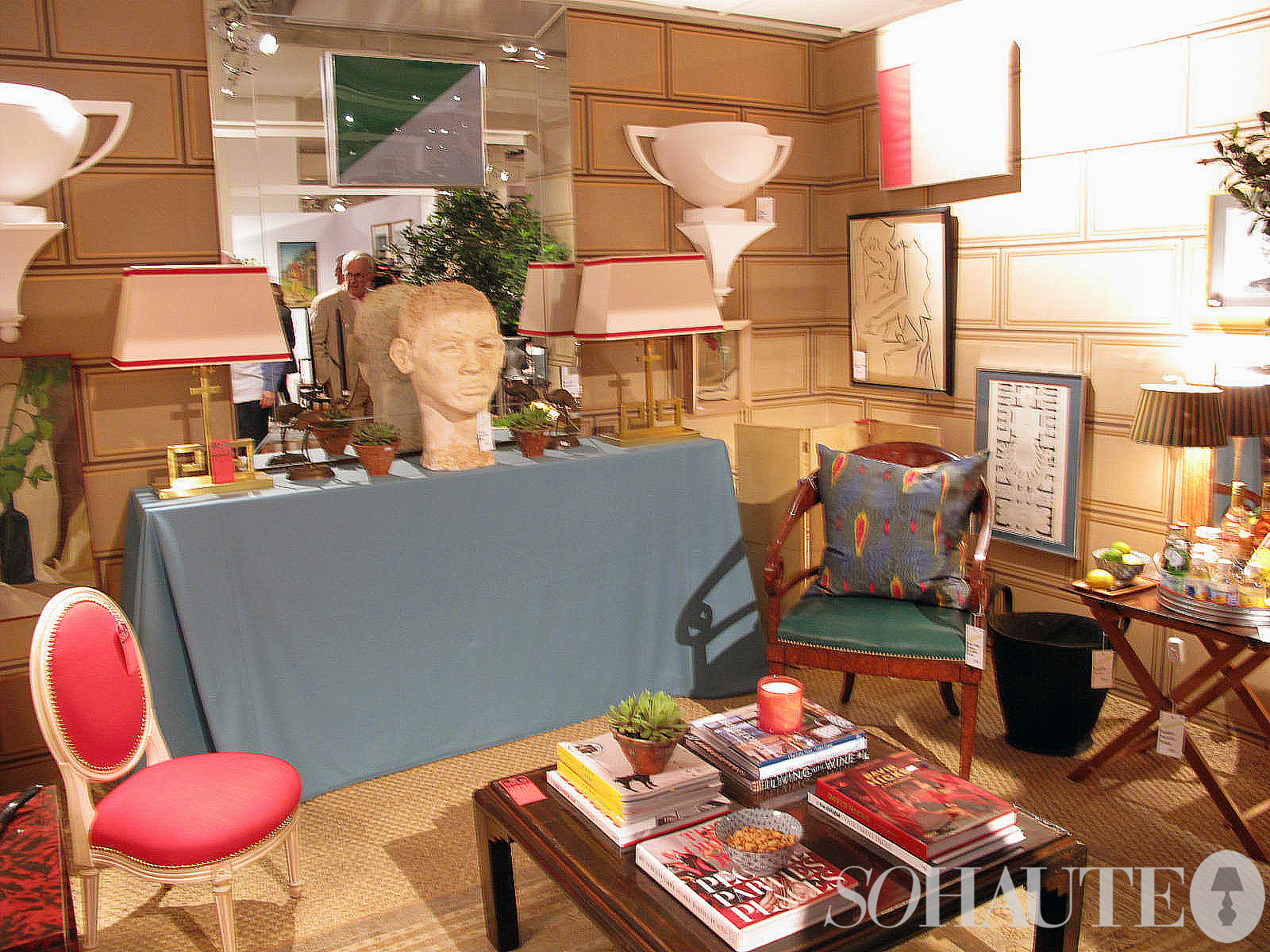 One of my favorite vignettes was this one from Miles Redd who is the ultimate maximalist.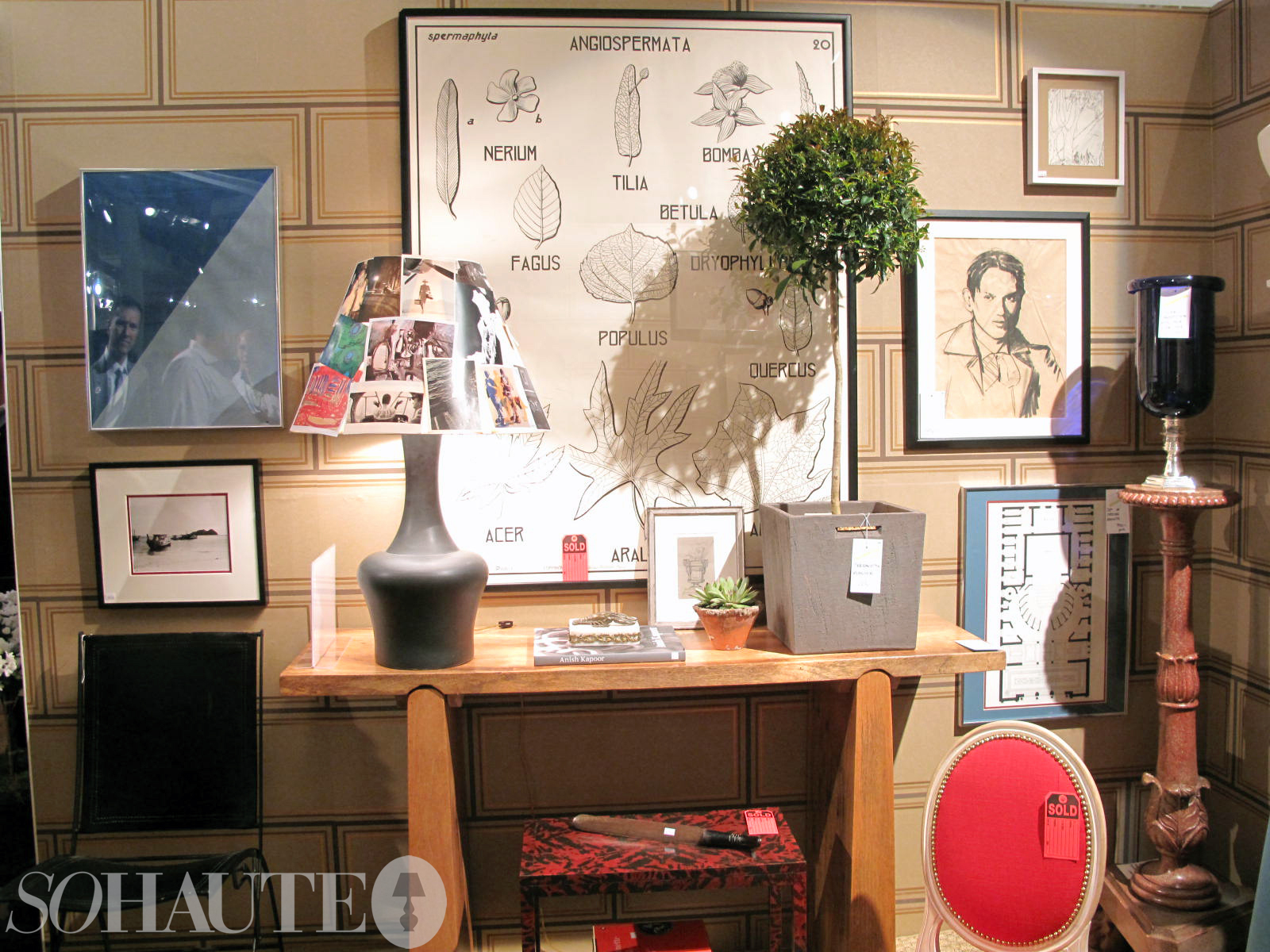 His room definitely illustrates the idea that sometimes "more is more"!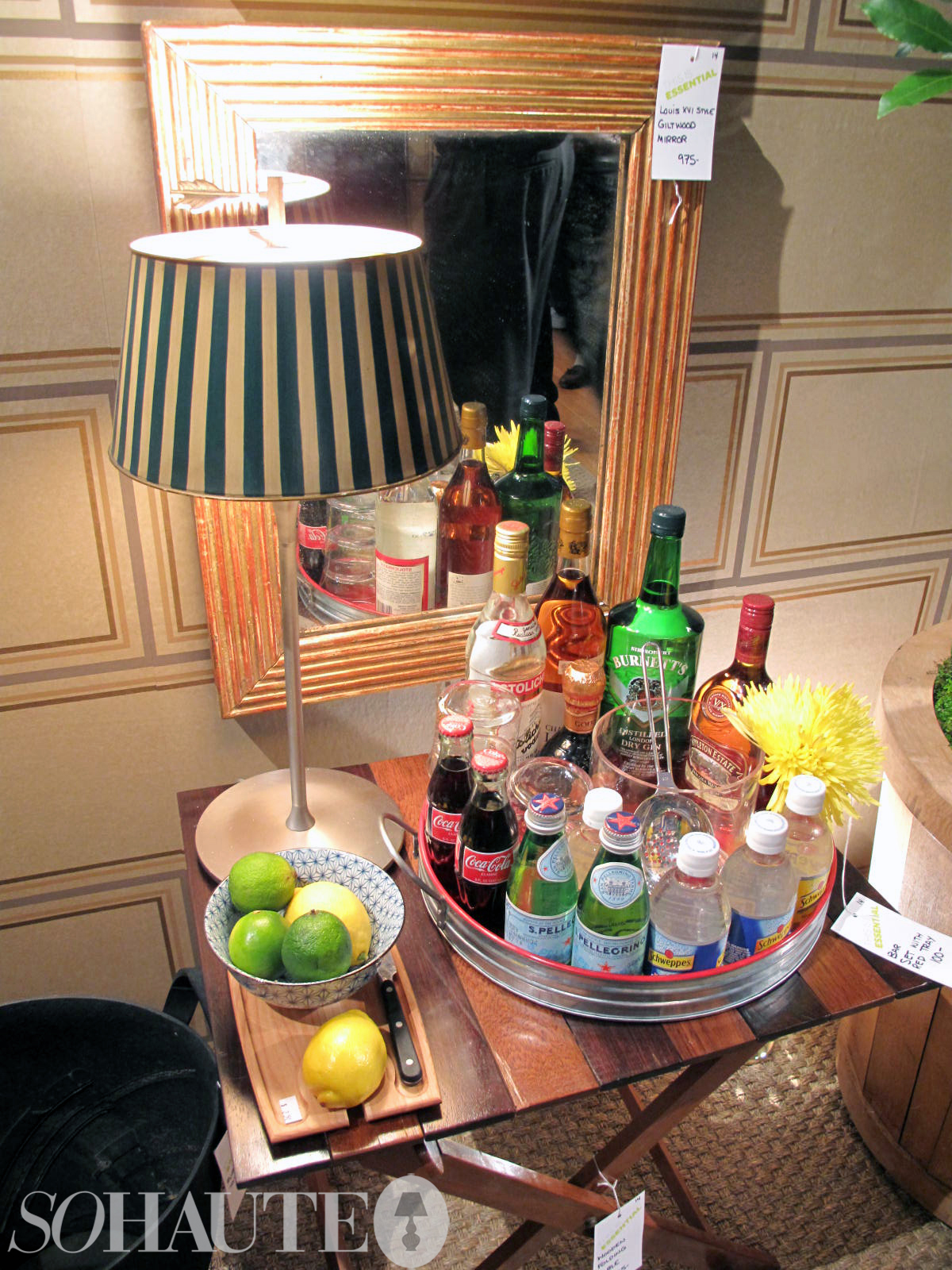 I loved his chic bar table!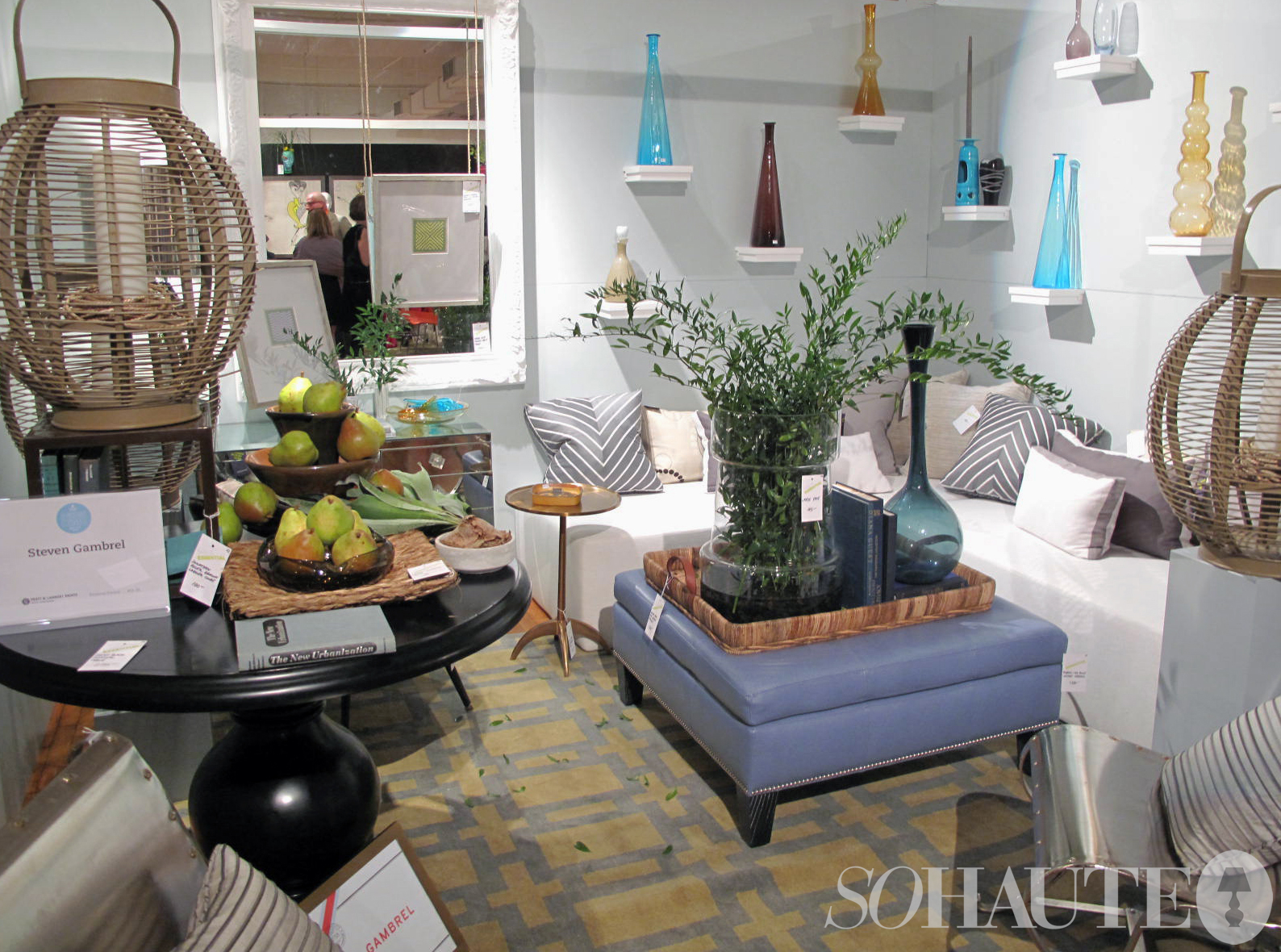 This is a vignette by Steven Gambrel whose style has such a modern yet classic American sensibility. This room looked as if it belonged in a chic Hamptons beach house.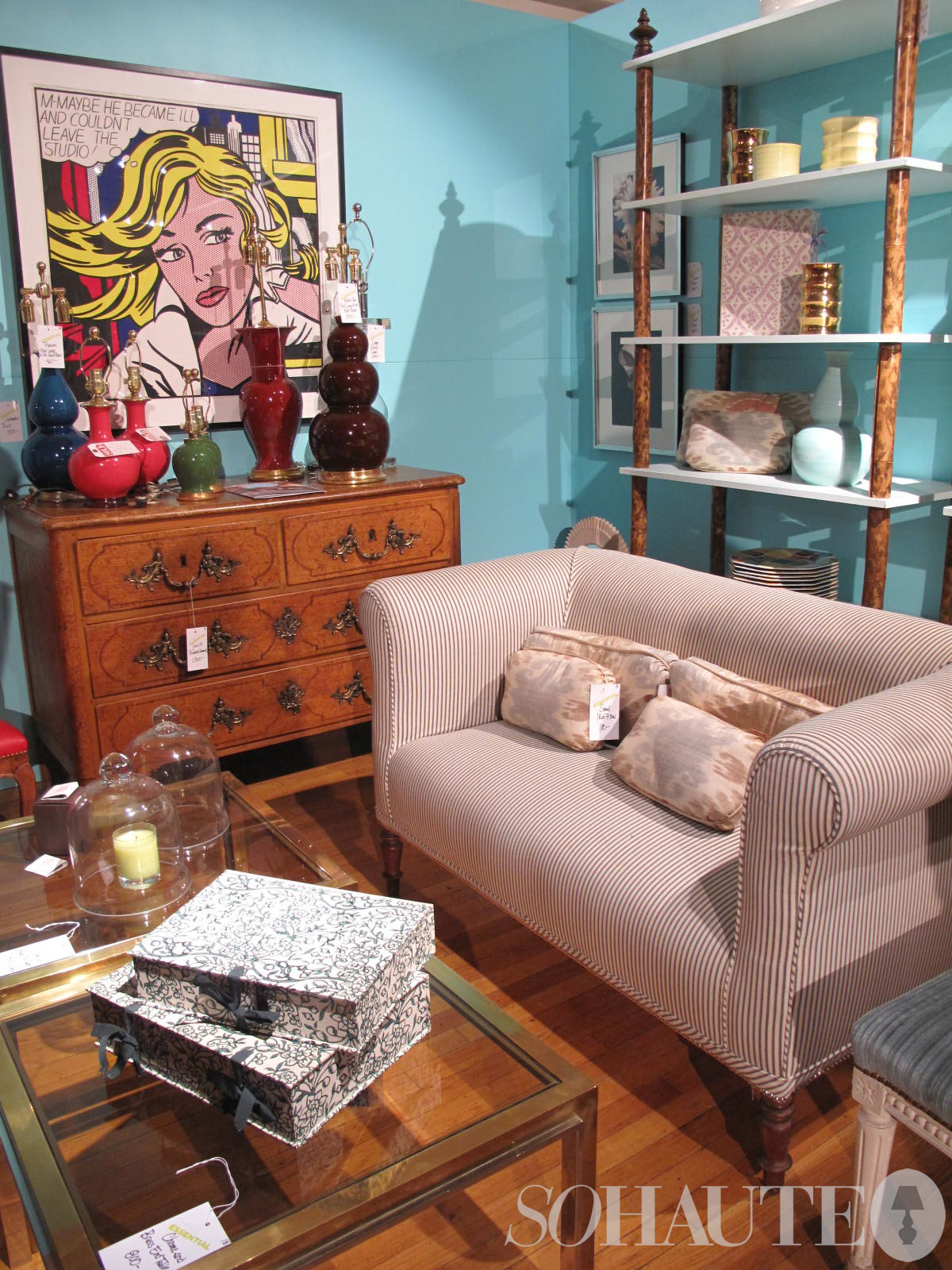 Todd Romano designed this vignette. I loved that ticking stripe settee and the juxtaposition of the comic book pop art over the antique bureau.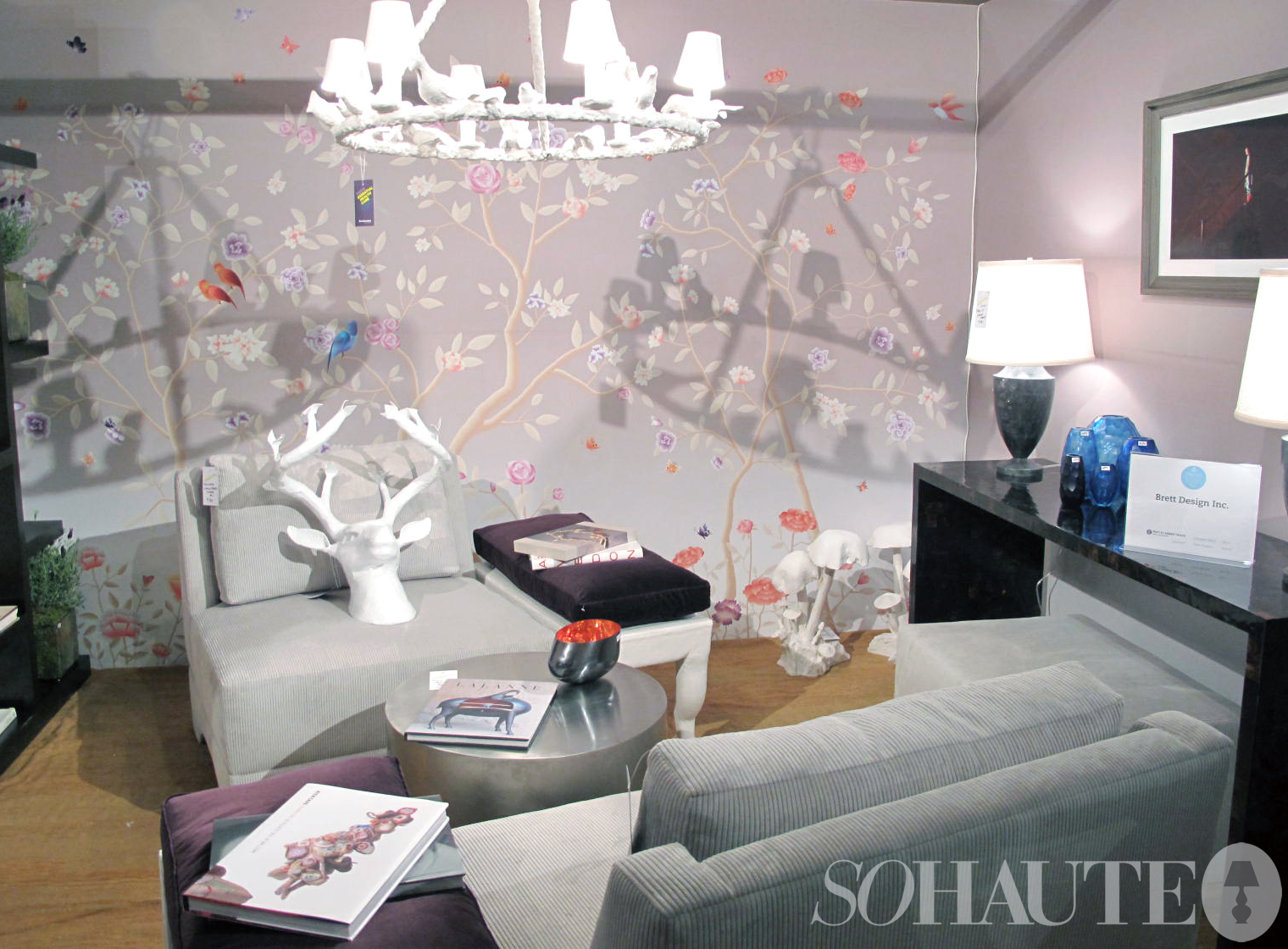 I fell in love with the wallpaper in this room by designer Brett Beldock. I have to admit that before this event I wasn't familiar with Beldock or her company Brett Design but now I'm a fan! She has a line of fabulous wall coverings which includes this butterfly scenic pattern which is one of her latest designs.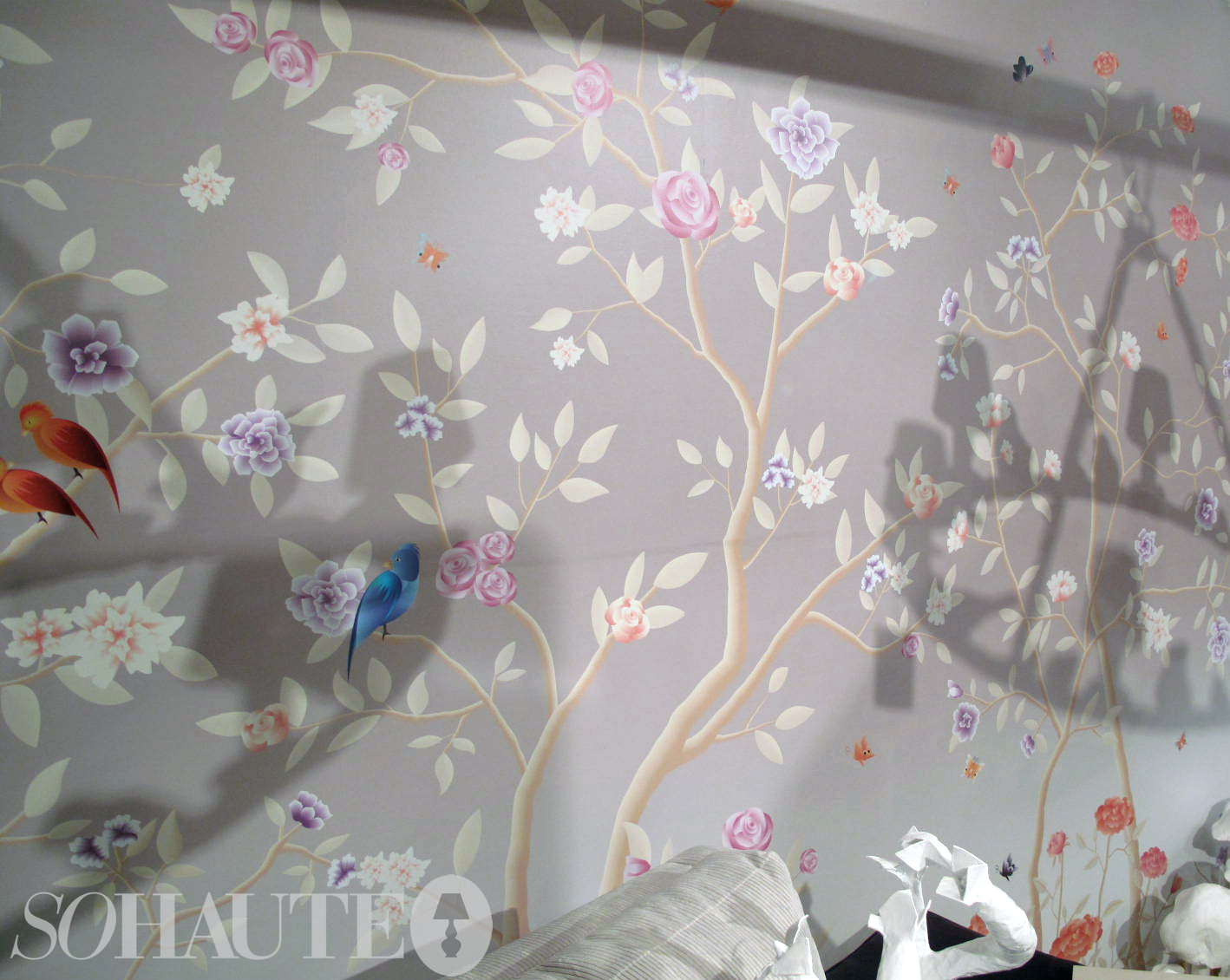 It sort of reminds me of de Gournay or Gracie and is a modern take on a very traditional Chinoiserie motif. The wallpaper is vinyl and self-adhesive which makes both installation and maintenance super easy. You can see this and more of Beldock's wall coverings here.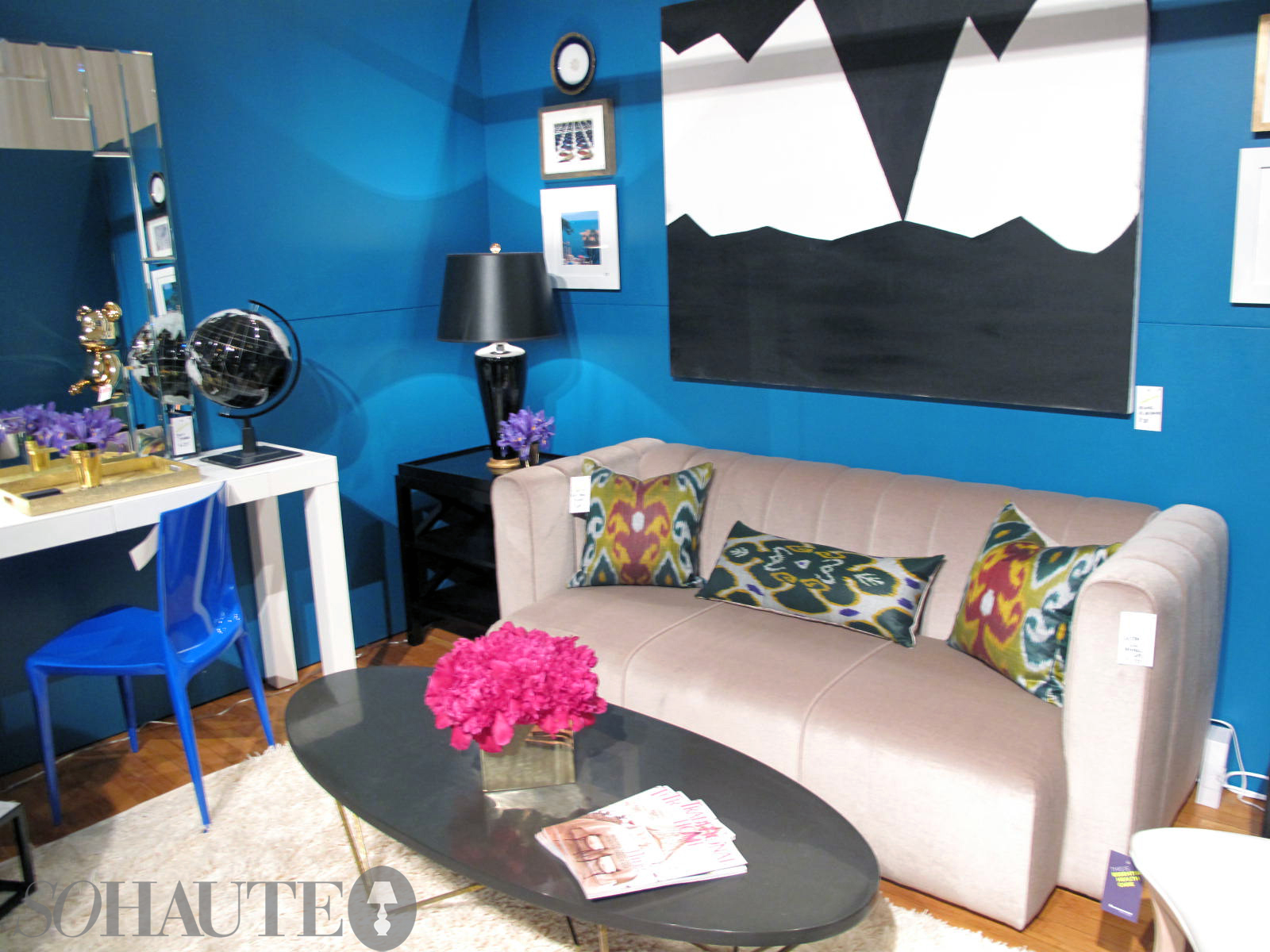 The bold blue walls in this room by Daniel Pafford really jumped out at me. If you recall, Pafford was named one of Domino magazine's 10 young designers to watch back before the magazine folded. I'd say Pafford has definitely come into his own since then!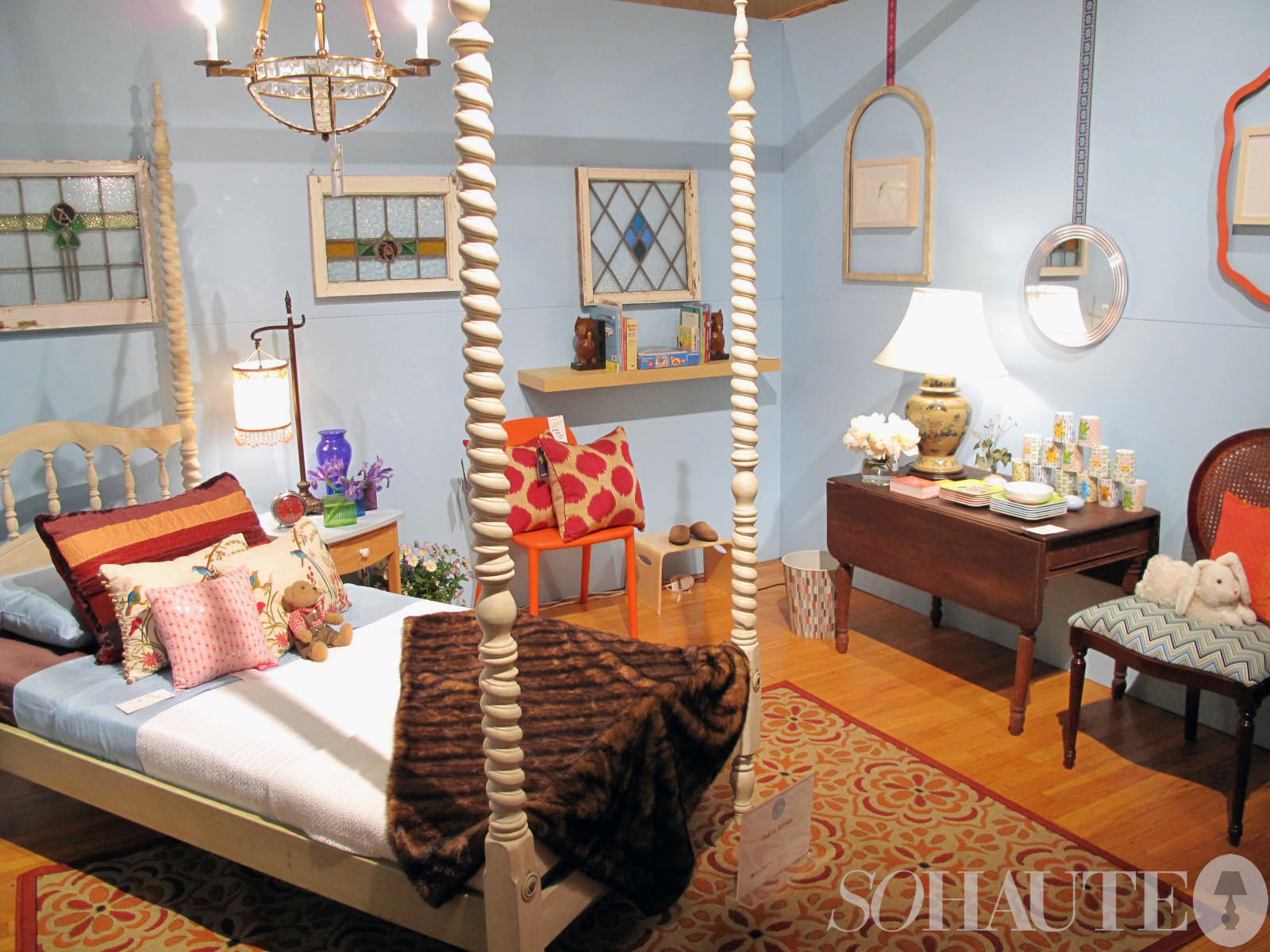 Another designer I was unfamiliar with before the event was Oskar Torres who designed the bedroom vignette above. I fell in love with that chandelier above the bed and contemplated buying it but when I went back to get it someone had already snapped it up! Although I didn't end up buying anything at this year's Design on a Dime, I didn't exactly leave empty handed. I met lots of great people and left the event feeling incredibly inspired by all of the ideas and creativity on display! Can't wait to go back again next year! For more info on Housing Works and how you can support its programs, visit their website here.