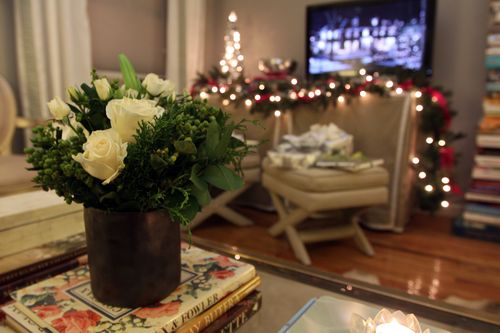 Before the holiday I was too busy running around to post pictures of my decorations but I wanted to share so here you go…a little peek at my holiday decor! The scheme consisted of greens, whites, splashes of bright pink for a punch of color and lots of sparkle and shine achieved with silver accessories, candles and lights. The result was unfussy yet very chic and sophisticated.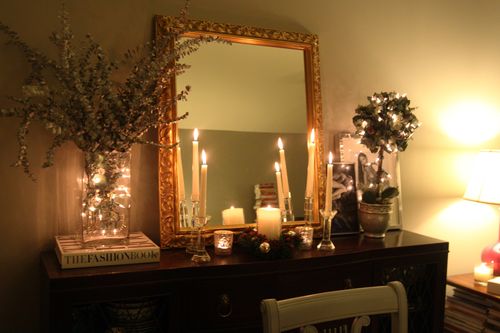 Here's my dining area. On the right is a faux topiary in a silver pot with tiny silver ornaments purchased at HomeGoods for a steal. I added a mini string of Christmas lights for the sparkle factor. On the left is a vase of eucalyptus leaves which were spray painted silver. To create this arrangement I simply jumbled some lights around the stems which resulted in a soft, radiant glow inside the vase. I never have the time or patience for projects that are too complicated or cumbersome and this arrangement was so easy to do! In front of the mirror are two pairs of elegant ivory tapers in crystal candlesticks. Between the candlesticks are a pair of silver faux bois votives and at the center is a faux fir candle holder decorated with holly and silver ornaments.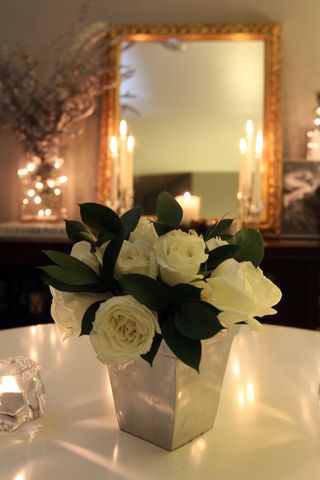 I hit up the flower district for many of my holiday decorative items. One of my first stops was United Wholesale Florist where I purchased white roses and magnolia leaves which I arranged in a silver pot I had lying around the house. Above is the finished product. Green and white floral arrangements are my absolute favorite and fit in well with any holiday decor.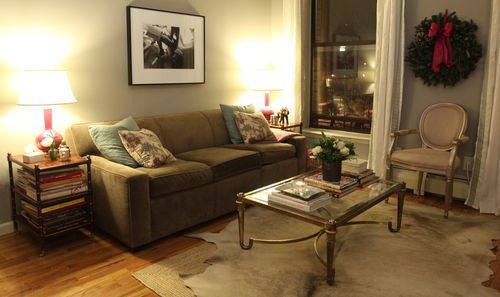 One of the best things about Christmas in New York is that you can buy fresh holiday greenery like trees, wreaths and garland on just about every street corner in Manhattan. I bought my live wreath above from a street vendor near my apartment and hung it on my living room wall in the place of my starburst mirror. It fills my apartment with the most amazing, wintery scent. I took a few acorns and hand painted the tips so they looked as if they had been dipped in gold then attached them to the wreath with wire. For a pop of color, I decorated the wreath with a hand tied bow made from pink ribbon I purchased at B & J Florist Supply in the flower district. The pink picks up the color of my table lamps.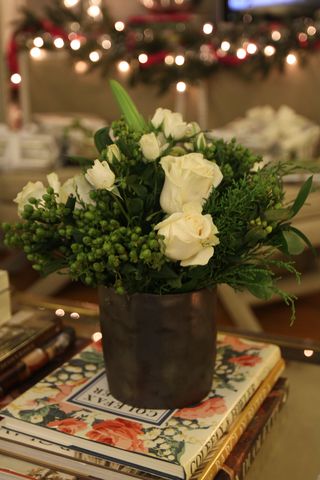 Here's another chic green and white arrangement I made for my coffee table.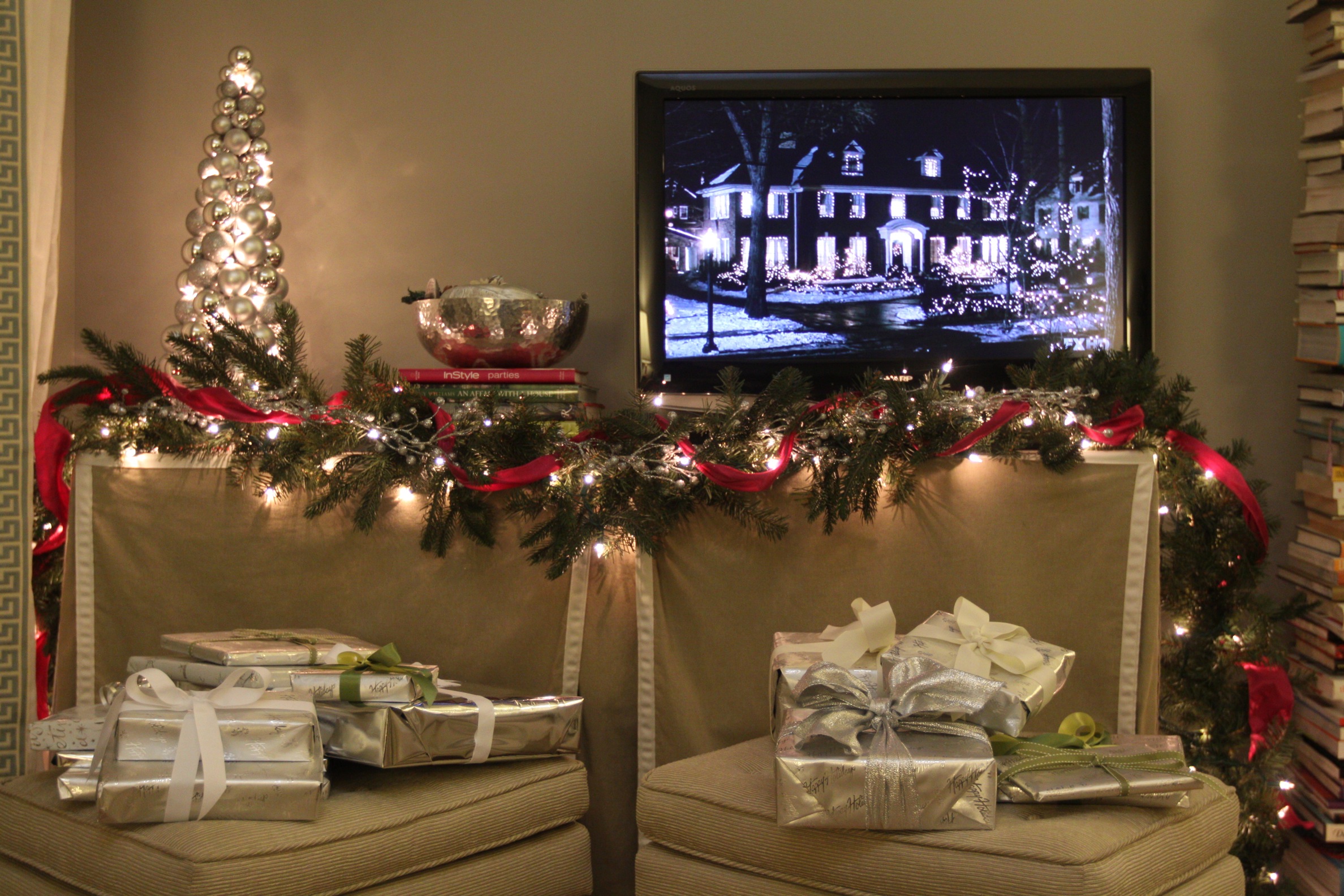 I don't have a fireplace so I treated my skirted TV console sort of like a mantle and decorated it with garland. I knew I needed to go faux because my TV console is very close to a heat source which would dry out real greenery very quickly. And in the interest of keeping things simple, I didn't want to be left with a mess of needles to have to sweep up! I wanted top quality faux so I went to Pany Silk, also in the flower district, which has a beautiful selection of silk flowers and fake greenery. They had the perfect 9 foot strand of fir garland that you would never know was fake by looking at it. I enhanced the garland by adding a string of Christmas lights, a string of sparkly silver glitter "berries" and more of the pretty pink ribbon from B & J. The silver ornament "tree" on the left was a find from Target a couple of years ago.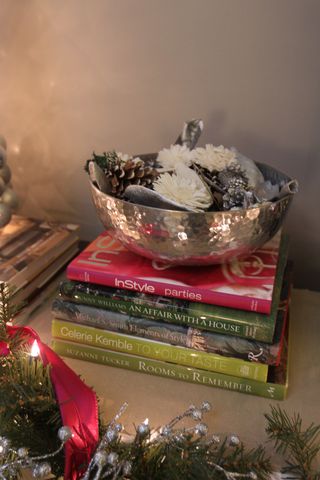 Decorating with books is an easy trick you can use to change things up in your own home. I'm always rearranging my book displays around the house to keep things fresh and here, I stacked a few green and pink books on top of my console to play nicely off the colors in the garland. I topped the books with a silver hammered metal bowl from West Elm filled with potpourri made of dried fruits, flowers and silver painted natural accents.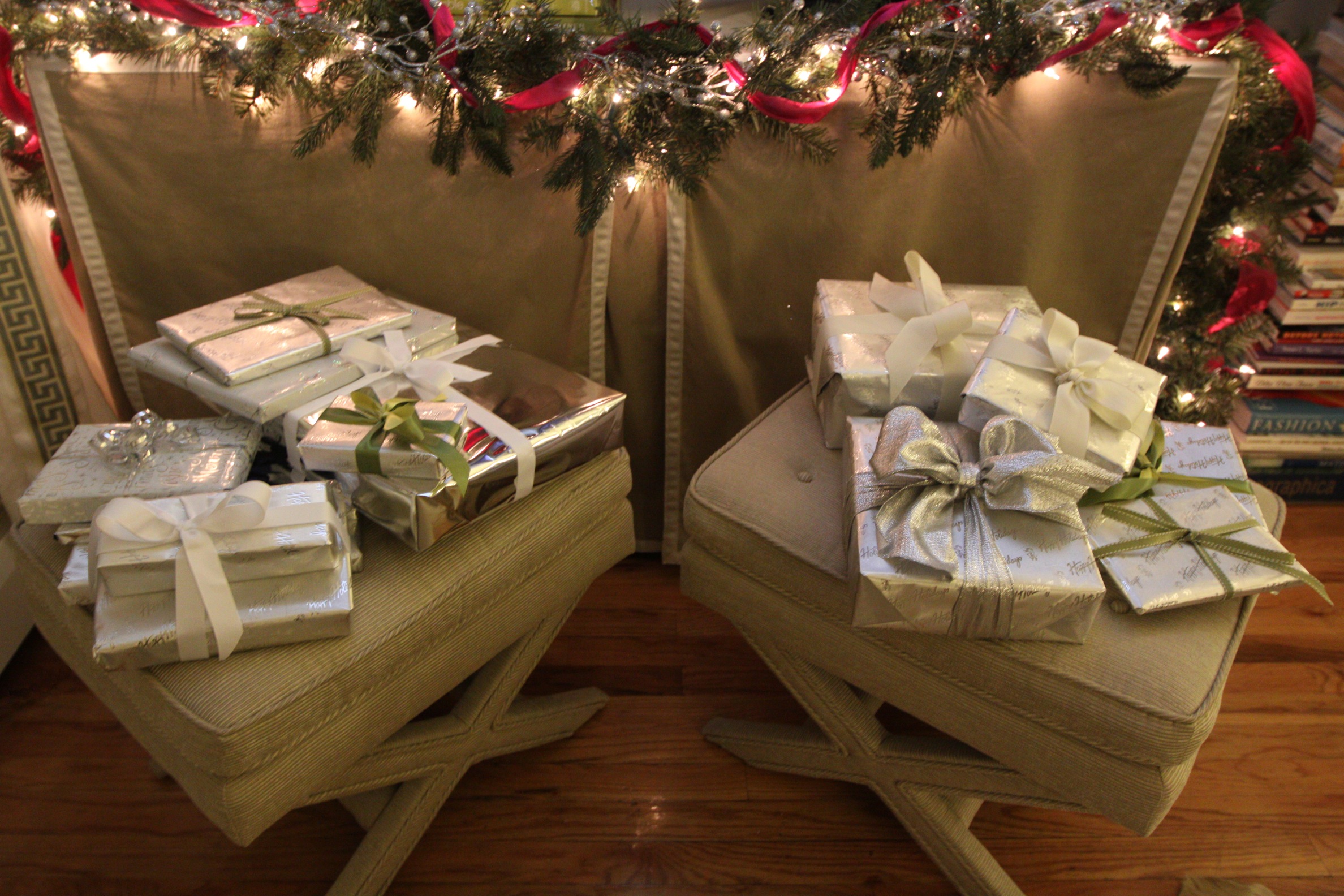 Since I didn't do a for real tree, I stacked my gifts on top of my x-base stools that I got from the Brimfield Antique show last year.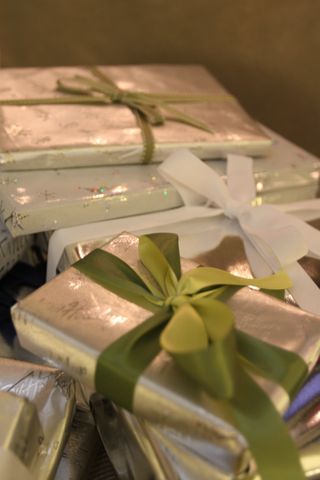 I wrapped all of my presents in silver paper which I think is so festive for the holidays and then hand tied bows on each package with various green and white ribbon. How pretty is that! As much as I enjoy wrapping pretty presents, watching them get unwrapped is even more fun. And seeing the happiness and excitement I bring to others through my thoughtfully chosen gifts, gives me an extreme sense of joy that reflects what the spirit of the holiday season is all about. Hope you had a wonderful Christmas!