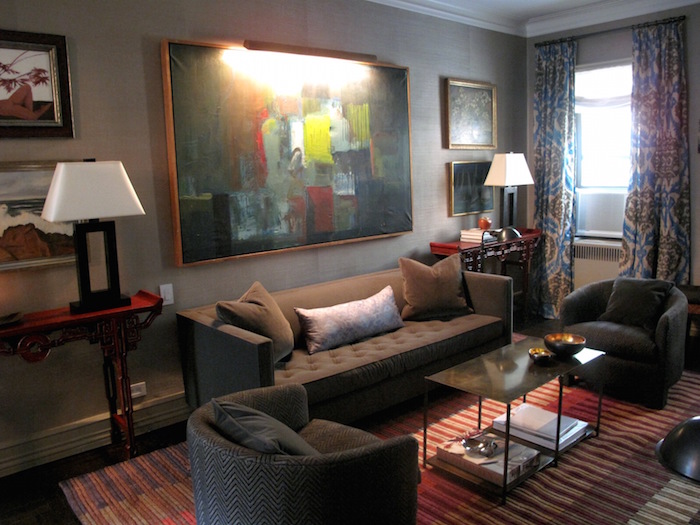 When Josh Greene moved into his Chelsea one bedroom co-op two and a half years ago it was a boring, boxy space that lacked architecture, complete with green shag carpeting compliments of the little old lady who lived there before him. Thank goodness Josh has a great sense of style and knows a thing or two about decorating! As decorative project manager for Ralph Lauren, Josh oversees interior design for Ralph Lauren boutiques around the world and scours the globe for fabulous treasures for both his job and his home. With his refined eye and sophisticated sensibility, Josh transformed his once lackluster apartment into an elegant space filled with carefully chosen furnishings and accessories and a moody yet soothing color palette throughout. Josh's chic apartment is the epitome of a well dressed home. Here's a tour…
The Living Room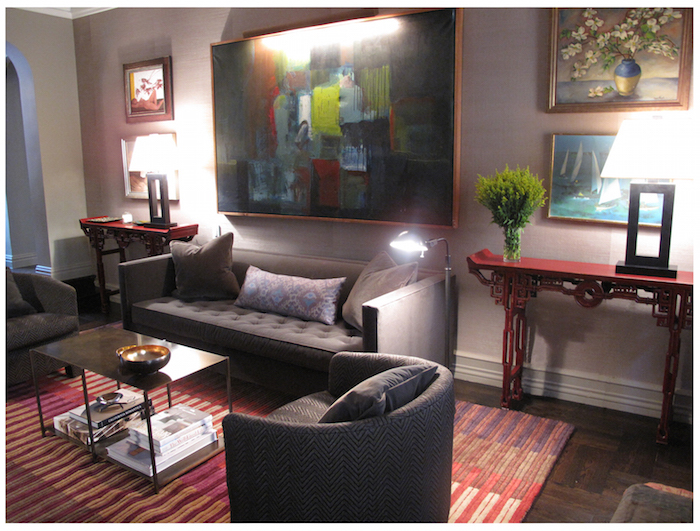 The first time I walked into Josh's living room I immediately felt visual sensory overload. There were so many beautiful things to take in! The dark stained hardwood floors, striking artwork and the variety of textural elements like the plush tufted velvet sofa, the rich chevron patterned fabric covering the pair of club chairs and the grasscloth covered walls. I also admired the moldings which were added after Josh moved in to lend a bit of architecture to the space. Josh's sofa is vintage and the painting above was found at an antiques shop in Brooklyn is by Ira Davidoff. The wall covering is Anya Larkin, the Chinese altar tables were an antique find, the vintage club chairs are covered in Classic Cloth's Sierra Madre from Dessin Fournir, the drapery fabric shown in the top photo is Spice Market from Donghia and the coffee table is a custom piece.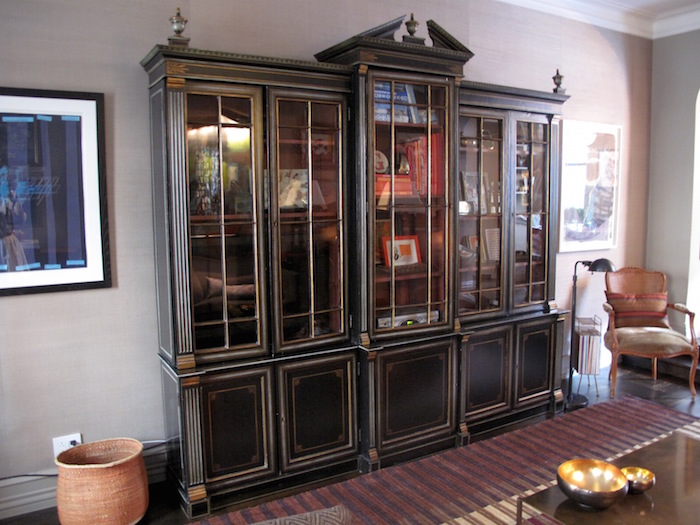 Across from the main seating area in the living room is this incredible neoclassic style breakfront china cabinet which Josh picked up during an antiquing trip in Stamford, CT  – one of his favorite places to shop for antiques. He had it restored and painted and now the cabinet inconspicuously conceals his television which seems to disappear behind the glass doors.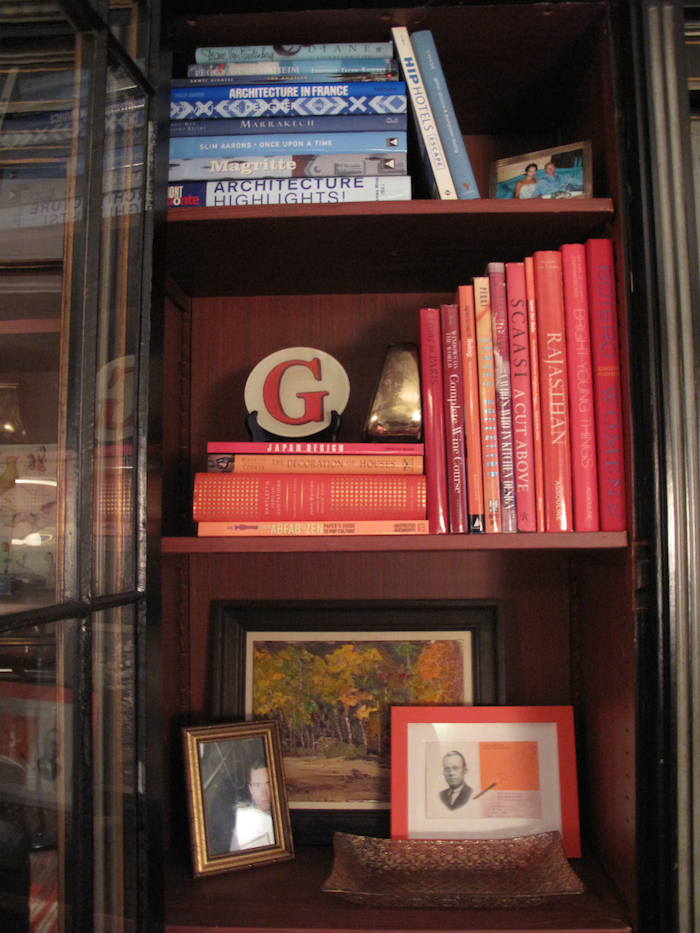 Here's a closer look at Josh's books and other collected objects that are stylishly arranged on the cabinet's shelves. I asked Josh what his three favorite things in his home are and he didn't hesitate to name this beautiful cabinet as one of them. I think it's my favorite piece in his home too!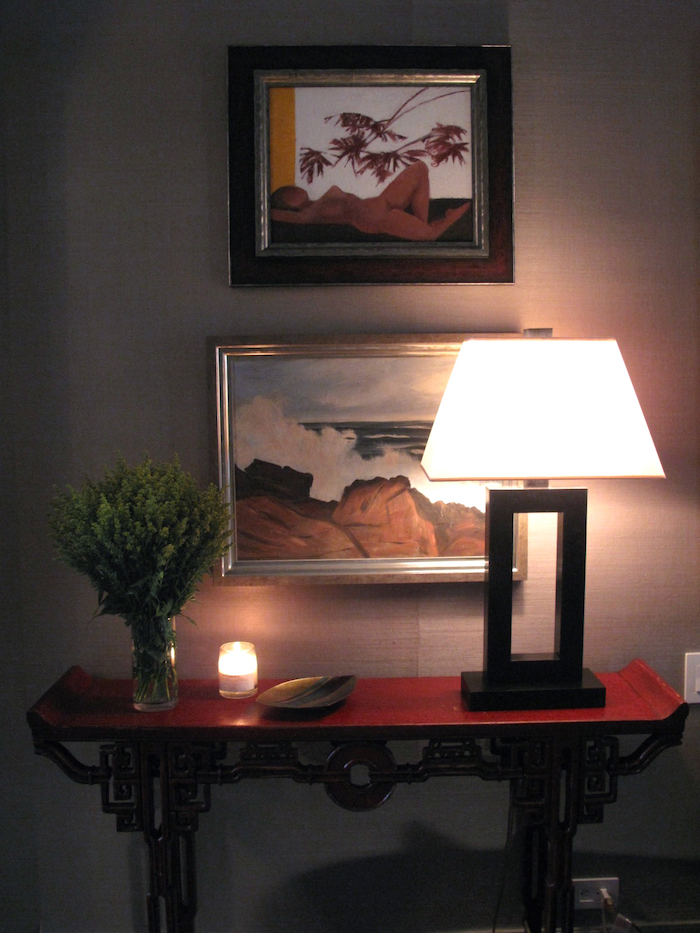 Another one of Josh's three favorite pieces is the painting above of a reclining nude by Clarisse Loxton Peacock. The painting below was left to Josh by his apartment's previous owner which he simply had it re-framed.
The Dining Area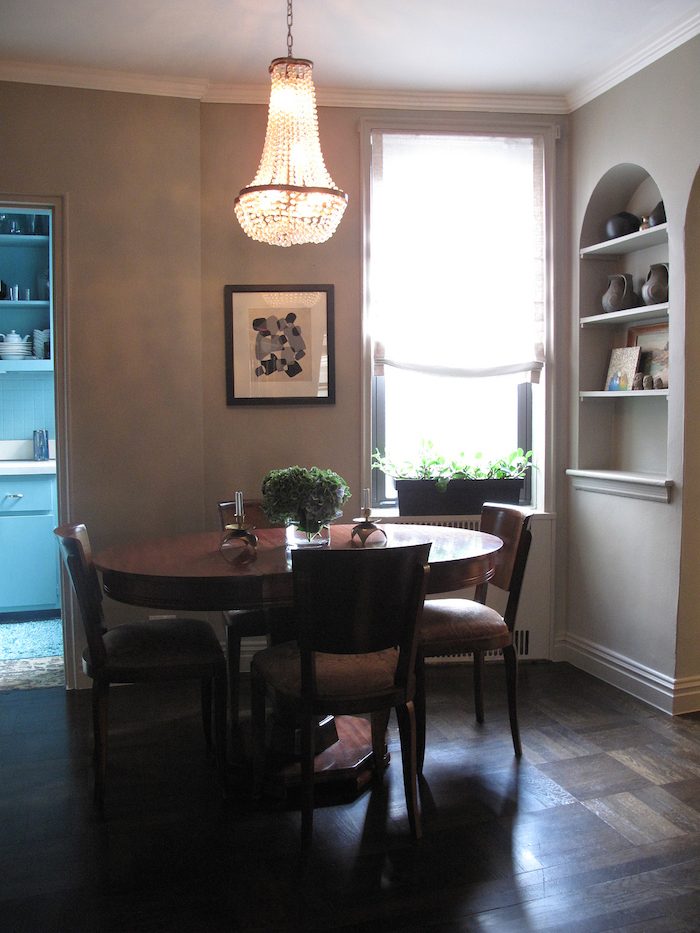 Just off the living room is the perfect little dining alcove. The wall color is Ralph Lauren's Hopsack, the table was found at a vintage shop in downtown Manhattan and the chairs were antique finds from a shop in Stamford. The abstract artwork on the wall is a NYC flea market find while the chandelier is from the Paris flea market. Josh didn't care to bother with shipping it so he lugged it through the airport and carried it back to New York on his flight!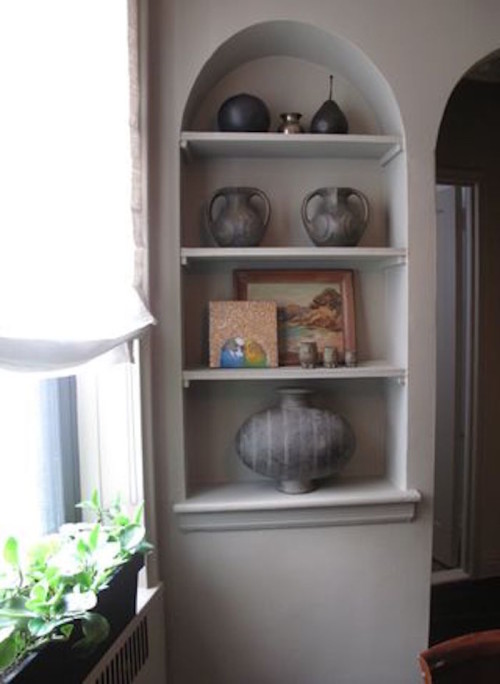 I thought this niche was perfectly styled and loved the mix of objects on display. The pair of Han Dynasty amphoras were a gift from his parents that were purchased from Northern California based antiques dealer Tim Jacobs. The painting of the two love birds is by Josh's friend Amanda Brotman. (Click the photo for a closer view.)
The Kitchen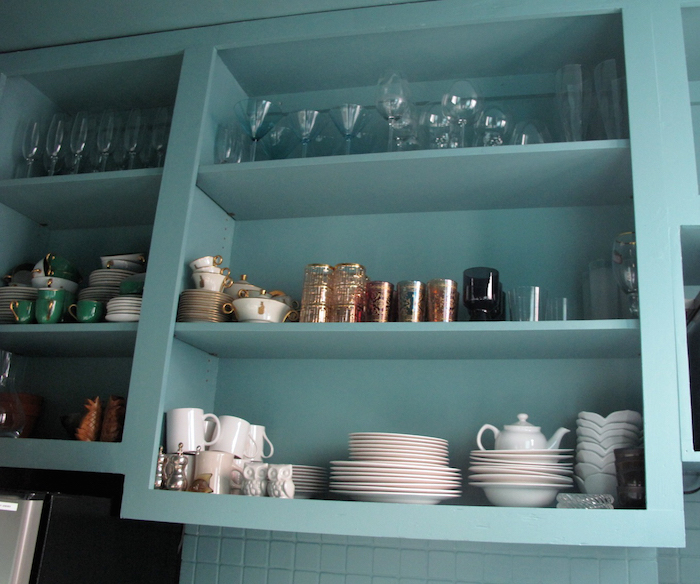 Just beyond the dining area is Josh's kitchen which he hopes to renovate soon so I'll only show this little peek. Josh spruced up his simple kitchen with new stainless steel appliances and a fresh coat of bright, robins egg-ish blue paint. The color is Ralph Lauren's Emperor and it's divine! Josh wasn't in love with his existing cabinetry so he simply removed the doors and gave the insides a coat of paint…he even painted the backsplash too! And don't you just love Josh's mix of pretty china and glassware? His pieces include classic white dinnerware, antique Limoges china and a hodgepodge of other old and new pieces all of which I adore! I especially love the Moroccan glassware and the antique cream and white china set, a gift from his mother that was once used aboard an old train.
The Bathroom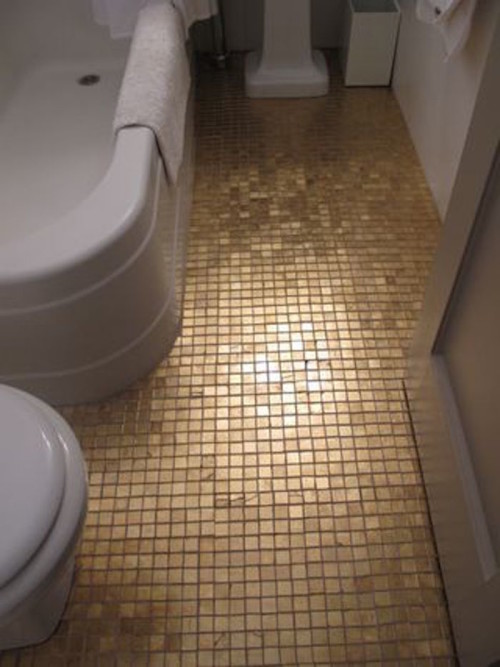 Like the kitchen, I'll only show you a tiny bit of Josh's bathroom…how chic are his gold floors?! The tiles are from Ann Sacks.
The Bedroom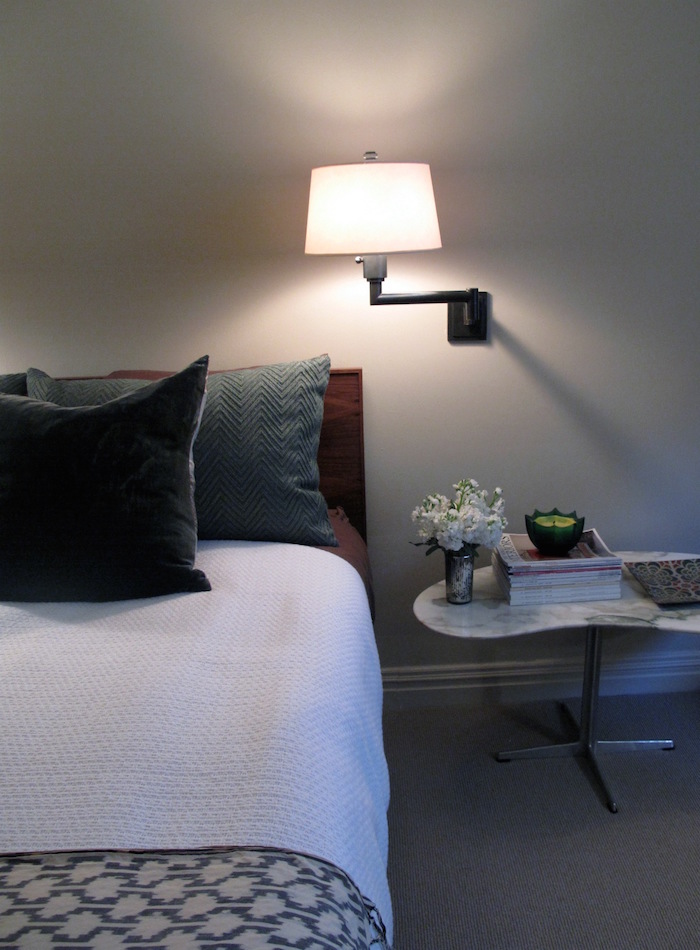 Josh's bedroom is also a work in progress but I think it already looks amazing! His sleek walnut bed is dressed up with beautiful custom made shams and a lovely ikat bedspread which is actually a sarong he purchased from Paul Smith a while back. The shams were made using the same Classic Cloth fabric that's used on the club chairs in his living room. The sconces on either side of the bed are by visual comfort. The marble topped side table is actually his old coffee table which he purchased from a flea market. I love the calming paint color which is Sail Cloth by Janovic. (A local paint supply store here in New York that produces their own brand of paint in addition to being the city's largest Benjamin Moore seller.)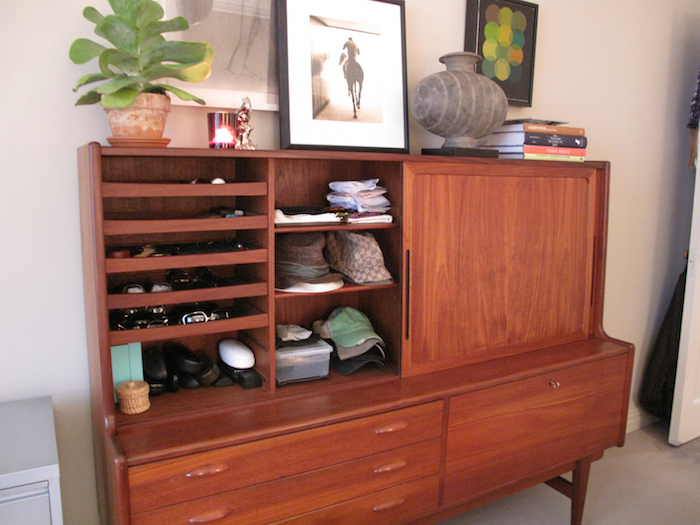 Opposite the bed is this 1960s Danish hutch which houses what Josh describes as all of his "gentlemanly things."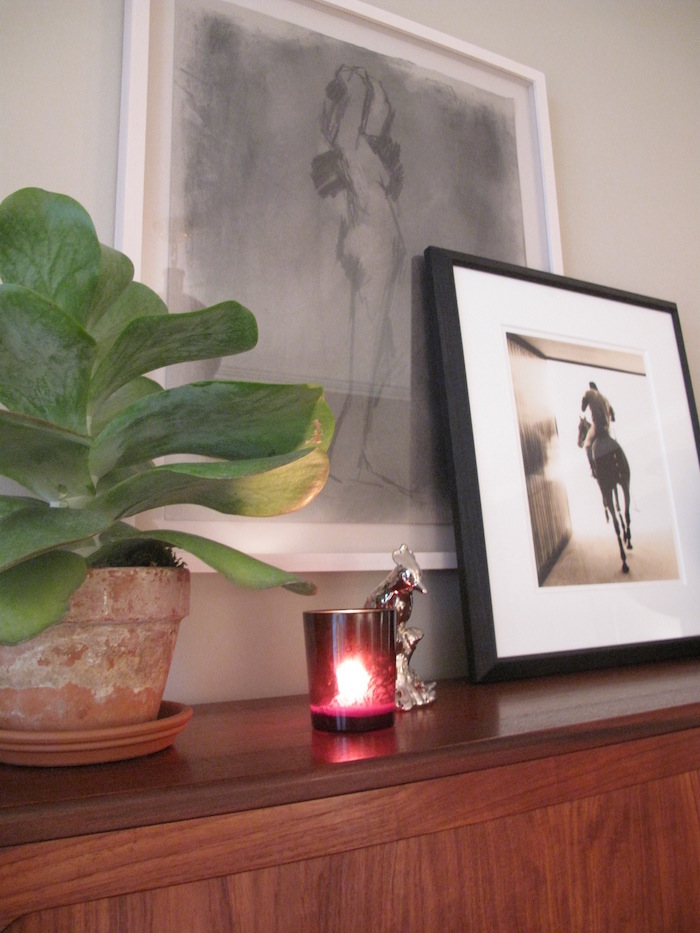 I love his choice of artwork and objects seen here on the top surface of the hutch. The photograph of a man on a horse is by Richard Phibbs, the nude sketch is by Johs's friend, artist Fedele Spadafora. The abstract circles painting is by Amanda Brotman and on top of the frame is a treasured pair of armadillos that was givent to Josh by a friend when they were in high school. (Click the photo to enlarge.)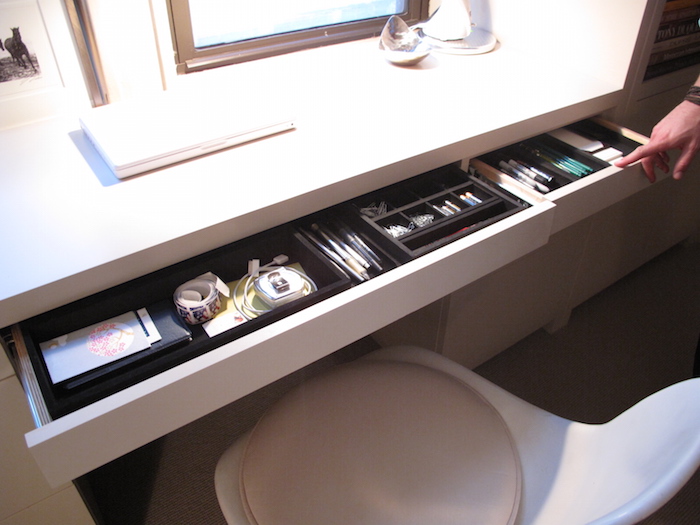 Along the adjacent wall Josh recently installed a new built in desk & bookshelf combo. Inside the drawers Josh used jewelry organizers to keep all of his desk supplies in order.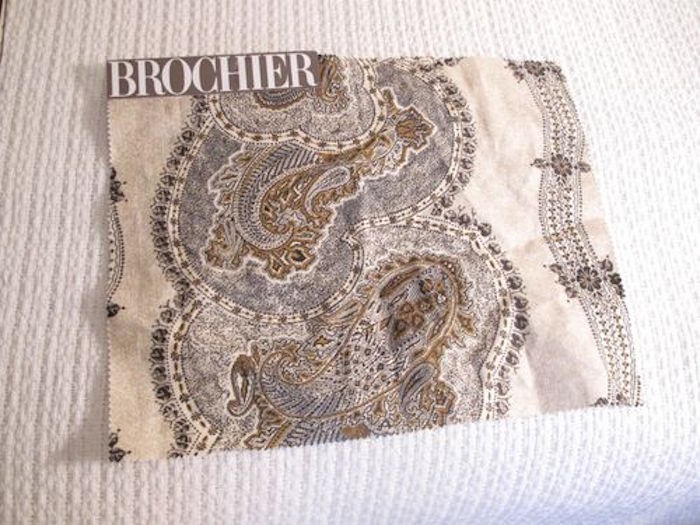 When I came to visit and took these photos a few months ago Josh didn't have his window treatments installed yet but this lovely paisley linen from Brochier is the fabric he's using for Roman shades which will cover the window in front of the desk.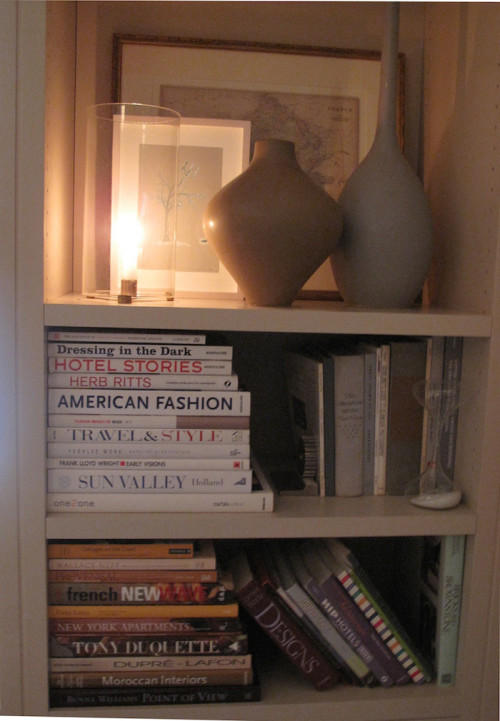 Here's a look at one of the built in bookcases that are on either side of his desk. It's filled to the brim with books on art and design. Now that you've seen a tour of his home, here's a bit more background on Josh: Prior to working in design, Josh worked as a writer and reporter covering ready-to-wear and textiles for Women's Wear Daily. After he grew tired of fashion reporting Josh launched his own line of men's shirts and later completed a brief stint freelancing for the design firm MR Architecture and Decor. For a while he contemplated a career in architecture and even enrolled in a summer program at Harvard's prestigious School of Design but quickly learned that architecture was not his calling. He joined Ralph Lauren's interior design department four and a half years ago and hasn't looked back! Earlier this year Josh got the itch to start writing again and also felt he needed a creative outlet so in March he started a blog! Shagreene (genius name!) is Josh's must-visit blog which chronicles all that inspires him in the world of interior design, art and architecture. It also features well produced video interviews with notables like Elle Decor editor-in-chief Margaret Russell and fashion designers Lars Nilsson and Yeohlee. Click here to check out Shagreene and a huge thank you to Josh for opening up your home to So Haute!