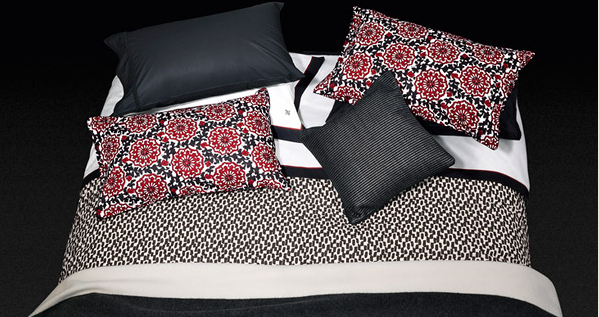 Edmond's Bardot Bedding Collection
I have a minor obsession with beautiful bedding and was excited to learn that Italian linen purveyor Frette recently launched a chic new brand extension called Edmond, named after the 150-year-old company's founder Edmond Frette. The Edmond line has a more youthful and relaxed vibe than Frette's conservative main line and is aimed at a younger, aspirational customer. Think eclectic mix and match bedding separates in a variety of animal, ethnic-inspired and geometric prints.

Edmond "Trio" bedding. Top sheet, $200, bottom sheet, $155 and pillow case, $75
The line also includes solids that are a modern take on the classics like the Trio sheeting, shown above, which features a bold and graphic black border outlined in red. The Trio sheet set is my personal favorite from the collection. Aside from sheeting, the Edmond assortment  includes blankets, throws, sleepwear and toss pillows.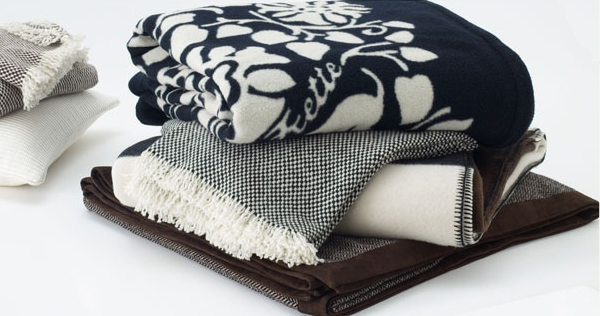 Blankets from the Edmond line. From Top: "Kasbah" Blanket, $995; "Domino" Throw, $1200 and "Horizon" Blanket, $800. On bottom is the "Anastasia" blanket from Frette's main line, $5000.
You can see more from Edmond by visiting Frette's website here. I have to say though, my only gripe with the line is in it's price point. Frette is positioning the line as "accessible" but I'd argue that Edmond still falls in the luxury bedding category. Perhaps a $1200 Edmond blanket is accessible compared to the $5000 blanket from Frette's main line but is it really?  Pondering this question also got me thinking…how much is too much to pay for bedding? Would love to hear your thoughts!
Photos via Frette.com