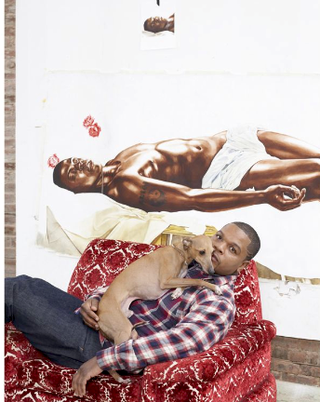 Kehinde Wiley poses in his studio with one of his two Italian greyhounds. Photo: Martien Mulder for Interview
Kehinde Wiley is an artist who has been on my radar for several years now. I first read about him in The New York Times, when he was just making a name for himself in the art world, generating lots of media attention for his first solo exhibition at the Brooklyn Museum and gaining a strong celebrity following. After reading the Times article, I began seeing his name everywhere! From House & Garden and Elle Decor to Vibe and Rolling Stone, Kehinde Wiley was being praised as the next up and coming artist to watch. The media attention and buzz quickly catapulted his career and now, at just 32, Kehinde Wiley is one of the most well-known contemporary artists of our time.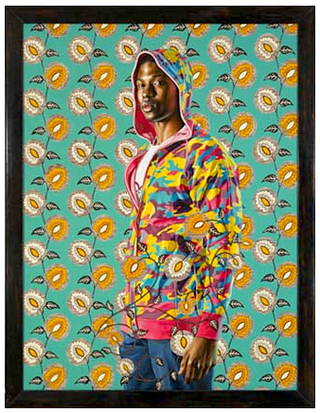 "Rubin Singleton"- Oil on Canvas, 2008
After graduating with a MFA from Yale in 2001, Wiley, originally from Los Angeles, moved to New York to hone his craft and make a name for himself in the art world. He became an artist-in-residence at the Studio Museum in Harlem and during his tenure there he developed his current style of portraiture which marries references from classical paintings by some of the Renaissance masters with urban male subjects to create provocative, larger-than-life works of art that touch on issues of masculinity, race, spirituality and power. Most of his subjects are cast from the streets of Harlem, Brooklyn and even urban meccas around the world such as Mumbai and Rio de Janeiro. Wiley's subjects assume poses from old master paintings which are reinterpreted in his urban meets classical style which as he puts it, positions these young black males within the field of power that radiates throughout the paintings he references for inspiration.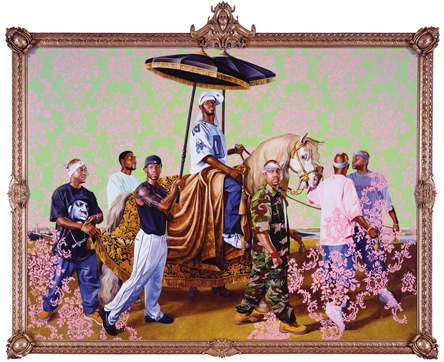 Wiley's Chancelor Seguier on Horseback, Oil on Canvas, 2006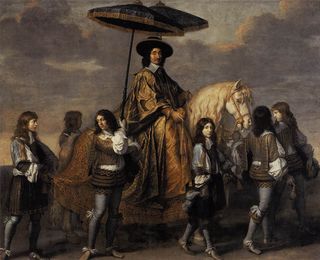 Charles Le Brun's Chancellor Séguier at the Entry of Louis XIV into Paris, 1655-61, Musée du Louvre, Paris
Above is a perfect example of the signature Kehinde Wiley style of portraiture that he is best known for.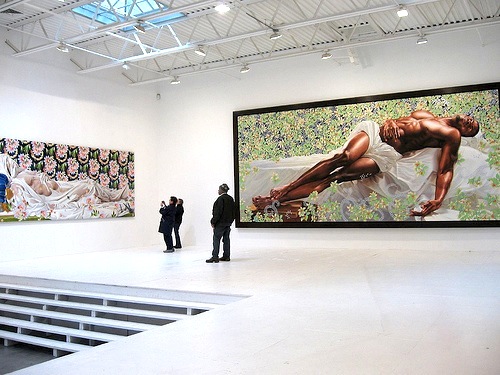 Photo: libbyrosoff's flickr stream
And this photo from Wiley's last exhibition titled Down gives a sense of the grand scale of many of his paintings.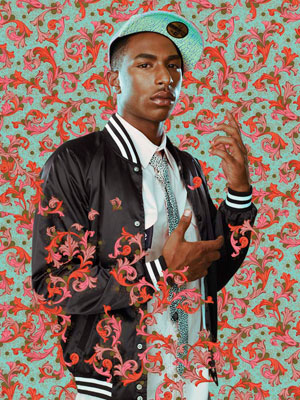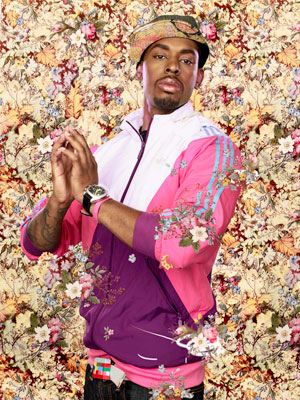 Photographs from Black Light. L: After Sir Joshua Reynolds' Portrait of Doctor Samuel Johnson, R: After Jean-Auguste-Dominique Ingres' The Virgin with the Host.
Recently, Kehinde Wiley took a departure from painting and debuted his first exhibition of photography at Deitch Projects, a top contemporary art gallery in New York. Titled Black Light, the series features painterly photographs that have been manipulated with light and digital technology. His subjects were hand plucked from Brooklyn's Fulton Street Mall. Above are two of the 17 photographs on exhibition. The patterns that you see in the backgrounds of the photos were extracted from home decor magazines from the 50s as well as from Martha Stewart's 1999 home collection! The exhibition is on view until September 26th. Here are the details:
Black Light: Kehinde Wiley
September 3-September 26, 2009
Deitch Projects
76 Grand Street, NYC.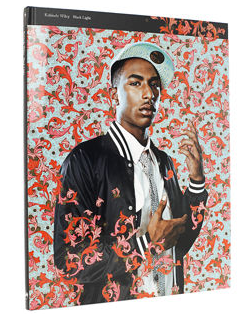 If you're not able to get to New York to view the exhibition you can order a copy of his latest book, also titled Black Light, which features all the works from his the series. You can order a copy from Barney's here. And if you're curious to learn more about the artist, the below clip from the Today Show provides a great introduction to  Kehinde Wiley and his creative process. You can also visit his website here.