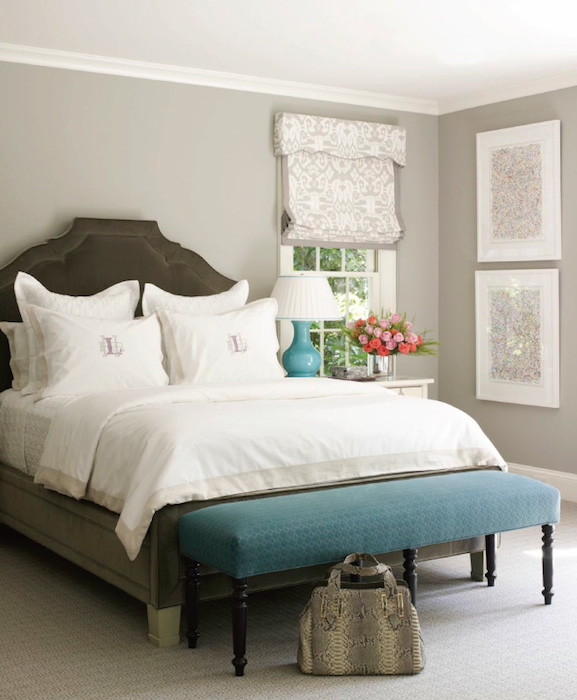 Image: Lindsey Coral Harper
A friend recently asked me how I keep my white bed linens so crisp and white so I thought I'd share some of my top tips for laundering your white linens here.
1. Wash your white linens separately. Mixing them with non-white laundry or with dissimilar textures (such as towels) can often cause pillage.
2. Always wash in cold water. Unless your linens are heavily soiled, there's really no need to wash on any temperature other than cold. High heat can break down the fibers in your linens, thus reducing their durability and lifespan. Plus, cold water is washing is the most energy efficient method…an added bonus.
3. Use only mild detergents. Regular detergents contain fragrances, dyes and harsh other chemicals that slowly eat away at the fibers in your delicate linens over time. Eco-friendly detergents such as Method's Free + Clear Laundry Detergent are a great option because they're made from plant extracts and are generally much safer and gentler on your laundry. Another option is to use detergents that are made especially for fine linens. Le Blanc Linen Wash and The Laundress both make great products for laundering your linens.
4. Never use bleach. Bleach also eats away at the fibers in your linens and can cause a gradual yellowing of your whites. If your linens are extremely soiled, spray any stains with an enzyme based cleaner (good ol' Shout often does the trick) which will help lift stains and then launder in warm water. Also add an enhancer to the wash which will help boost the cleaning power of your detergent. I swear by OxiClean Versatile which is free of perfumes, dyes and chlorine and is great for stain fighting when added as a laundry booster. I also use it to revive my whites whenever they start to look dingy. It works wonders!
5. Avoid fabric softeners. They will decrease the absorbency of your linens and I find that they also seem to make your sheets feel filmy.
6. Use a mild drying method. Line drying is best but if you don't have the time or the outdoor space for line drying, tumble dry on low. It may take longer but this will preserve the life of your linens. If you don't mind the extra step, I also recommend removing the sheets from the dryer while damp. Shake them out, then let them air dry. This will prevent wrinkles from setting in.
7. Iron your sheets! It's a huge pain in the you-know-what, but it's the only way to achieve a crisp, clean and polished look like in the photo above. It's best to iron while damp, and if your sheets have any embroidery, iron them on the reverse which will make the embroidery pop. If you don't have the patience to iron your sheets thoroughly, then cheat a little (no one will ever notice!). Simply iron your pillowcases and the top half of your flat sheet which is typically the only part that's exposed. (I wouldn't skimp on ironing your white duvet though!)
I hope you find these tips helpful!
xoxo
Nicole