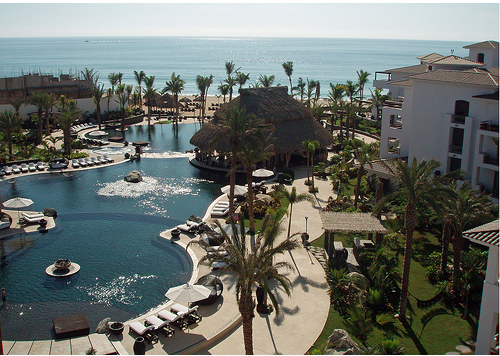 If you're looking to plan a little getaway, I'd highly recommend packing your bags and heading South of the border for a relaxing stay at Cabo Azul, a chic luxury resort just outside of San Jose del Cabo, Mexico. When I went to Cabo in Feburary I had the pleasure of staying at Cabo Azul and it was truly one of the most beautiful resorts I've ever visited. Situated at the tip of the Baja Penninsula along a 12 acre stretch of white sand beachfront, Cabo Azul is a luxe oasis with beautifully landscaped grounds, stylish interior spaces and incredible views of the Sea of Cortes.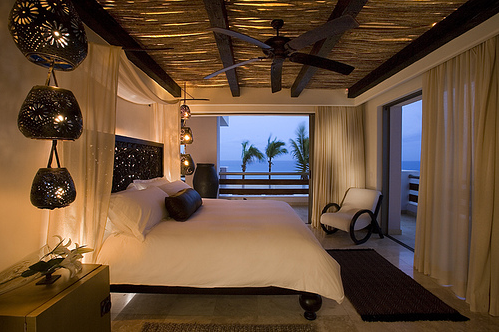 The interiors were created by renowned hospitality designer Dodd Mitchell who has designed a number of world class hotels and restaraunts including the Hollywood Roosevelt, the Thompson Beverly Hills and the restaraunts Bond Street and Dolce in Los Angeles. I typically prefer smaller boutique hotels and Cabo Azul has 332 rooms. Despite the size of the resort, it's surprisingly quiet and has a peaceful, serene ambiance. Each of the rooms are actually 1, 2 or 3 bedroom villas. The villas are sleek and sophisticated with a light, bright and airy feeling. I love all of the dark wood accents and Spanish and Moroccan influences.

Each villa includes a fully equipped kitchen and the resort has personal chef's on hand to prepare fresh, in-room meals if you desire.

Cabo Azul is full of amenities, one of my favorites being their gourmet market which reminded me of Citarella here in New York. The market offers gourmet selections of your typical groceries including meats, dairy, produce and packaged goods. They also have a great selection of gourmet cheeses, wine and liquor as well as your standard toiletries. If that isn't enough, the resort also has a bakery, a deli a gelateria, an internet cafe and a great fitness center on site.

Flor de Noche and Javier's are the two restaurants at the resort. Flor de Noche is located right on the pool deck and offers casual, open air dining under a palapa covered roof. There's also a swim up bar. This is where I ate most nights during my trip. I loved the fresh fish tacos and other seafood concoctions.

The inside of the palapa roof at Flor de Noche is lined with this incredible pattern of
nautical ropes that cascades down a column in the center of the restaurant. Above is a photo taken at night. Javier's offers a more formal dining experience. I didn't eat there at all (stuck to Flor de Noche & room service) but my traveling companions did and they thought the food at Javier's was amazing.


The pool area is probably the resort's crowning feature. It includes several connected, multi-level infinity pools which are surrounded by cabanas, stylish chaises and chic bamboo pod lounge beds. The pools are all kept at a warm temperature so you feel as though you're swimming in a pool of warm bathwater. It's divine! The landscaping also features several large flaming fire scluptures which illuminate the grounds at night.


For more information on Cabo Azul, visit their website here. And in case you were interested in seeing some of my personal photos from the trip, below are a few.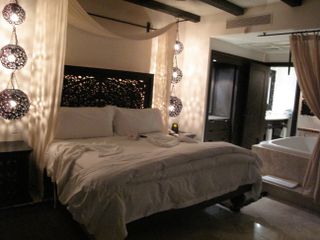 The bedroom in my villa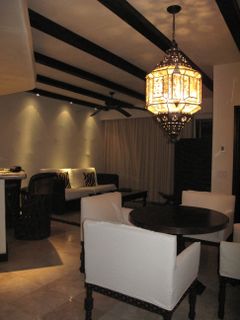 The main living area. How fabulous is that Moroccan lantern?!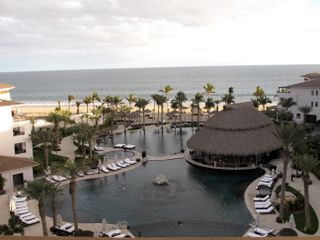 The view of the pool and beach from my room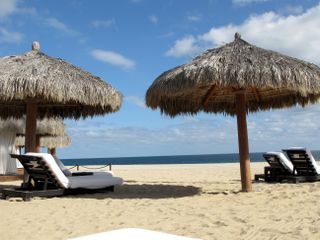 At the beach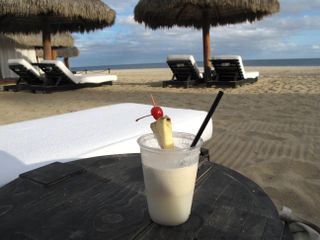 I wish I was back there drinking this!