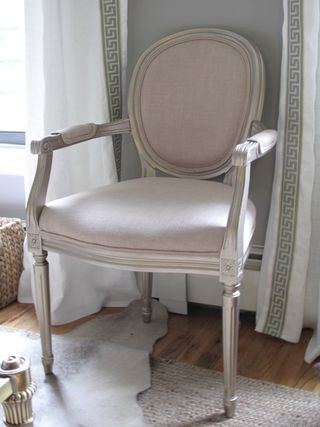 I picked up this Louis XV style armchair on eBay about a year ago…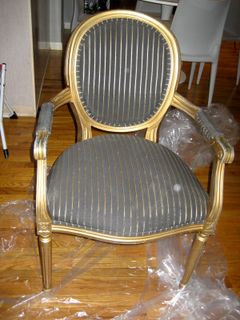 This is what the chair looked like before I worked my magic on it. The photo doesn't quite clearly illustrate what poor condition it was in before I refinished & reupholstered it. The gold paint was chipping, the seat was sagging and coming apart underneath, and the upholstery was completely dirty and dingy looking.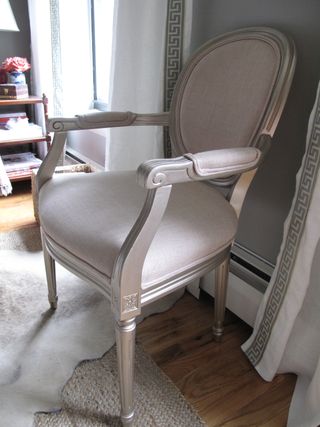 As soon as the chair arrived I got to work, in an attempt to turn this trash into treasure. I decided to refinish the frame myself to save money and I have to admit I took the lazy route! Rather than stripping and priming the chair like a good girl, I simply sanded the gold paint down a bit and then painted right over it using
Modern Masters metallic paint
in Warm Silver which actually looks more like a light rose gold-ish color. (You can't even tell I half-assed it-ha!) Next I sent the chair off to my trusty upholsterer in Queens who did a superb job on the reupholstery. The fabric I chose is a
soft pink metallic linen
from Kelly Wearstler's collection for Lee Jofa. I had the fabric teflon coated to protect the light color against stains and spills.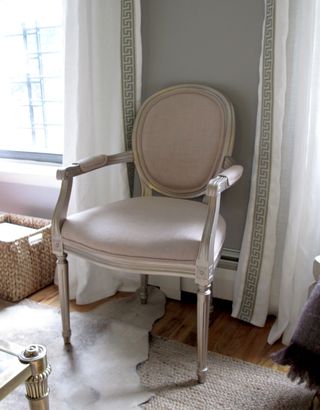 And this is the end result! What a transformation, right? It's probably one of my favorite pieces of furniture and it's the perfect scale for my small space!