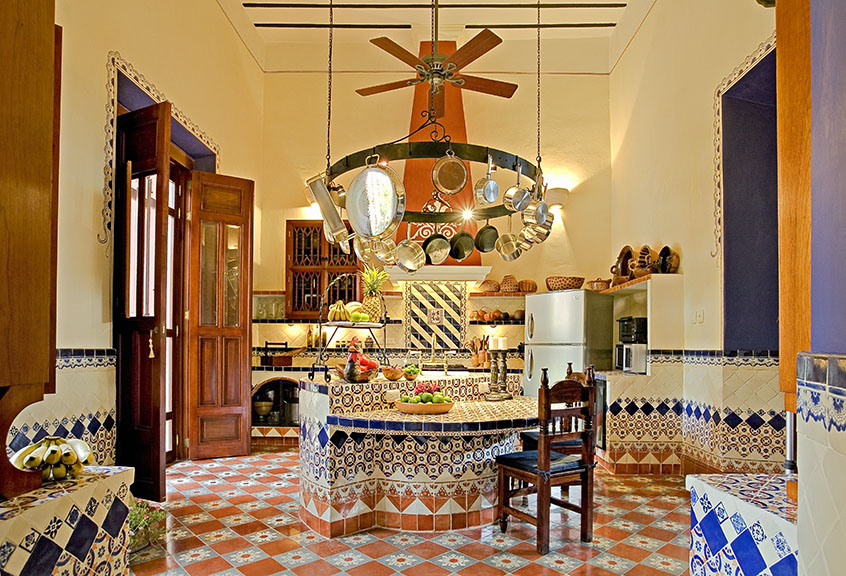 One of the best vacations I've ever taken was a couple of years ago when my sister and I took a week long trip to Mexico which included a visit to Los Dos, a lovely cooking school in Mèrida with classes that focuses on traditional Yucatecan cuisine. The school is run by Chef David Sterling and his partner Keith Heitke, former New Yorkers who traded in the big city for the historic charm of Mérida, the capital of the Yucatán. Los Dos offers a variety of culinary experiences including day long small group classes, three day intensive workshops, half day excursions to visit local restaurants and even private instruction…all taught in the gorgeous kitchen pictured above. I recently caught up with Chef David over email who happened to mention that Martha Stewart visited Los Dos earlier this summer to film a cooking segment for an episode of The Martha Stewart Show! It actually airs today so be sure to tune in! (Check your local listings for airtimes).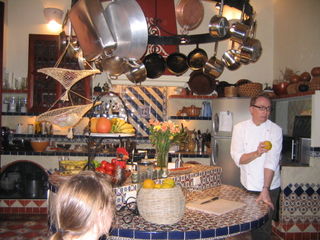 My sister and I chose the day long "Taste of Yucatán" class. The class included a total of 8 people which made for a very intimate learning experience. The day started with an introductory overview on the cuisine of the region. Above is Chef David teaching us about naranja agria, a very bitter orange that's commonly grown throughout the Yucatán. We juiced several of these to make pickled onions which served as a garnish for our meal.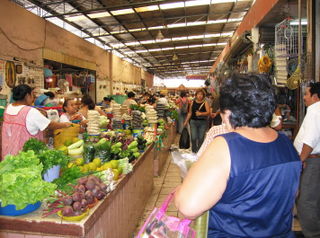 After our introduction Chef David took us out for a tour of the local market where we picked up much of the food we used to cook our meal.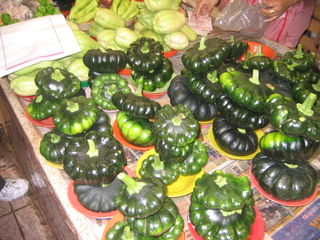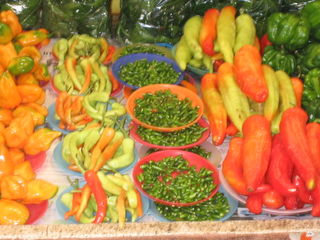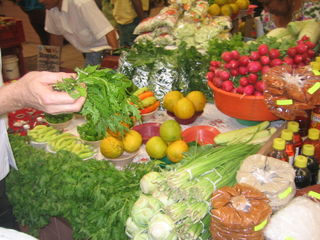 I was in awe of all the fresh produce and their beautiful, vibrant colors!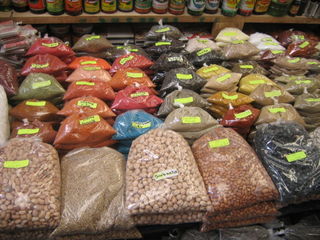 There were also plenty of fresh spices, also full of color. I love how simply they are packaged.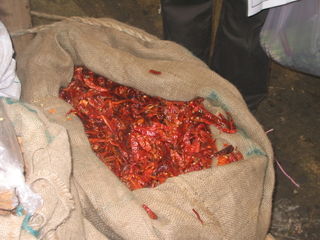 I snapped this photo because I loved the contrast of the brick red colored chiles piled up in this burlap sack.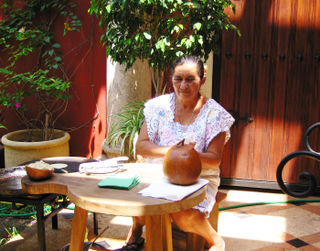 After our visit to the market we went back to the kitchen for more cooking instruction.  The woman pictured above came to show us how to make fresh corn tortillas. We made a lunch of salbutes y panuchos (a corn cake filled with beans and topped with lettuce tomatoes and salsa) and ate out on the beautiful terrace just outside the kitchen before heading back in to prepare our dinner. Our three course dinner consisted of sopa de lima (lime soup with chicken), pollo pibil (pit smoked chicken rubbed in achiote and wrapped in banana leaves), arroz verde (green rice) and a dessert of platano macho frito (fried plantains drizzled with honey).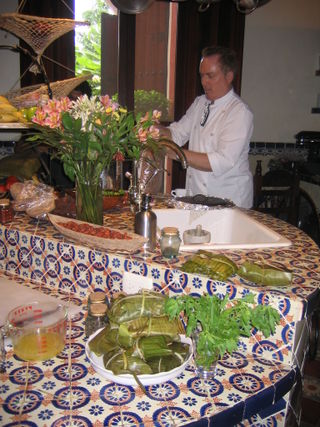 Above you can see the pollo pibil wrapped in banana leaves all piled up on the counter. This was just before they were placed in the smoking pit.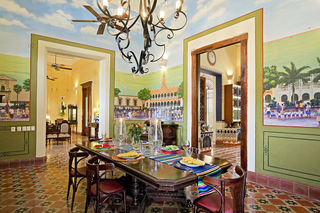 We ate our meal together as a class in this beautiful dining room. I wish I had taken pictures of all the finished dishes once they were plated but I think I was so excited to eat that I forgot!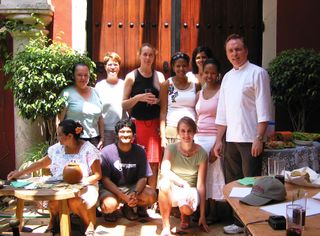 Here's a photo of our class with Chef David. (That's me with the sunglasses on my head). Los Dos was an incredible experience and Chef David was great-extremely knowledgeable about the local cuisine and just as nice as could be. Aside from the amazing food, the beautiful hacienda in which Los Dos is located was a real treat that any design enthusiast would appreciate. When I visited back in '06, Los Dos also operated as a bed and breakfast (sorry, that's no longer an option) so I was lucky enough to be able to stay in the gorgeous home for two nights. David and Keith (who is an interior designer!) purchased the once run-down hacienda in 2002 and spent more than a year lovingly restoring and renovating it. Oh yeah-on top of running Los Dos, David and Keith also run a full service design studio that specializes in the restoration and renovation of historic homes throughout Mérida. Talk about staying busy! Check back later for a part 2 post on their beautiful home and their design firm, Worldstudio International. In the meantime, visit the Los Dos website here for more information on the cooking school and be sure to watch David's segment on the Martha Stewart Show today!