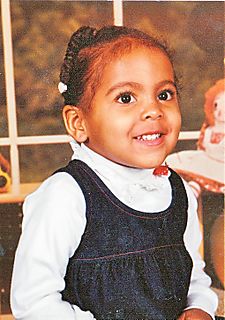 Me in my pre-school days…when I was young & innocent:)
If you read many design blogs then you've probably noticed the little game of blogger tag that many of the bloggers have been partaking in recently. I knew sooner or later someone would get me and lo and behold
Katiedid
tagged me earlier this week! In case you're not familiar with blogger tag you have to answer a series of 5 questions and then "tag" 5 other blogger friends who you'd like to answer the same questions. Here are my answers…
1. What did you do 10 years ago?
10 years ago marked the summer before my senior year in high school. I spent the summer playing lots of golf and researching colleges. I was also working at a mall in suburban Detroit and just having fun being a teenager. I'm sure chasing boys also fit into my schedule that summer too!
2. Five Items on my to-do list today:

-Pack for Houston (heading there for a wedding!)
-Order fabric for a pair of benches I'm having re-upholstered
-Find the perfect pair of lamps for my bedroom
-Sign up for personal training at my gym (this will probably get put off until it never happens!)
-Swiffer my floors
3. Snacks I enjoy:

I know it sounds strange but I rarely eat snacks! I do love to bake though and every now and then when I get a craving for sweets I'll bake things like oatmeal raisin cookies with chocolate chips, apple pie, peach crisp, vanilla
cupcakes…you name it. But the funny thing is that I usually only
eat a few bites to get my fix and then give the rest away. I always have fresh iced tea and lemonade in the fridge and I like both extremely sweet…so I guess that's the "snack" I enjoy most regularly. Oh–and I love Nesquick chocolate milk! Almost forgot about that! Yum!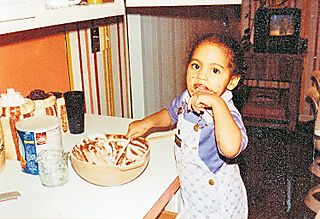 Me at around age 3. Already learning to bake! (and having fun licking the bowl!)
4. What would you do if you were a billionaire?
-Take care of my family!
-Buy both of my parents their ultimate dream house.
-Establish trusts for all of my nieces, nephews and little cousins to cover their education costs.
-Establish a charitable foundation and give money to causes that are dear to my heart.
-Do some volunteer work.
-Go back to school and maybe study art history.
-Travel the world.
-Buy myself a beach house or two…maybe in St Barths, Mexico's Mayan Riviera or some fab European destination like Marbella or Monte Carlo.
-Buy a cottage on Lake Michigan, a brownstone on NYC's Upper West Side, a country farmhouse in the Catskills, a greystone in Chicago and a cute little beach house in Malibu.
-Lavishly decorate all of my homes
-Build an empire that will give Martha Stewart a run for her money!
-And hopefully getting married, having babies and living happily ever after will be the icing on the cake:)

5. What places would you live?
-Anywhere in the Caribbean… The sun, the sand, the palm trees, the fresh seafood…nuff said.
-CHICAGO! Love that city. I went to undergrad there. It's like my second home & I miss it!
-Atlanta: One of my BFF's is there, love the laid back lifestyle and you can't beat the cost of living.
-SanFrancisco: Love it there!
-Los Angeles: You can't beat the sunshine and the weather!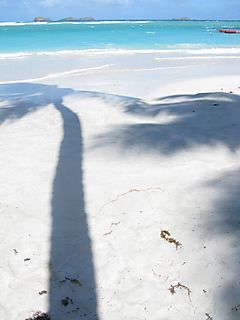 The beach at Eden Rock in St. Barths.
Ok, that's it! Now you know a little bit more about me! I'm now tagging:
Alkemie
MadeByGirl
A Cup of Jo
StyleCourt
Style & Grace

(Sorry guys! Happy tagging!)