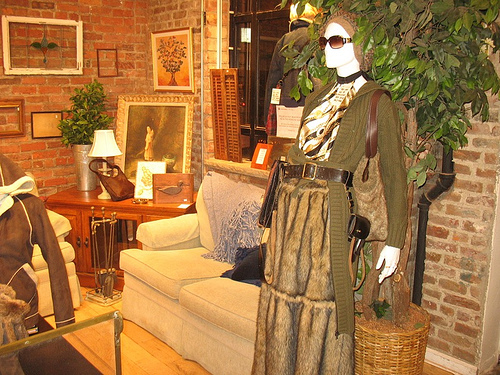 Inside Housing Works' West Village location
There's an amazing vintage store chain here in New York called Housing Works. They sell everything from clothes and jewelry to furniture and home decor items and whenever I'm in the neighborhood of one of their seven locations I always stop in to check out their goods. The very best items are merchandised beautifully in the store windows and put up for auction on the Housing Works website. The cool thing is that Housing Works is more than just a chain of thrift shops…it's a charity that benefits homeless and low-income people living with HIV & AIDS in New York City and all the profits from the items sold in the stores and on their website go to fund Housing Works' wonderful programs. So if you purchase a larger ticket item you'll feel good knowing that you're helping others in need. Below are photos of some of the items currently listed for auction. For those living outside of the NYC area, Housing Works unfortunately offers limited delivery options so be sure to read their FAQ section carefully if you're interested in bidding but don't live in New York. Enjoy the photos!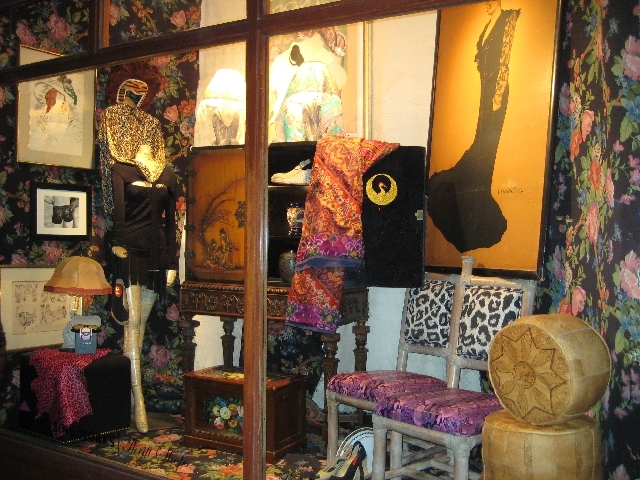 An eclectic vignette currently installed in the window of Housing Works' Chelsea location.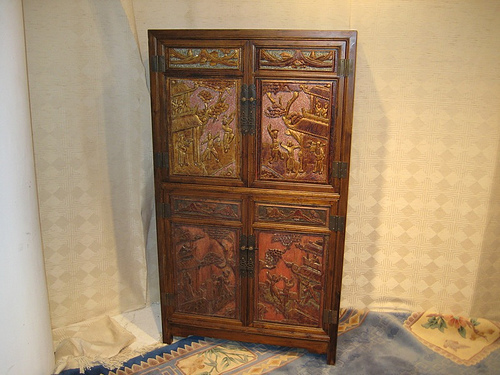 A beautiful carved Asian armoire as featured in the window of the Chelsea location. Current bid as of 3/23 is $159.50. Auction ends on 3/26.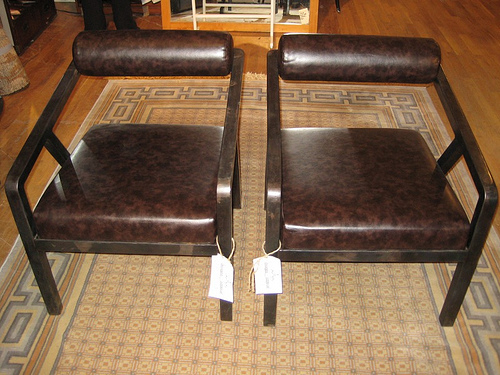 A pair of very cool vintage leather bolster chairs by Treillage from the E. 77th street Housing Works window. Current bid is $732 as of 3/23 and the auction ends on 3/30.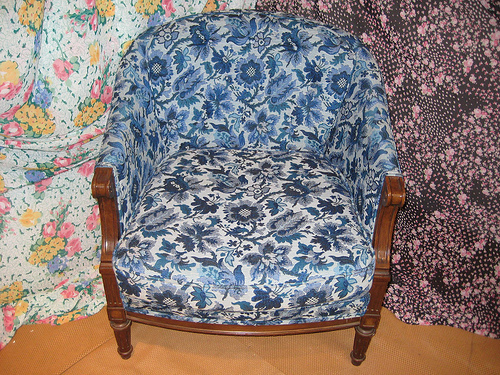 This current bid as of today for this upholstered side chair at the E. 23rd Street location is $109.50. Auction ends on 4/1. It's hard to tell with the busy fabric but this chair features a tufted seat back and it looks like it has a very solid frame. I'm not a fan of the blue floral upholstery but this chair could live nicely in my apt if I re-covered it in a different fabric. Perhaps a chic, lived in-looking nubby linen. Hmm…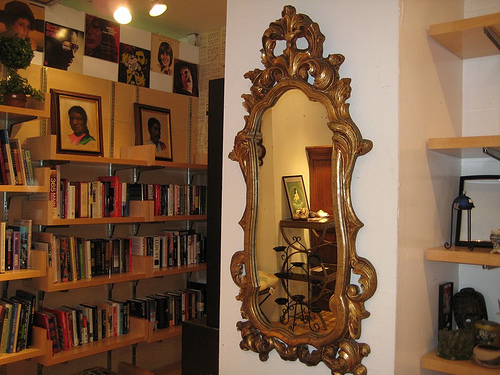 This gold, gilded French-style scroll mirror is featured in the window of Housing Works' 2nd Ave location. Unfortunately, the auction for this piece ended at 5PM today so it's no longer available. The winning bid was $275.