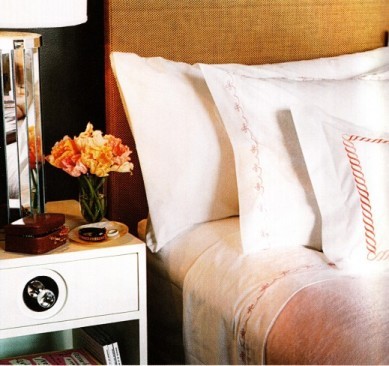 A couple of weeks ago my apartment suffered an unfortunate calamity. A neighbor on the fourth floor of my building had a radiator pipe burst causing ridiculous amounts of water to flood his apartment and subsequently ALL the apartments below it…including mine. I wasn't home when it happened. My bedroom ceiling and walls were severely damaged and starting to cave by the time I discovered the mess and my year-old mattress which I loved to death was soaked all the way down to the box spring (had to throw it out and buy a new one). The saddest part is that my laptop was sitting on my bed when the stupid flood happened and now its destroyed. Thanks to the Best Buy Geek Squad I was able to retrieve all my data and luckily I have a laptop at work which I've been able use at home although I hate having schlep it to & from work everyday. I'll have to deal with it for now until I figure out what to do. I'm currently considering switching to a Mac but that's a whole other conversation. I digress…
If I had to put a positive spin on the whole situation, the disaster ended up being somewhat fortuitous because I had planned on re-painting and re-decorating my bedroom anyway. I moved into my place a year ago, painted my bedroom a color that I never really loved and since I knew I'd eventually re-paint it, I never finished decorating the room to my satisfaction. Now, I am finally ready to transform my bedroom into a comforting retreat that I can truly enjoy. So I guess this flood couldn't have happened at a better time. All the repairs are finished and my room is now painted this incredibly soothing Ralph Lauren shade called "Cool Grey." It creates such a peaceful and calming atmosphere in the room…I absolutely love it. Now I just need to figure out what to do with the rest of the room! The 10 rooms pictured below provide me with a bit of inspiration. There are a few common threads here…upholstered headboards, crisp white bedding and, for the most part, tranquil colors. These three things are my starting points. I'm sure there will be many more bedroom posts to come as I hone in on a clearer vision for my room. Stay tuned!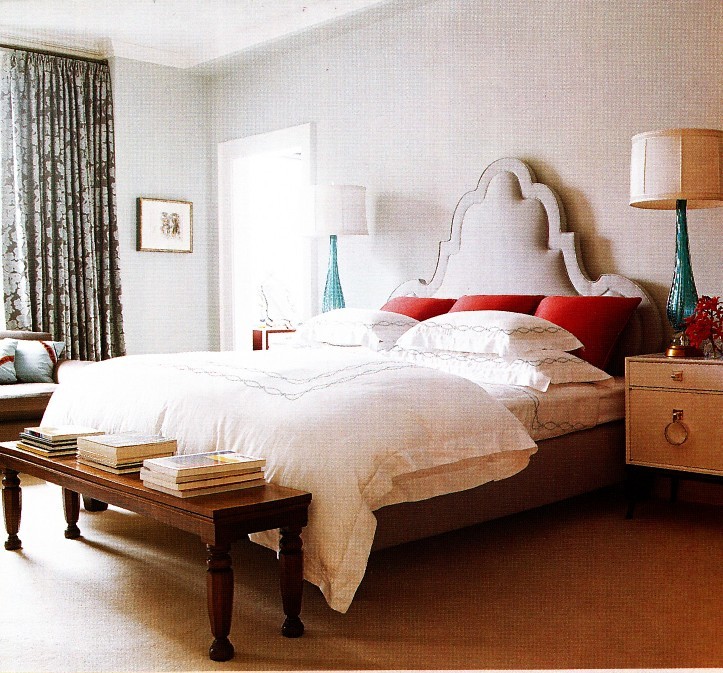 1. LOVE this room designed by Katie Ridder. It's hard to tell from my scanned tearsheet but the headboard is upholstered in a wool fabric which is unexpectedly chic and also very cozy looking. I also like the tall glass lamps and the classic white bedding. White bedding always makes a bedroom look instantly sophisticated, don't you think? This photo was shot by Pieter Estersohn for the March 06 issue of Elle Decor.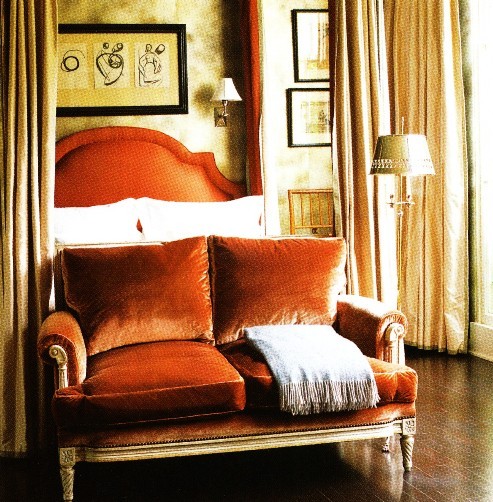 2. I love this room designed by LA decorator Greg Jordan. I want my headboard to have this exact same shape and scale. Photo by Lisa Romerein for InStyle Home Spring 2005.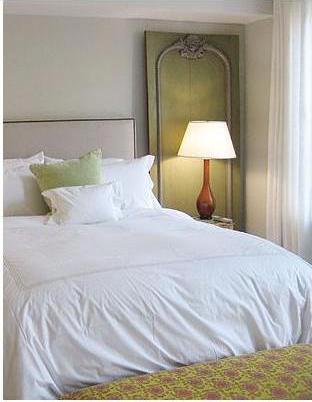 3. A room designed by one of my favorites…Nate Berkus. Love the green color here. Very tranquil. The accent colors of the lamp and on the bench tie it all together beautifully. Photo via nateberkus.com.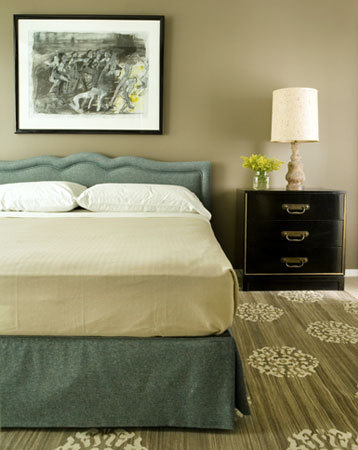 4. I love everything about this Papas Miron designed room. The grayish-blue color of the headboard and bed skirt would go nicely with my Cool Grey walls. We need storage so a small three drawer chest like this one on either side of the bed would function well. I'm currently searching for a rug in a fairly neutral shade and with a subtle pattern to add some interest and warmth to the room and the one shown here is fantastic. Photo via pappasmiron.com.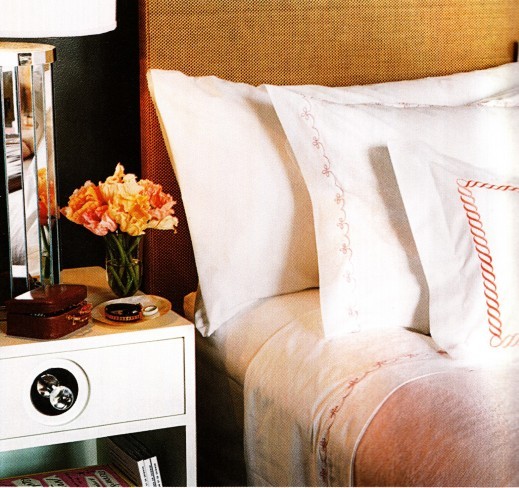 5. This little bedroom vignette exudes luxury! I think it's the combination of the mirrored lamp, glass knobs on the nightsand and the bedding that got me with this one. I also love the textured fabric on the headboard. Looks like raffia…or burlap? I can't tell and the caption didn't reveal. Anywhoo–It's great. The photo is by Douglas Friedman and was Featured in the May 2006 issue of InStyle.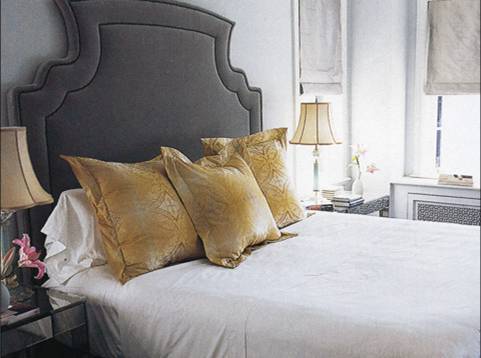 6. Another beautiful bedroom by Nate Berkus. Perfection! Photo via nateberkus.com.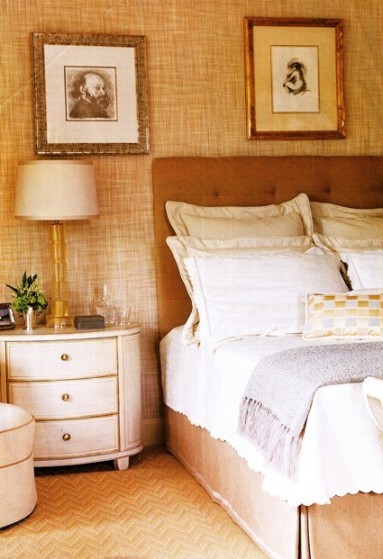 7. This bedroom was featured in BH&G's Fall 2003 Bedroom & Bath issue. A neutral, monochromatic color scheme that may have otherwise appeared boring, is livened up with the various textures you see such as the grass cloth covered walls, the linen headboard and bed skirt and the textured zigzag rug.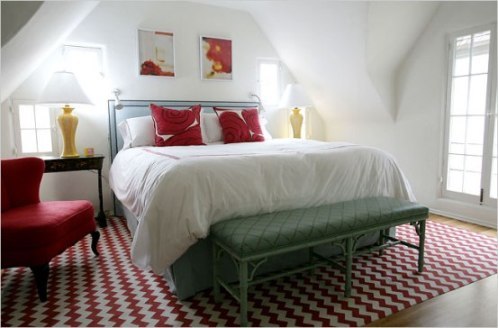 8. The red and yellow accents add a colorful pop to this room by Krista Ewart, former Assistant to Ruthie Sommers. I also love the nailhead trim. Photo by Stephanie Diani/New York Times.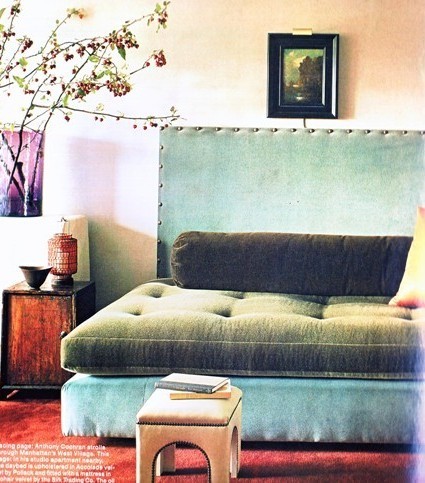 9. I'm thinking velvet for my headboard. I love the upholstery on this daybed. The color is amazing. This one is from designer Anthony Cochran's Manhattan apartment as seen in the May '07 issue of Elle Decor. The photo is by Timothy Kolk.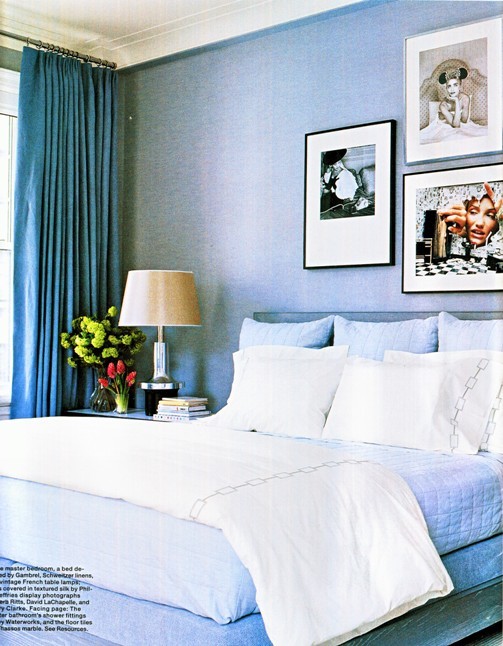 10. The walls of this Steven Gambrel designed bedroom are covered in silk. Pure luxury!  Photo by William Waldron for Elle Decor's Jan '07 issue.