The other day Style & Grace had a really great post about how she & her mom used the same Schumacher Chang Mai fabric in different colors to make pillows for rooms in their respective houses. It made me think of an article I loved that was featured in the premiere issue of Domino called "Are We Turning Into Our Mothers." The story featured rooms in the homes of three mothers and daughters with very similar design styles. Below are photos from two of the mother/daughter pairs. This got me to thinking about my own design style and I realized that I definitely inherited some of my mother and grandmother's taste. My grandmother's house is an homage to all things chinoiserie. All of her furniture is upholstered in chinoiserie print fabrics and she also has screens, wall hangings, Buddhas, lamps, bowls, vases and many other Asian-style tchotchkes everywhere. My mom certainly picked up some of my grandmother's style and while her house isn't exactly an ode to chinoiserie like my grandmother's, she did incorporate many chinoiserie and Asian style elements into her home including small pieces of furniture, wall hangings, vases and accessories such as the many Buddha statues that are scattered throughout the house. Looking around my own living room, I can see several Buddha's staring back at me! Clearly there's lots of mother-daughter style sharing going on in our family! What about you? Was your design style influenced by your mother's?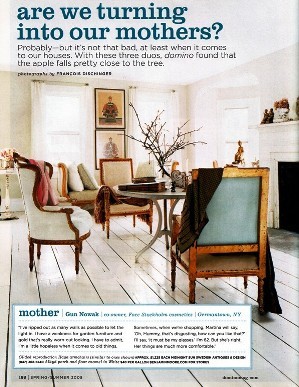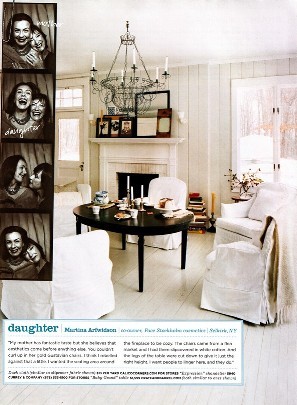 This mother-daughter pair owns Face Stockholm cosmetics. It's funny how similar their dining areas are. Both rooms are bright white spaces with round dining tables and upholstered chairs. They also both have painted white floors.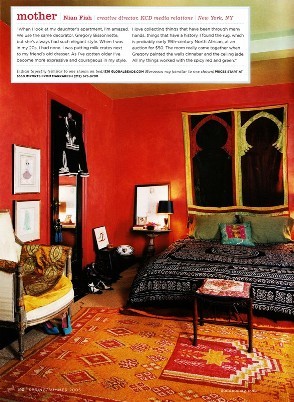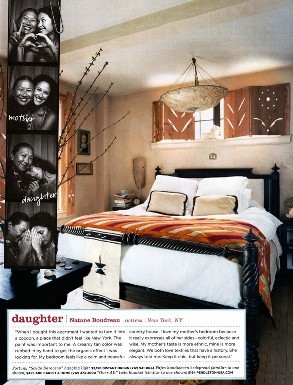 Photos by Francois Dischinger for the Spring/Summer 2005 issue of Domino
The top room belongs to Nian Fish, Creative Director at KCD Public Relations. Nian produces runway shows for top fashion houses such as Marc Jacobs, Zac Posen, Chloe, Louis Vuitton, Ralph Lauren, Calvin Klein…the list goes on. I was an intern at KCD in college and having met Nian, this is exactly how I would envision her bedroom to look! The room features an eclectic mix of colorful ethnic textiles and the walls are painted a vibrant reddish orange color. Her daughter Natane's room is much more subdued with its neutral color scheme but you can see that she also incorporated some ethnic textiles into her bedroom…with her bedspread as well as the tapestry hanging over the bed's footboard.