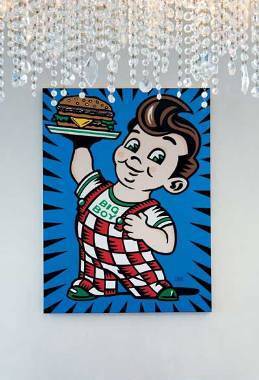 Since the subject of Kanye West is fresh in my head (see my post from yesterday) I thought it was appropriate to discuss his very cool, ultra modern Hollywood Hills home. Many of you may have already seen the home featured in the August issues of Harper's Bazaar and Interior Design. The 4,200 square foot, three story home was designed by Desiderata Design out of LA. It's look is very stark and minimalist and has an almost gallery like feel with its open floorplan, white walls, walnut floors and impressive art collection. In the Interior Design article, Desiderada design principal Don Stewart says Kanye wanted his house to look like "a cross between a museum and a Louis Vuitton boutique." Kanye's works of art include antique architectural remnants, sculptures, modernist paintings by Takashi Murakami and pop art such as Andy Warhol's Campbell's soup prints as well as one of a kind works by pop artist Burton Morris. Kanye's design style is a bit modern for my taste…I'd much rather live in the chic Paris apartment featured on All the Best the other day…but I still think his home is fabulous and I really respect his taste. His home is much more sophisticated than I could have ever imagined…the only thing I saw that screams "I'm a flashy rapper" is the fox and chinchilla throw and pillows on his bed. I'll give him a pass for that! Check out the photos…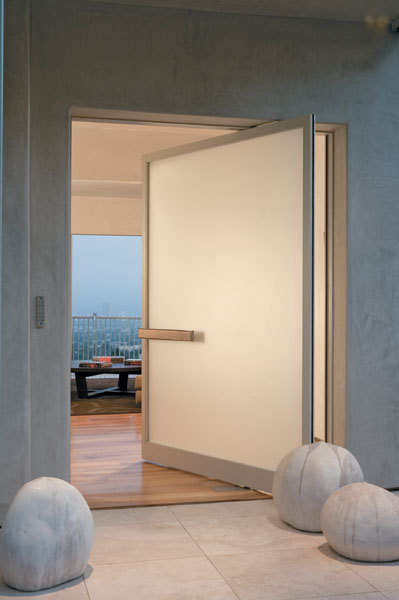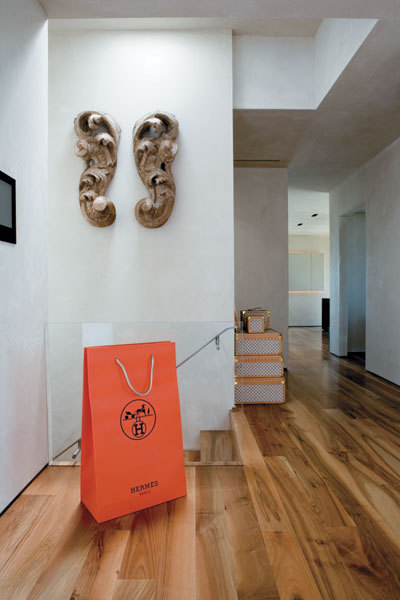 L: The home's sandblasted glass front door. R: The home's entry. The French walnut floors are gorgeous!  A painted bronze sculpture of an Hermes shopping bag by Jonathan Sigler really stands out here and a pair of 19th century carved wood architectural pieces adorn an otherwise bare wall. Stacked Louis Vuitton trunks help fill up the space.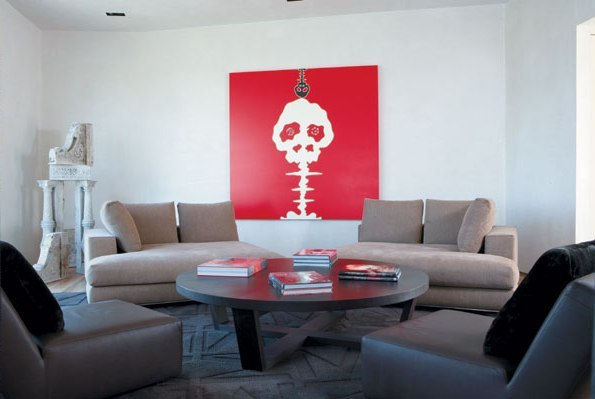 Kanye's living room. An acrylic on canvas painting, "Time Bokam-Missing in the Eyes-Red", by Takashi Murakami hangs on the wall. The sofa and rug are by Rodolfo Dordoni and the coffee table is by Antonio Citterio for B&B Italia. A relic from an 18th century mantlepiece adds interest in the corner.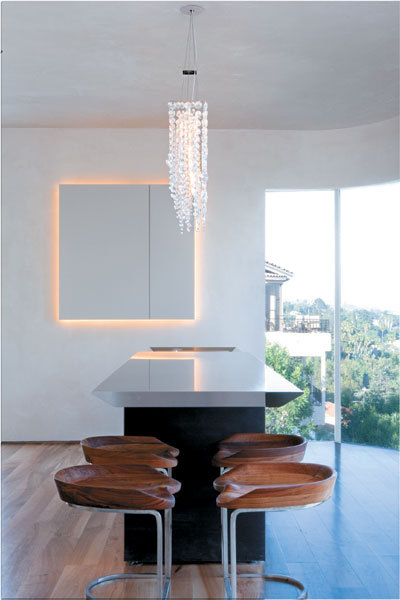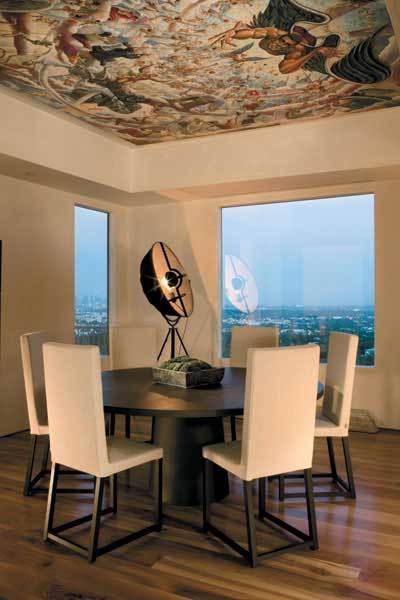 L: The kitchen. The backlit square shaped piece on the wall is Kanye's kitchen cabinet. The island, designed by Norbert Wangen features a sliding stainless steel top that conceals a cooktop and sink. out A Lolli e Memmoli chandelier hangs above. I love the walnut stools here. (Does anyone know who makes them?) R: The dining room. I really like the Mario Fortuny floor lamp in the corner. On the ceiling is a Sistine Chapel-like acrylic painting by Ernie Barnes which was commissioned by Kanye. Called "A Life Restored", the painting features a lifeless body being carried by angels and symbolizes Kanye's miraculous recovery from a nearly fatal car crash in 2002.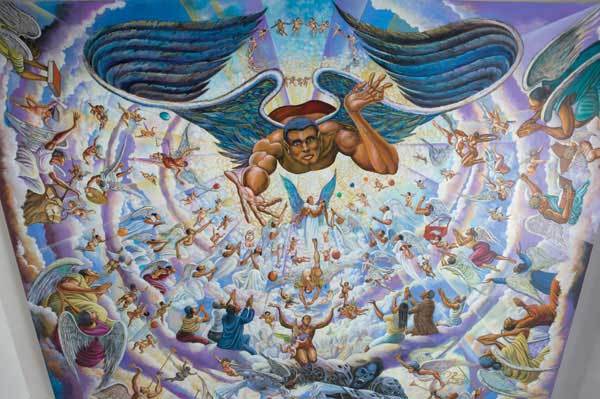 "A Life Restored"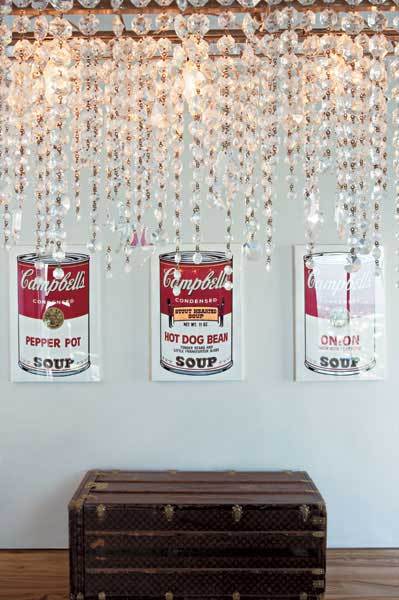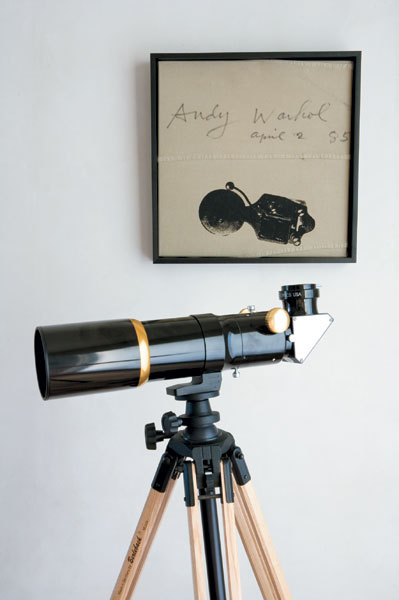 L: Prints from Andy Warhol's Campbell's Soup Can series hang in Kanye's kitchen. A vintage Louis Vuitton trunk from the 1870s sits underneath. R: A framed silk screen of Andy Warhol's signature in the background and a telescope with brass detail in the forefront.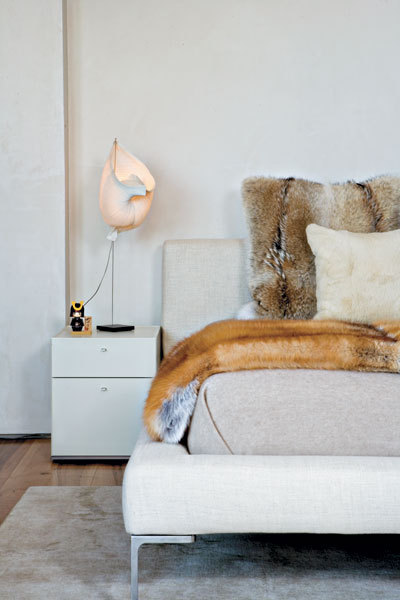 Wests bedroom features an Antonio Citterio for B&B Italia bed topped with those red fox and chinchilla fur bedspread and pillows I mentioned. An lamp by German lighting designer Ingo Mauerer sits on the bedside table.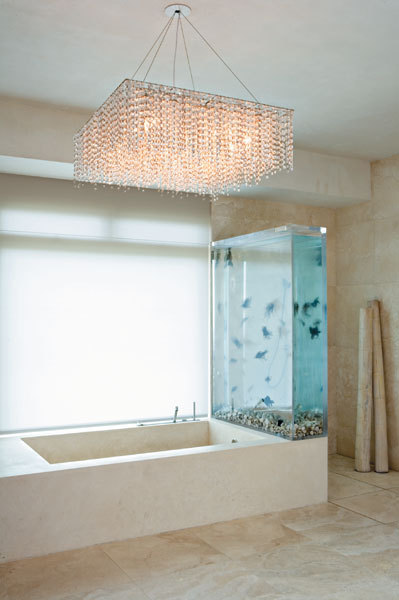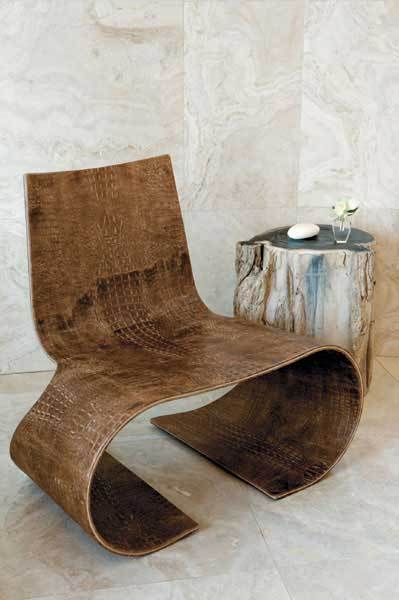 Kanye's travertine tiled master bath. Another gorgeous Loli e Memmoli chandelier is seen here. Not sure how I feel about the fish tank at the end of the tub. Kind of reminds me of "Scarface"! On the left is a beautiful croco embossed leather chair by Peter Kapff.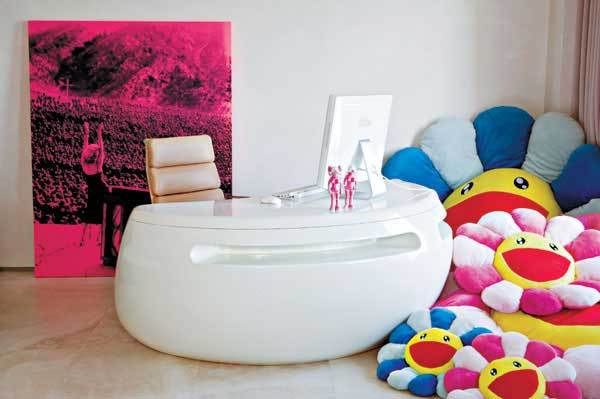 In Kanye's office a leather Eames swivel chair sits behind Maurice Calka's boomerang desk. A Russell Young silk screen is propped against the wall and Takashi Murakami pillows are piled along side the desk. These are the same pillows Kanye featured on his blog.
All photos by Art Gray for Interior Design.