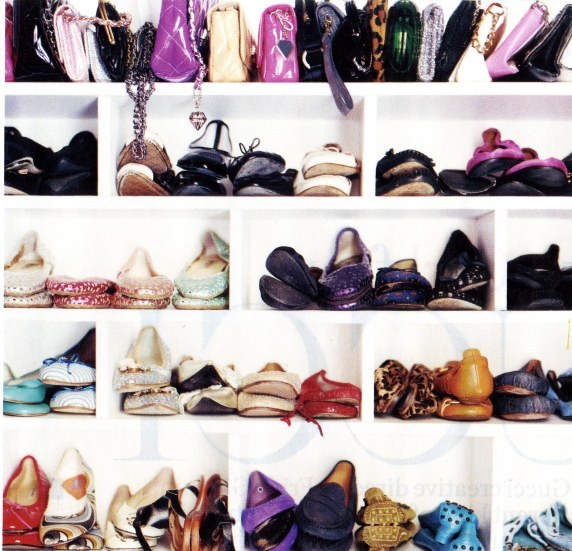 So today I spent the morning cleaning and organizing some of my closets. I live in a decent sized (by New York standards) 1 bedroom apartment with four closets but, seriously folks, I'm having a major clothes storage crisis! My front hall and linen closets are just fine but the closet in my bedroom is way too small. Then I have this ridiculously designed extra closet in my hallway that has a garment rod but is too shallow for an adult sized hanger to fit inside it. Actually, I could fit an adult hanger inside but then the door wouldn't close! It's just stupid. And I have way too much stuff! I've resorted to purchasing childrens hangers and using the retarded closet to hang my cocktail dresses. I also hang boots in there with these nifty little boot hangers I got from The Container Store. But still, it isn't the most efficient use of space. I'm thinking of putting in shelves and using the space to store shoes, folded clothes and other things. While I ponder the alternatives I thought I'd share some of the enviable closets that I've seen in some of my favorite magazines and on TV. If only I had a spare bedroom to turn into a 500 square foot walk-in closet like some of the ones in these photos I wouldn't feel like my life was in such disarray. Oh well! I'll just have to make do and work with what I have until I get that dream house. Enjoy the photos!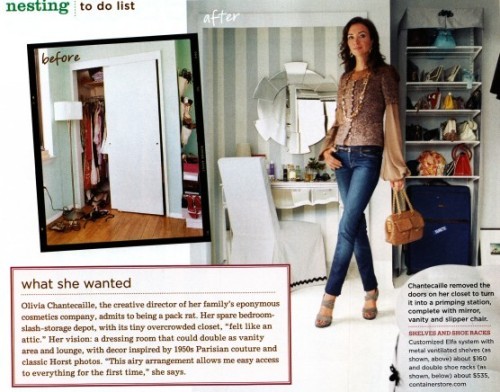 This is the closet of cosmetics heiress Olivia Chantecaille. My bedroom closet is about the size of her closet in the "before" picture. She turned the tiny closet into a vanity nook and then transformed an extra bedroom into "the ultimate walk in closet."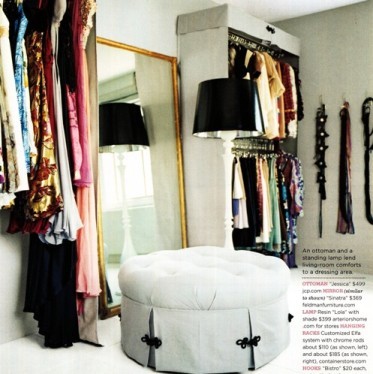 This is Chantecaille's finished closet. She designed it on a budget with elfa shelving from the container store and other inexpensive materials. Her vanity is from JC Penney! Photos by Paul Costello as featured in the Feb '07 issue of Domino.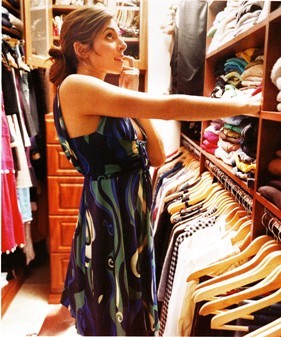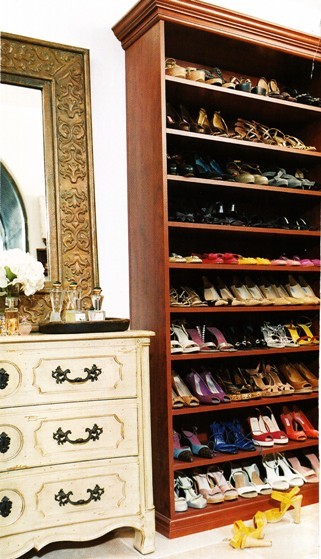 Actress Jamie-Lynn Sigler & her 200 square foot closet as photographed by Paul Costello for the April '07 issue of InStyle.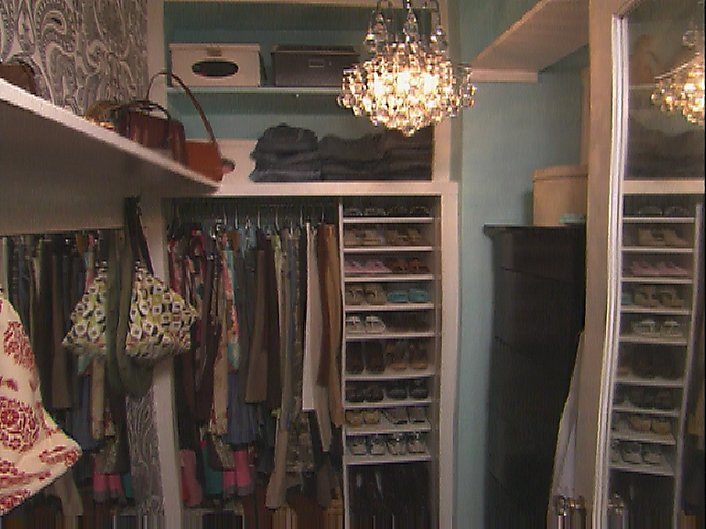 A closet from an episode of HGTV's Small Space Big Style. I love the black & white paisley wallpaper juxtaposed with the Tiffany blue paint. It's so pretty and girlie. I also love the addition of the chandelier. Makes it feel more like the dressing room of a chic boutique rather than a closet. Photo via HGTV.com.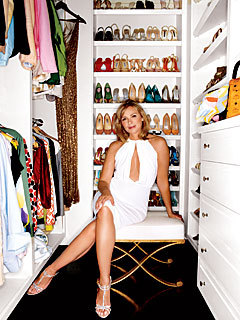 Sex & The City's Kim Cattrall inside her closet. Unlike mine, hers looks so organized! Photo by George Holz via InStyle.com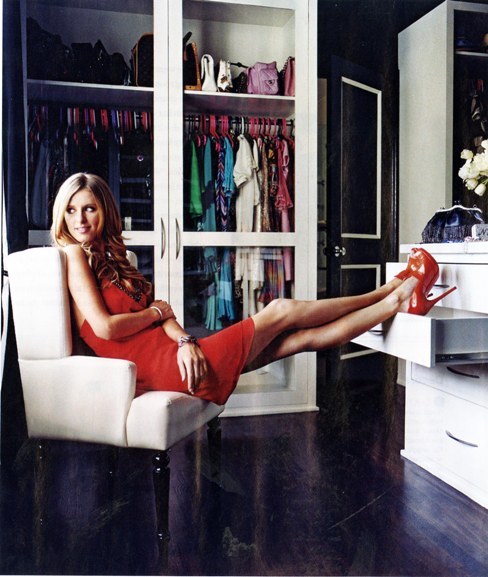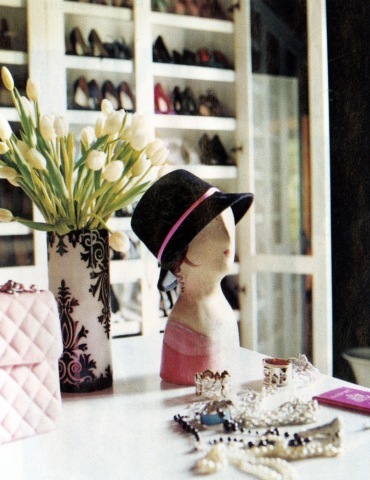 Nicky Hilton's closet as featured in the March '08 issue of InStyle. The shot of the shoes at the top of this post is also from this story. Photos by Paul Costello.
Ok-I think this closet takes the cake. If you haven't seen it before it belongs to Mariah Carey and it's the closet in her Manhattan penthouse. These photos only show about HALF of Carey's ginormous closet. It looks like the inside of a Versace store or something. One cool detail that I love are the floors which look like marble but are actually bleached wood accented with hand painted gold leaf details. Photos by Andrew Macpherson for the Spring '06 issue of InStyle Home.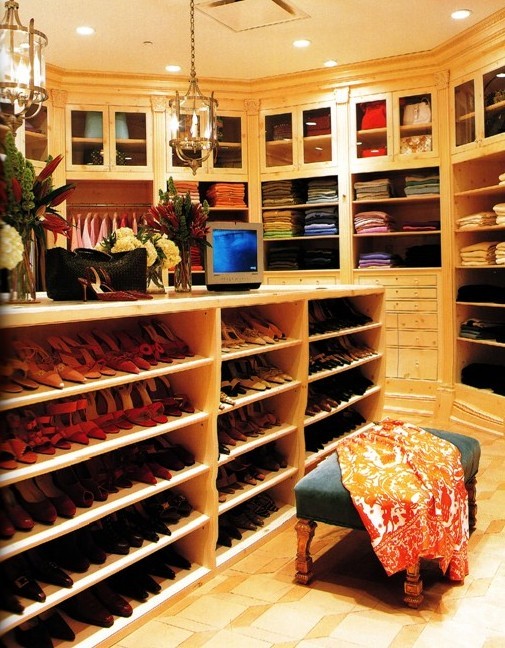 This is Oprah Winfrey's closet in her Harpo studio. If this is her closet at work I don't even want to see what her closet at home looks like. I don't think I could take it! Photograph by Francois Dischinger for Nate Berkus' Home Rules.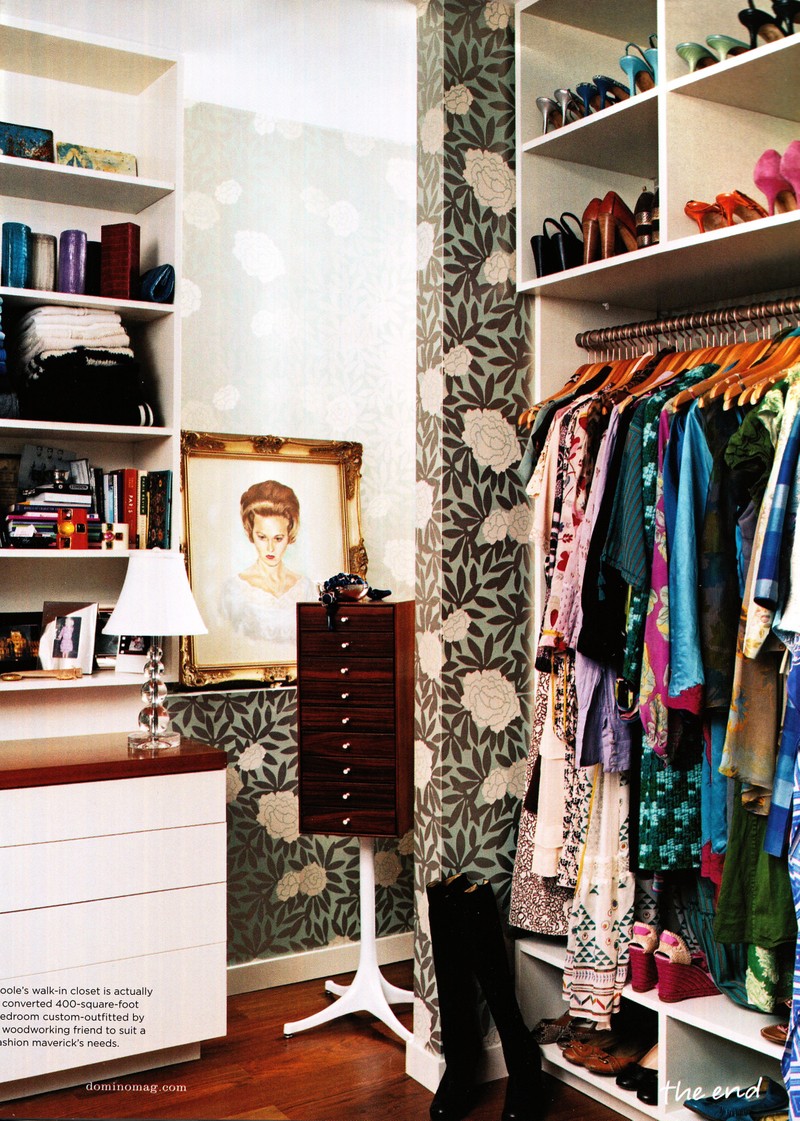 This 400 square foot closet, as featured in the Feb '07 issue of Domino, belongs to Charlotte boutique owner Laura Vinroot Poole. I love the idea of wallpapered closets and I absolutely adore the floral Osborne & Little wallpaper in Poole's!