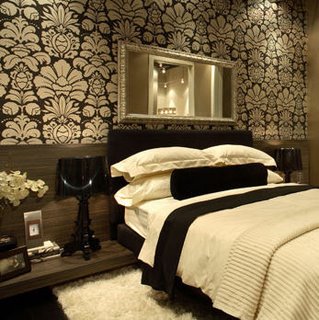 My dream bedroom. Room by II BY IV Design Associates, photo via Desire to Inspire.
I am an addict…a design blog addict. I've been utterly obsessed with them ever since my accidental discovery of Apartment Therapy a few years ago. I now have close to 100 bookmarked on my browser and must confess that keeping up with all these blogs is starting to decrease my productivity! I can't help it…I absolutely love interior design!
My love and appreciation for beautiful interiors was cultivated long before I discovered design blogs or even the internet. My mother, now a custom window treatment designer/drapery maker, used to be an interior designer. I grew up accompanying her to show houses and watching her work in her studio in the basement of our house. I especially loved going with her to the show houses where I would wander off, admiring the beautiful rooms while daydreaming about which ones I'd want inside the dream house I'd own when I grew up. As an adult, I continue to come across endless sources of design inspiration and I'm still fantasizing about my future dream house!
So…I decided to start this blog as a way to indulge in my love for design by chronicling all of the amazing places, people, things and ideas that inspire me. I hope you enjoy and please check back frequently as I blog about interior design, fashion and other stylish things!