I travel to Boston for work quite a bit and every time I go I make sure I stay at one of my all-time favorite hotels, XV Beacon. The intimate and uber chic boutique hotel is located in downtown Boston in the historic and charming little enclave known as Beacon Hill. The tree-lined, picturesque streets are filled with red brick Victorian and 20th century colonial town houses, many bearing American flags on their facades. Home to the likes of John Kerry and other prominent residents, it's one of the wealthiest neighborhoods in the country and one its most notable streets, Beacon Street, is where the namesake XV Beacon is located.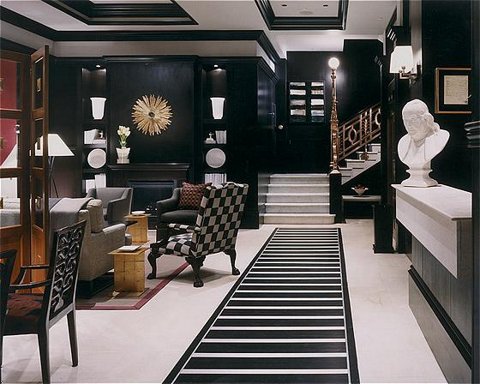 XV Beacon Lobby
Entering the hotel feels more like you're walking into someone's living room, rather than a hotel lobby. A luxuriously upholstered sofa surrounded by several armchairs sits facing the fireplace and the seating is enhanced with throw pillows in rich fabrics and wool throws which give the room an even cozier feel. The color scheme consists of warm neutral tones accented with unexpected pops of deep red. The atmosphere is so inviting you almost want to skip going up to your room and just curl up right there in the lobby with a good book and a glass of red wine! The interiors were designed by Boston based interior designer Celeste Cooper, who is also an Interior Design Magazine Hall of Fame inductee. The décor is the perfect mix of old and new with modern furnishings and accessories juxtaposed with traditional architectural details. The building, originally designed in 1903 by famed Boston architect William Gibbons Preston, is now a registered landmark with the National Register of Historic Places. Many of the original architectural details were preserved including the tall crown moldings, grand marble staircase with decorative brass handrails and wrought iron cage elevator. And I just love how Cooper covered the elevator walls in read leather…every chic little detail was perfectly chosen!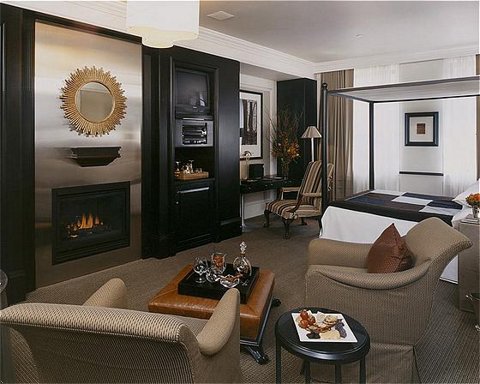 XV Beacon Guest Room
The hotel's guest rooms are just as warm and inviting as the lobby. I've stayed there several times and the rooms all seam to have different layouts but one commonality is that every room features a fireplace…a wonderful  luxury especially if you're visiting in the winter months when it's freezing outside. Aside from the gorgeous décor, the impeccable service and amenities are what keeps me coming back to XV Beacon. When you check in you're provided with a stack of business cards for your stay with  a direct line and fax number to your room. Upon entering your room for the first time you'll find the drapes closed, the lights dimmed, the fireplace on and jazz softly playing on the room's surround sound system, which even extends to the bathroom so you can listen to your favorite tunes while showering or taking a relaxing bubble bath.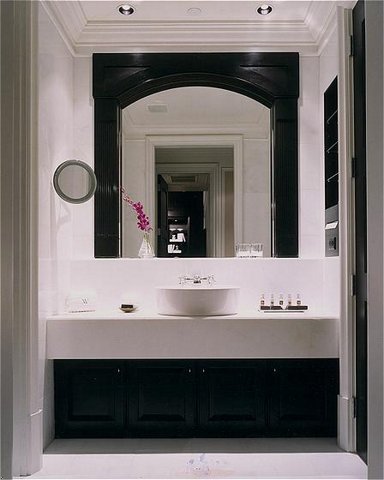 XV Beacon Bathroom
Speaking of the bathrooms, they don't skimp on luxury either. With a simple scheme of white marble and dark wood cabinetry, what makes these bathrooms so great are the elegant little details such as the fresh orchid blossoms, chrome towel warming racks, monogrammed bath linens and the most beautiful Lefroy Brooks faucets you've ever seen! (Yes, it's the small things that get me excited!)
I would highly recommend a stay at XV Beacon if you're ever visiting the Boston area. At the very least, stop by to check out the lobby and have drinks or dinner in the hotel's adjoining steakhouse, Mooo… (Love the name!) which, aside from their amazing steaks, offers the best lobster bisque ever. I'm going back to Boston in April and can't wait to call XV Beacon  home for the one night I'll be there. During my stay, I'll make sure to take some close-ups of the bathroom faucets to share with you!