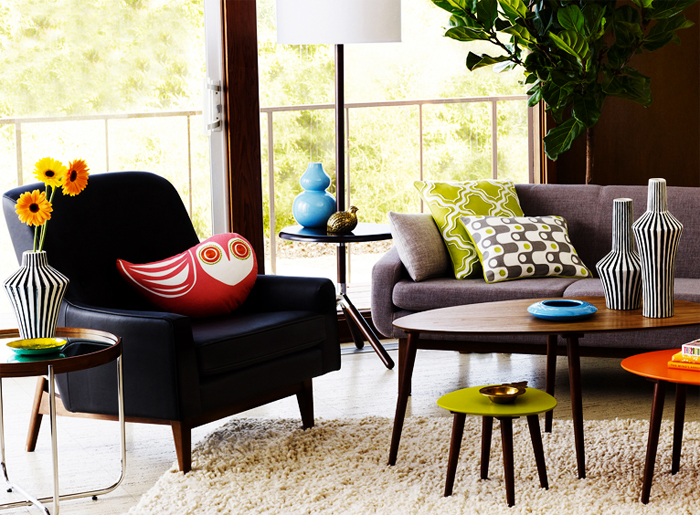 Happy Chic by Jonathan Adler for JCP
We're huge fans of good design made accessible which is why we were so excited to hear that JC Penney is totally revamping it's home collections with a fabulous roster of new designer collaborations. JCP tapped Jonathan Adler, Sir Terence Conran, Michael Graves and Martha Stewart as well as brands BODUM, ORDNING & REDA, and Pantone Universe to infuse some serious style into its home department. There is something for every taste in this exciting assortment of affordable, high-design furnishings.  From decorative accessories and furniture to soft goods, kitchenware, lighting and tech accessories. And there's enough variety for a whole-home makeover or just some cool new finishing touches to complete a room. Here's the run down of some of our favorites including Happy Chic by Jonathan Adler, Design by Conran, Michael Graves Design, and Martha Stewart Décor and Celebrations:
Happy Chic by Jonathan Adler is the perfect marriage of luxury and humor offering bright and graphic items in an entire lifestyle collection that is perfect for pairing with basic pieces or mixing and matching within the 60's inspired collection. The line makes you feel like you're in a happier, much less oppressive Mad Men episode.
London's Sir Terence Conran and his team developed the exclusive Design by Conran line featuring reinvented luxury goods for the everyday home.  From soft, richly textured pillows to elegant and simply stated furniture pieces, Terence Conran's products are the definition of chic comfort.
A common thread among these collections is the element of playfulness.  Not surprisingly, Michael Graves Design incorporates this spirit in his décor and all at a reasonable cost.  You'll find delightful clocks, retro kitchen gadgets, sleek serveware and more in his exclusive JCP collection.
Martha Decor gives us classic pieces in Martha Stewart's signature muted color palette in addition to some punchier items like bold-striped rugs and modern table lamps.  And if you're planning a party, don't forget Martha Celebrations which has stylish paper plates, napkins, party decorations and serveware that will make you grin. Below are a few of our favorite items from the new JC Penney home shop: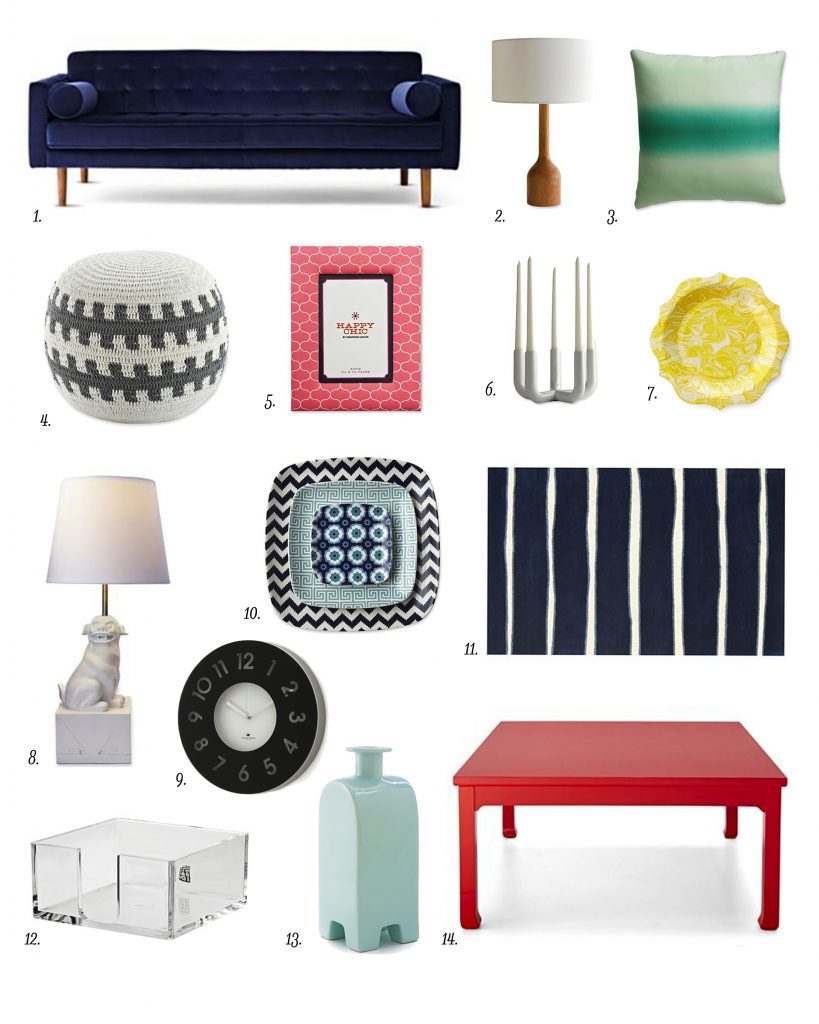 1. Crescent Heights Tufted Sofa, Happy Chic by Jonathan Adler | 2. Lucina Table Lamp, Design by Conran | 3. Ombre Square Pillow, PANTONE Universe  | 4. Charlotte Round Pouf, Happy Chic by Jonathan Adler | 5. Katie Fabric Picture Frame, Happy Chic by Jonathan Adler | 6. Candelabra, Design by Conran | 7. Ornate Paper Cocktail Plates,  MarthaCelebrations | 8. Elizabeth Foo Dog Lamp, Happy Chic by Jonathan Adler | 9. Black Wall Clock, Michael Graves Design | 10. Set of 3 Ceramic Nesting Trays, by Happy Chic by Jonathan Adler | 11. Chalk Stripe Rectangular Rug, Martha Decor | 12. Stockholm Acrylic Cube Box, ORDNING & REDA | 13. Celadon Footed Vase, Michael Graves Design | 14. Crescent Heights Coffee Table, Happy Chic by Jonathan Adler