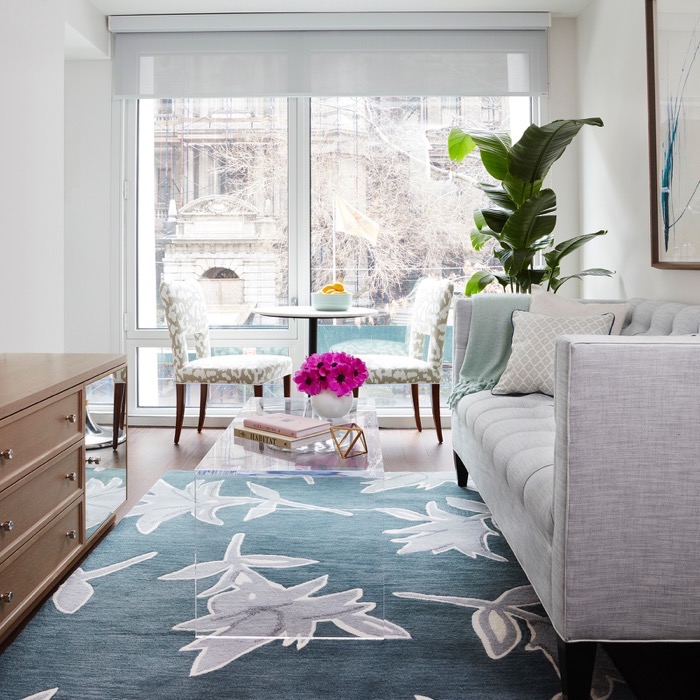 For anyone who thinks you can't live well in a small space, here's a look at one of my latest design projects that proves that theory all wrong! I recently finished up a series of model apartments for a new development in NYC and this is the smallest of the bunch – a 484 square foot alcove studio that's packed with style and shows how even in a small space you can live large and luxurious! I'm excited to share a tour of this space with you plus show you how to get the look, starting with the entryway and living area!!!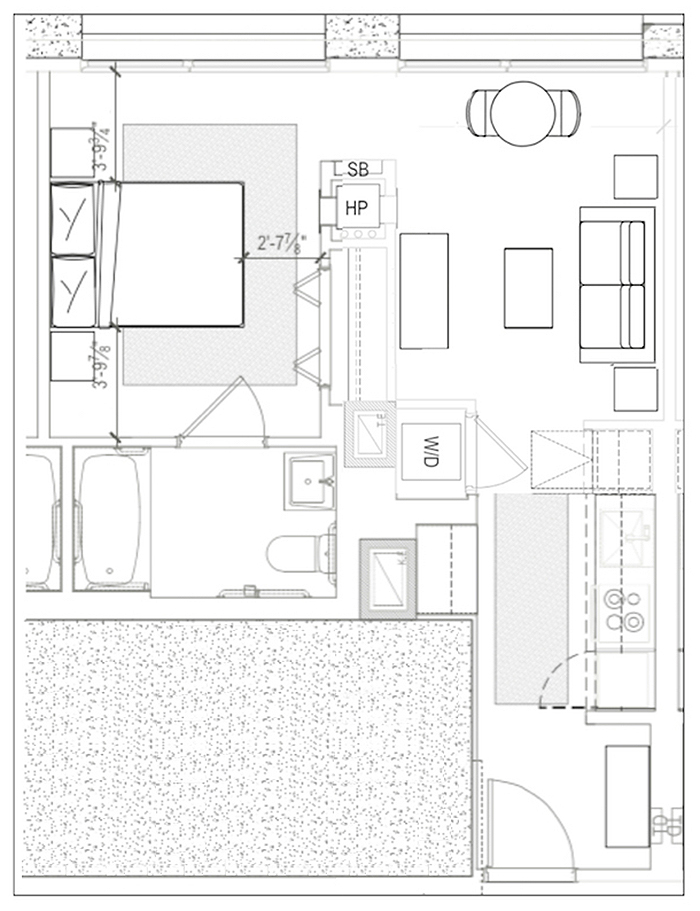 The first step in decorating a small space is to develop a great furniture plan. The huge bonus about the layout of this apartment is that the alcove really almost feels like its own separate bedroom and that separation allowed us to make the most of the floorpan even though there really wasn't a lot of room to work with. The living area is just around 125 square feet and the bedroom is around the same size. So in 125 square feet, I had to fit an area for sitting, dining plus a little bit of storage and a whole lot of personality! This is the floorplan we came up with to give you more context on the space and layout.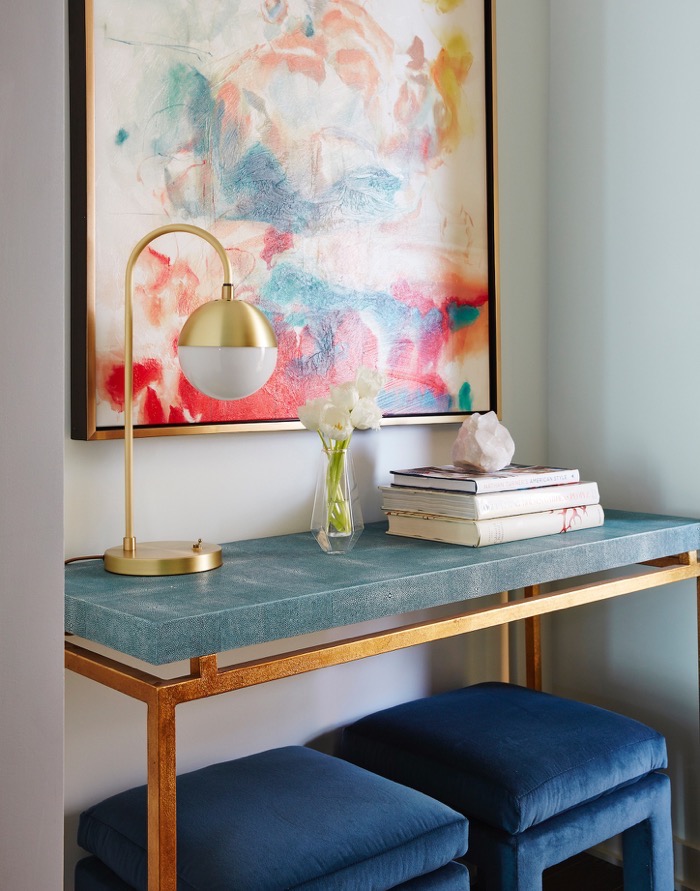 In any home, a welcoming entryway is a must. It's the first thing guests see when they walk through the door, but guests aside, an environment that instantly makes you feel happy and welcomes you in when you walk through the door is one of the of the joys of creating a beautiful home. We kept everything pretty simple and straightforward in this entryway. I loved this turquoise shagreen and gold leaf console which grounds the space and serves as a landing spot for keys and mail. I found a great a pair of upholstered vintage parsons benches for $50 bucks on ebay and had them re-covered in a rich blue velvet fabric from Kravet. These can easily be pulled out so you can slip your shoes on and off when you're coming in and out. On top I added a lamp, a few key accessories and you'll never believe that the large abstract painting hides a super ugly circuit box behind it!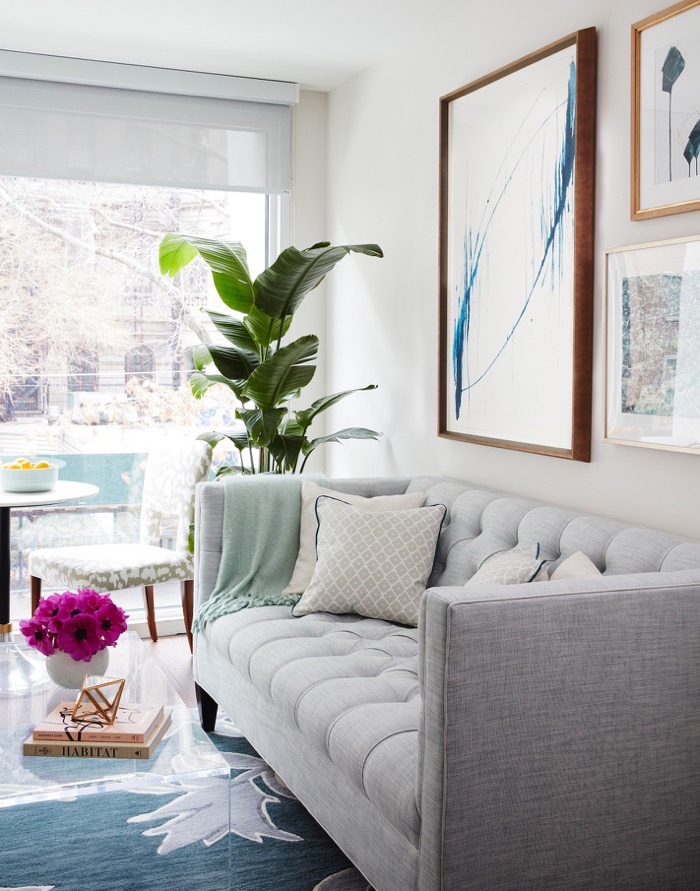 In the living area I went with a color palette of soothing aqua and teal tones which is always pleasing to the eye and keeps the space feeling light and fresh. The paint color is Benjamin Moore's "Barely There" a lovely shade of white with just a hint of warmth to it. I chose a beautiful tufted sofa from Duralee which was the statement piece in the room. I upholstered it in a soft aqua linen with contrasting welt for added interest. This version is 6 feet wide which fit perfectly in the space. When you're trying to make a small space feel large, you want to find pieces that won't overwhelm the room. Here, I brought in a clear acrylic coffee table which keeps the eye moving through the room and doesn't take up any visual space. The bold floral rug brought in a strong color accent which helped to ground the room.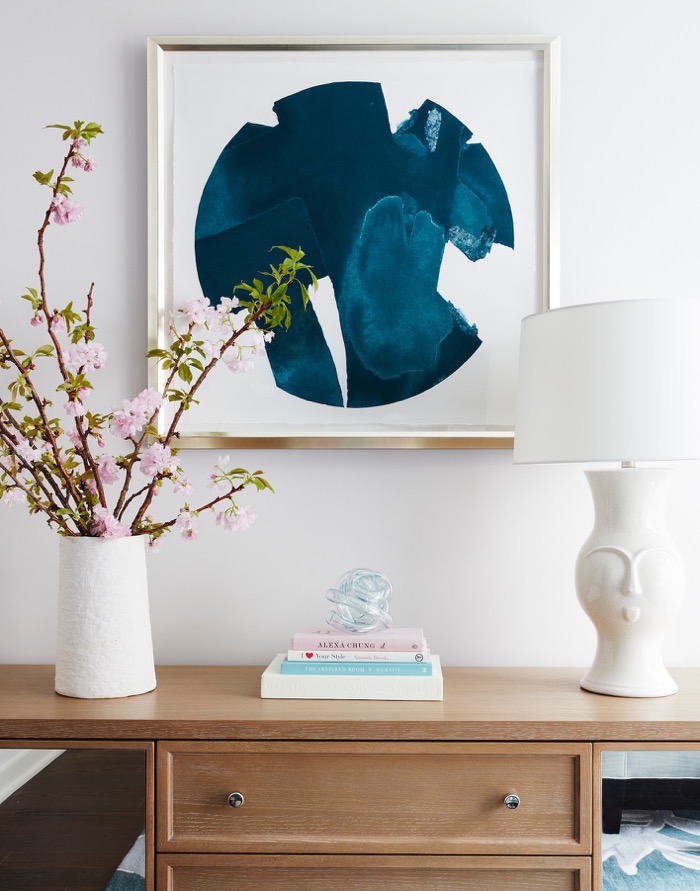 Another trick I used here to make the space feel more airy is the use of a mirrored front credenza because mirrors always help to open up a room, making it appear larger. I just love this little vignette! I mean, that lamp! Adorbs! The artwork also has so much personality and the cherry blossoms help add more color and life.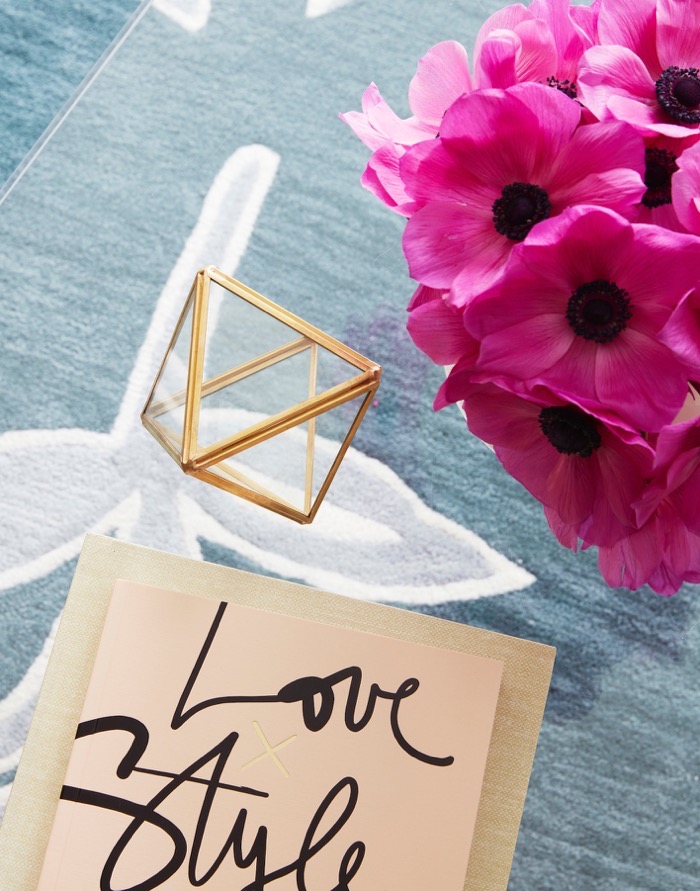 All of the flowers in the space were styled by my go-to florist Michaela of Days of May Florals.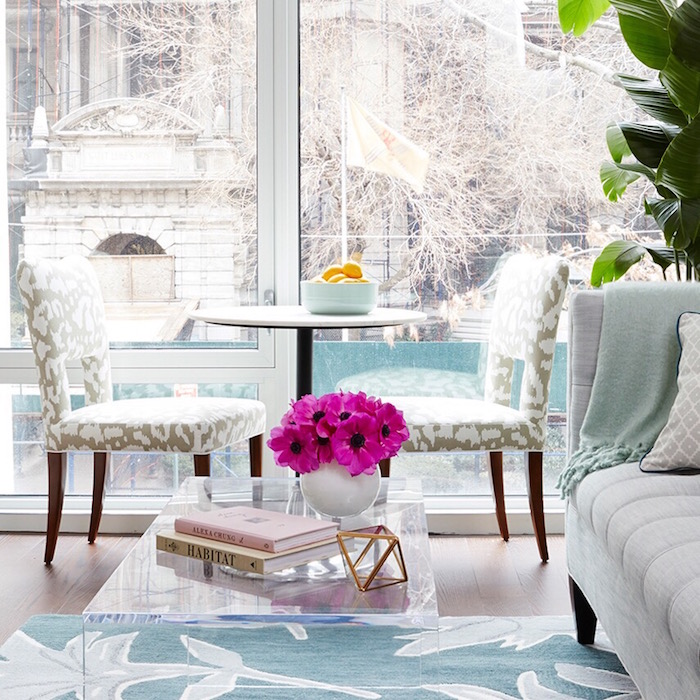 If you have a small space, another great tip is to use pieces that can serve double duty. I incorporated a small bistro table with two chairs that can double as dining table or a desk and the chairs can also easily move around the sofa to provide extra seating for guests when entertaining. And how about that big banana leaf plant in the background?! Obsessed!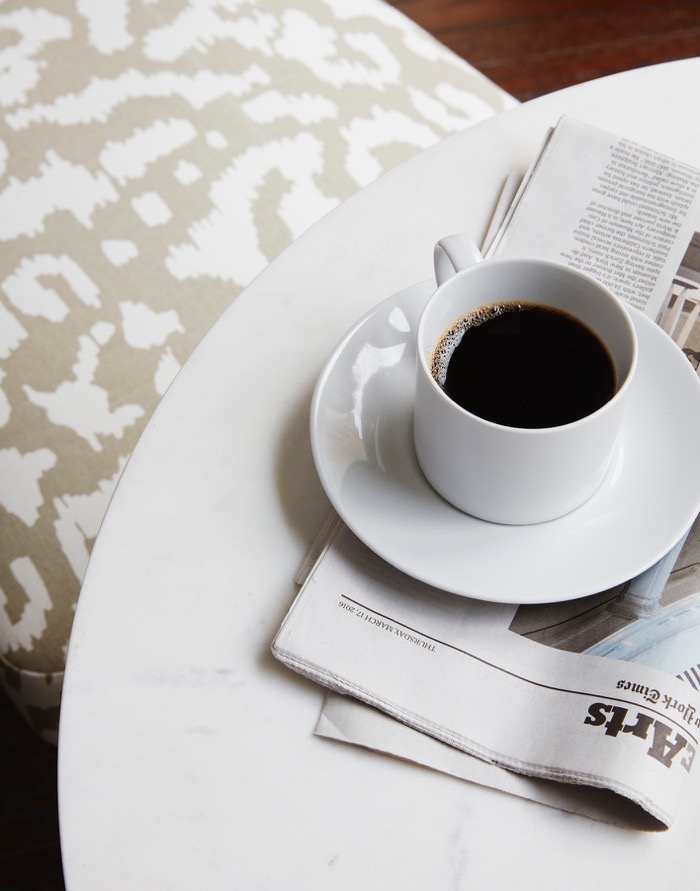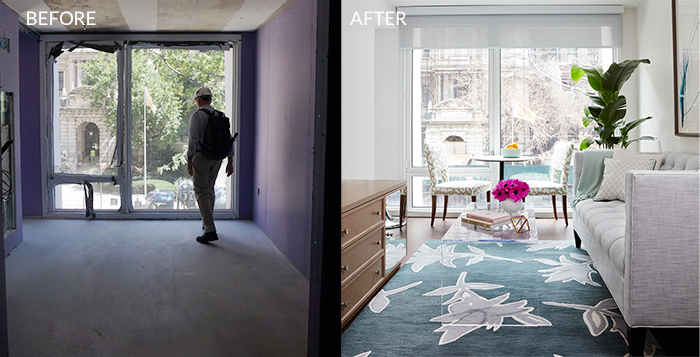 Here's a before and after so you can see the transformation. The space looked so tiny before we started and now it's open, airy and beautiful! What do you think of this space? I seriously think it's one of my favorite small spaces I've ever worked on! Check back soon for a tour of the bedroom and below are some ways you can get the look!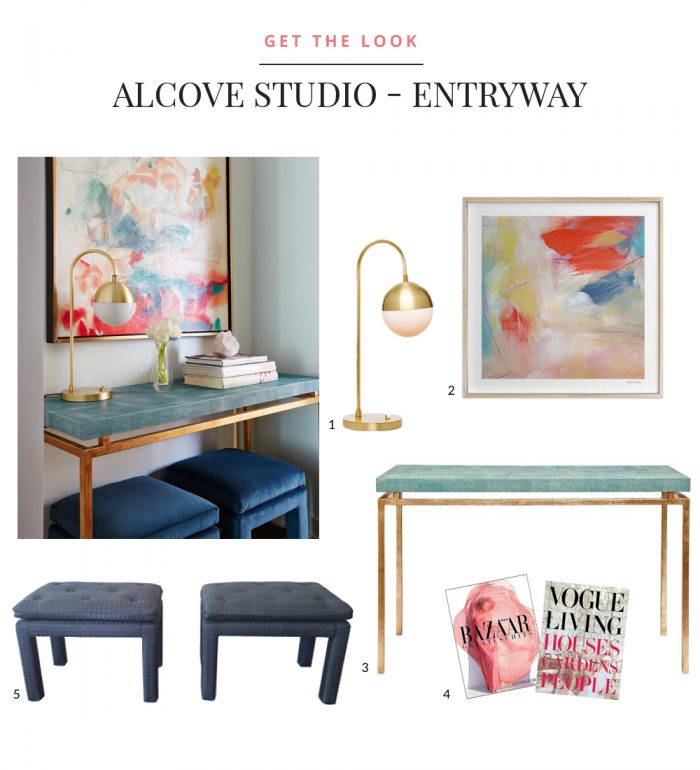 1. Table Lamp / 2. Abstract Artwork / 3. Madegoods Benjamin Console / 4. Vogue Living & Bazaar Greatest Hits / 5. Vintage Benches (+ New Fabric)

1. Pauly Lamp / 2. "Ink Crush" Artwork / 3. Floral Rug / 4. Acrylic Coffee Table / 5. Media Console / 6. Dining Chair / 7. Glass Knot Sculpture / 8. Serving Bowl / 9. Marble Cocktail Table / 10. Artificial Banana Leaf Tree / 11. Tufted Sofa (on major sale!)
PS – See the bedroom from this project here!