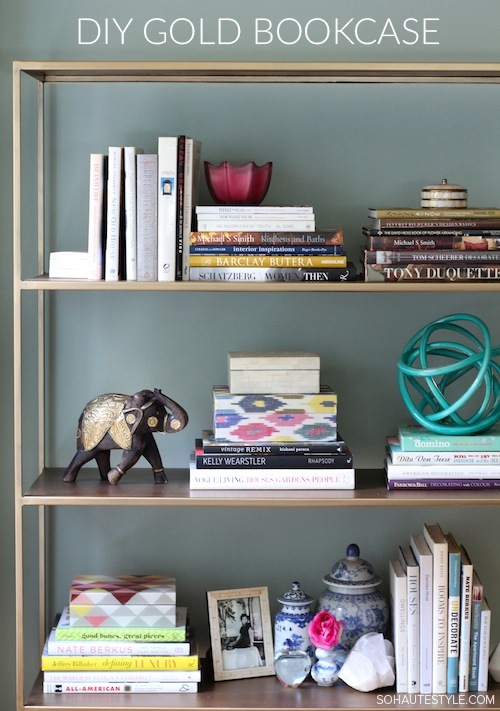 When I was redecorating my apartment I had a very hard deadline to finish things up since my place was being photographed for Better Homes & Gardens. One of the final pieces I was on the hunt for was a pair of chic gilded iron etageres. Rather than a brass finish, I preferred the look of gilded iron because I love the contrast, texture and patina of a lightly applied, shimmering gold finish with hints of black, aged iron peeking through. I wanted my etageres to be between 6-7 feet tall, at least 40″ wide and with a very slim profile which is quite specific. I searched everywhere, high and low, from ebay and craigslist to 1stdibs and I just couldn't find what I was looking for so I decided the next best thing was to get the look with a little DIY magic!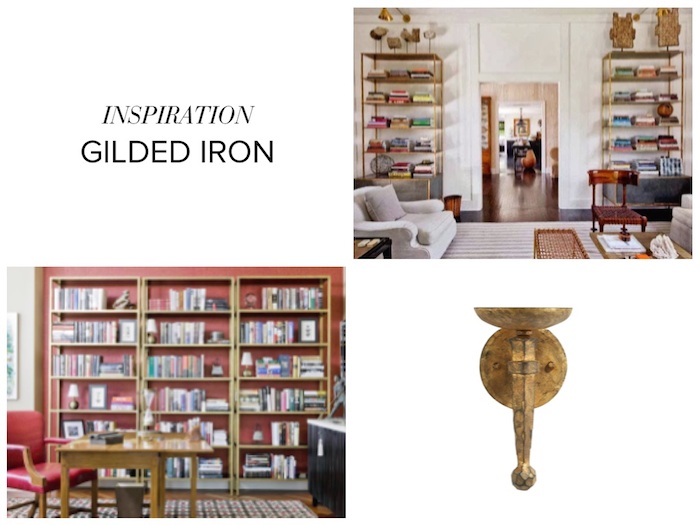 Here's a close up look of what a gilded iron finish looks like along with a couple of inspiration images. I bought 2 of these slim shelves from Room & Board in natural black steel as my foundation. While they weren't the cheapest options, they had the right proportions, plus, Room & Board has an easy and inexpensive flat rate delivery service and since I live in NYC where moving anything larger than a bag of groceries requires a herculean effort, this was the best option for me because I didn't have to worry about how I was going to get them home and up to my walkup apartment but this affordable find from Ikea is another great option…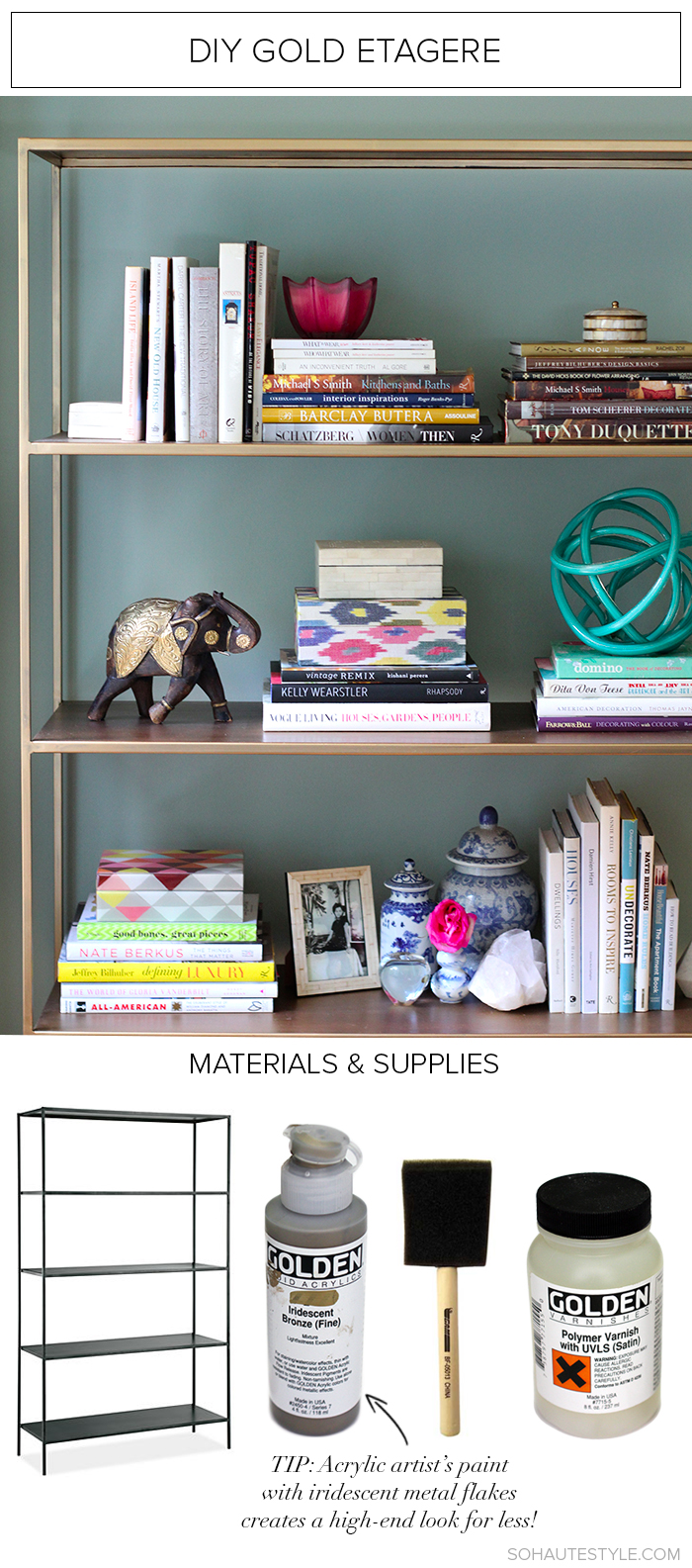 The key to achieving the gilded iron look is choosing the right paint. Metallic spray paint or gold leafing materials are typically used for this kind of project but here's why I did not choose those options this time: I've done a similar DIY with metallic gold spray paint in the past (see my Ikea hack from an episode of Home Made Simple on OWN at the bottom of this post) and often times metallic spray paints can look plastic-y on a metal finish. I also live in an apartment without outdoor space or a well ventilated area so spray fumes also just weren't an option. And gold leaf or liquid leaf options tend to be a bit too shimmery for my liking. Kind of like an eyeshadow that has too much sparkle. I didn't want my bookcases to feel like the 17-year-old who did her own bad makeup for the prom!  I wanted the finish to look high end and sophisticated so after much research I landed on using acrylic artists paint. I chose Golden's Acrylic paint in iridescent bronze which is a heavy bodied acrylic that has pearlescent particles mixed into the color which gives their metallic colors the rich shimmer of a true metallic finish. Using this paint made all the difference! Read below for the materials and steps along with more pictures of my finished bookcases in my home! And if you've done a similar DIY I'd love to hear about what paints have worked well for you in the comments!
Materials:
– Iron or Blackened Steel Bookcase
– Dropcloth
– Foam Paintbrushes
– Golden Iridescent Acrylic Paint in your finish of choice (I used bronze)
– Golden Acrylic Polymer Varnish in Satin Finish
– Cups or paint trays for your paint
Steps:
1. Place your dropcloth down for protection and wipe down your bookcases with a damp cloth to remove any dust or debris. Wait for any wet areas to dry.
2. Using a foam brush apply your paint in even strokes in very thin layers and gradually build your coverage until you achieve your desired level of opacity. Be careful not to spread it on too heavy at first! Also note – I tried using a typical paint brush with bristles but you could really see the brush strokes and I also tried a foam roller which gave me a bit too much coverage. I found that the foam brushes were the best option for achieving the layered effect.
3. Let your paint dry overnight, then apply a polymer varnish to protect your finish. Let that dry overnight as well before placing anything on the bookshelves. Note: The varnishes come in different levels of gloss. I chose a satin varnish but there are fully matte, semigloss and higher gloss finishes available depending on the look you want to achieve.
4. Style up your shelves with fabulous books and decorative items! (Lookout for a bookshelf styling tutorial coming soon!)
Here are a few more pictures of the end result: