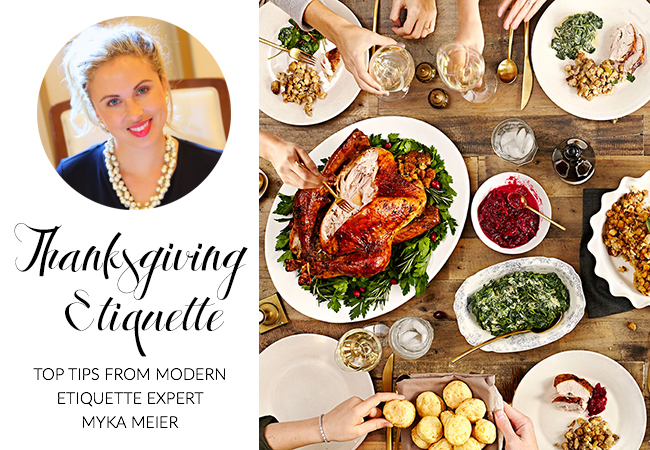 Thanksgiving is a time for gathering with loved ones to feast and celebrate the spirit of gratitude but whether you're hosting a dinner or attending as a guest, it can be a lot of pressure. I wanted to share some useful tips to help you have a stress-free Thanksgiving, so I turned to my friend Myka Meier, etiquette expert and founder of Beaumont Etiquette – a distinguished consultancy offering a fresh, modern and unpretentious perspective on business and social etiquette. Myka has studied at etiquette schools throughout Europe and also trained in London under a former member of The Royal Household of Her Majesty the Queen. Needless to say, she really knows her stuff! Read on for Myka's expert advice that will ensure you have an easy and enjoyable Thanksgiving celebration.
Tips for a GuesT
If you have strict dietary requirements, do notify your host or hostess when you RSVP.
The perfect time to arrive is from the invitation time to 20 minutes after. Never arrive early…as the host or hostess is probably preparing last minute touches and will be caught off guard. When you arrive, offer to help in any way you can.
Never arrive empty handed – Ask what you can bring as soon as you are invited. The host may assign you a dish to bring, however if not, bring a small gift like seasonal chocolates, a gorgeous candle or monogrammed cocktail napkins.
One common hostess gift you should never bring…flowers! While flowers are a gorgeous gesture, when you walk into the home of the host or hostess and hand them flowers, they will have to leave their guests to go find a vase to display them…when they should be focusing on welcoming and greeting the other guests.
Dress to impress – It's likely your host or hostess has spent hours if not days preparing. Mirror their effort and show respect, gratefulness and enthusiasm for the day by dressing in the spirit of Thanksgiving.
Absolutely no phones at the table!
After the host or hostess has given a toast, it is a lovely idea to give a thank you toast, complimenting the chef and thanking him or her for the amazing day. When you toast, be sure to stand and raise your glass to the table when your toast is over. This signifies you are done and is a celebratory gesture to drink in the honor of the hostess.
Always pass dishes to the right. Don't reach across the table – ask for dishes to be passed to you. Wait until everyone is served before eating.
Before you help yourself to a dish, always ask each person to your right then left if they would like some first, then you may serve yourself. Even if there is only one of something left.
Only put salt and pepper on your food once you've tasted it! You don't want to insult the chef by seasoning the meal before you even sampled it.
Ask if you can help clean up in any way. Thanksgiving is all about community.
Don't overstay your welcome – Plan to stay only 30 minutes after dessert and coffee…the host or hostess will be exhausted from cooking and entertaining and probably has quite a bit of cleaning and organizing to do post-meal.
Thank you letters are key. Within two days of the day, a handwritten thank you letter in the mail is a gorgeous way of thanking your host for the lovely day.
Tips for a Gracious Host or Hostess
Ask ahead of time what dietary requirements your guests have and make sure there are plenty of dishes to accommodate any restrictions.
Lay out your place setting and table decor at least one day in advance. You can have the table beautifully decorated and set ahead so you can focus on preparing the food.
Ensure your table decor (including flowers and tall candles) do not block the view across the table.
Prepare as many dishes as you possibly can ahead of your guest arrivals…this way you can be ready to entertain and not be rushing around in the kitchen. We suggest having some light hors d'oeuvres and drinks to serve when guests arrive, as they'll come hungry and it may take time to get all the food on the table.
Delegate – if you have family or friends that can help out, delegate jobs! For example, have one person responsible for greeting, one for taking coats, one for making sure all guests have a full drink.
Serve children and elderly food first.
Turn off TV during the meal and put on seasonal music instead. This will help everyone enjoy both the food and the company all the more!
Be over prepared – Thanksgiving tends to be an over indulgent holiday. Plan for plenty of food and drinks if possible, so that if someone wants a second helping you can graciously serve.
Make sure to speak to and engage all of your guests. A gracious host or hostess will make sure everyone at the table is happy, comfortable and feels welcome. If guests do not know one another, be sure to introduce before they are all seated.
Put timings on the invitation…whether it be on email, hand written or on the phone. Otherwise, guests may stay long past the dinner into the night.
Leftovers – If you think you'll have leftovers, a nice gesture is to have disposable boxes ready to send guests home with. You can write on the front of a label what the content is and on the back of the label when it was prepared so guests know when it may spoil.
Children at the table – It is completely fine to have children at the adult table or at their own. If they have their own table, make it an extension of the adult table so they feel included. Typically if there are 2 or less children, they should sit with the adults at the table. More than 2, it's a nice way to put them together to have their own space.
Top Right Photo: Vanessa Rees for Saveur